Here's another vegetarian dish to celebrate National Vegetarian Week. It's one of our favourite salads at home and ideal for an al fresco lunch in the heat of the summer… which seems to have come early this year. Try it too with a poached egg for breakfast, it a great start to the day.
Charred Corn, Tomato, Avocado and Black Bean Salad
Enlist the help of friends, pour yourselves a margarita and get chopping! I love the flavour of the lightly blackened corn which transforms a bland cob into a caramelised flavour reminiscent of homemade popcorn giving a sweet, nutty flavour to the salad. If you don't have black beans, any cooked, canned variety will do. When squeezing limes pop them in the microwave for 15–20 seconds and they will be much easier to juice. I have given the instructions for grilling indoors but if you have a barbecue going charring the cobs over a grill is quick and gives a lovely smoky flavour to them.
Serves 6–8
For the salad
4 corn on the cob, husks and silk removed
1 small red onion or 5 spring onions, finely chopped
400g can black beans
250g cherry tomatoes, halved
1 red or yellow pepper, cut into 1cm dice
1 avocado, cut into 1cm dice
a small bunch of coriander, roughly chopped
For the dressing
6 tablespoons fresh lime juice, from 3–4 limes
5 tablespoons extra virgin olive oil
1 garlic clove, roughly chopped (optional)
½ teaspoon dried oregano
½ teaspoon ground cumin
1/8 to ¼ jalapeño chilli or other chilli, according to taste, finely chopped
½ teaspoon salt
freshly ground black pepper
Preheat the grill to medium hot.
Put the corn on a rack and put them under the grill, let them brown, watching them carefully and turn frequently so that they don't blacken to blistering – this will take a few minutes. You want them rich brown with a few black tinges rather than looking like they have been up the chimney. Set aside to cool.
Meanwhile, put the chopped onions in a bowl of cold water to take away their strength. Let them sit for about 10 minutes, then drain in a sieve and set aside.
Drain and rinse the beans in a sieve, under cold water, to rinse well. Set aside.
When the corn is cool, hold each cob upright on a large board and slice downwards near the core with a sharp knife to cut the kernels off the cob in strips. If the corn stays in strips break them up into kernels. Transfer the corn to a serving bowl and add the remaining salad ingredients.
To make the dressing combine the ingredients in a jug or bowl. Taste and adjust as necessary and pour over the salad. Toss gently and serve.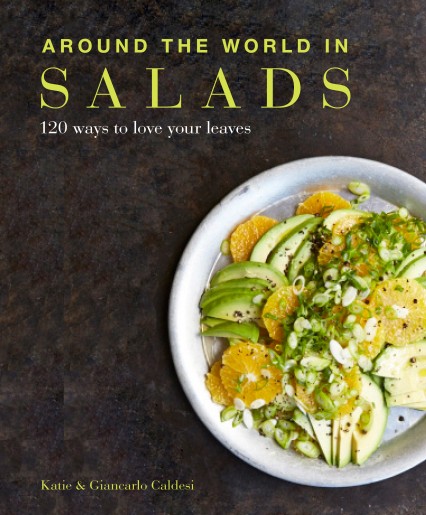 This recipe is taken from 'Around the World in Salads' published by Kyle Books.
All photography by Helen Cathcart.