A Feast Fit for a Caesar…
We've been holding some very special Roman themed dinners at Caldesi in Campagna and Caffe Caldesi to coincide with the launch of our latest book 'Rome – Centuries in an Italian Kitchen'. Our menu for the evenings was designed to showcase some of the dishes that we discovered in our many months of research and to take our guests on a culinary journey through Rome.
The evenings kicked off with the serving of a cheeky little cocktail we'd named the 'Wonky Madonna' after a portrait of the Madonna which hangs askew behind a bar at the Trastevere in Rome (see below for the recipe) and to go with this we served a selection of antipasti. First Suppli al telefono – named because the melting mozzarella inside these crispy rice fritters resembles the wires between telegraph poles as you break them in half to enjoy them.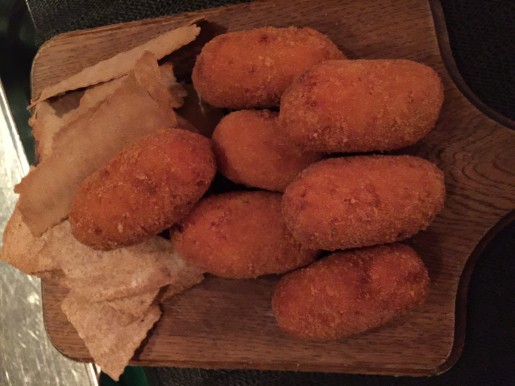 Next up was Lagana, a Roman flat bread that dates back to the days of Julius Caesar. It is eaten with ricotta and a relish made from sardines, celery, basil, parsley, honey and black pepper.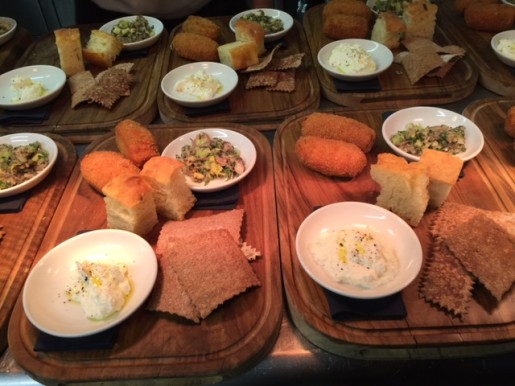 Next was a Carpaccio di Manzo – lemon and vinegar marinated raw thinly sliced beef fillet and then onto Gnocchi alla Romana.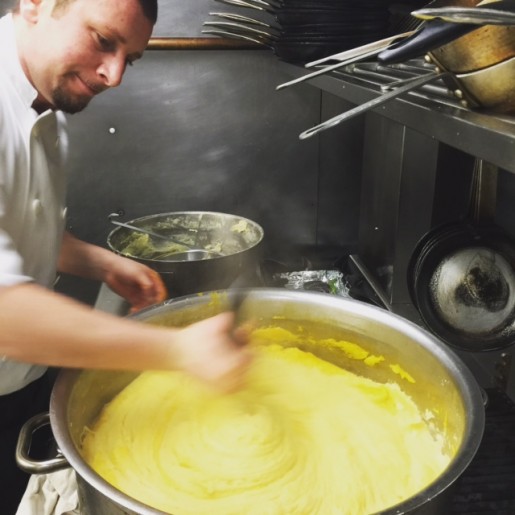 Making the Gnocchi all Romana – You need a strong chef such as Marco to make sure there are no lumps.

These are a very traditional Roman gnocchi made with semolina, milk, cheese and lots of butter.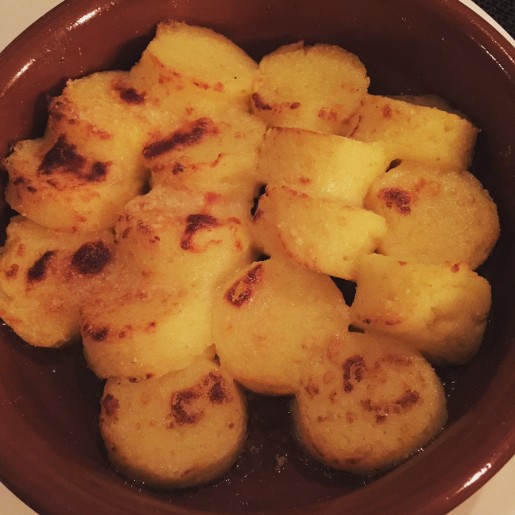 The finished dish.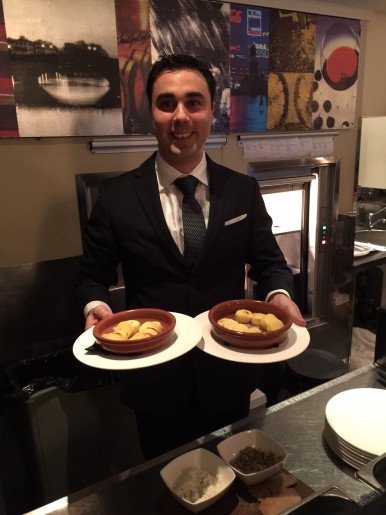 Our secondo included a choice of the famous Ossobuco all Romana – even though the Milanese claim that Ossobuco is their dish the Roman's passionately claim it is theirs.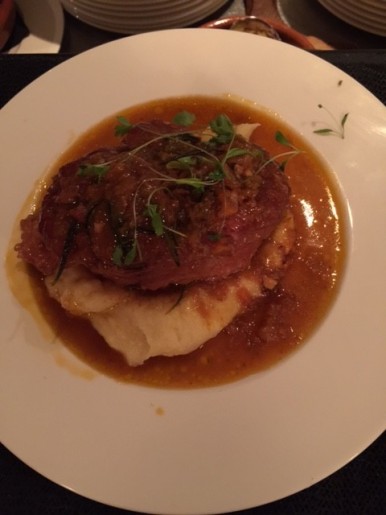 There was also a choice of Guinea Fowl alla Cacciatora cooked with rosemary and vinegar in the 'style of the hunter' and Orata in Crosta d'erbe – sea bream in a herbed crust.
Such was the fun and enjoyment of the evening (and perhaps the free flowing Roman wines helped) I forgot to take pictures of the rest of the meal but we finished off with a Torta Bianca – a cheesecake that dates as far back as the middle ages when 'white food' was seen a decadent and contained expensive spices, in this case ginger. The evening was completed with the traditional espresso and much satisfied groaning as we pulled ourselves up from our chairs to wish our guests a pleasant journey home. Our night of Roman excess was an all round success.
The Wonky Madonna
Just right for a Christmas party cup it contains all those warming spices you associate with the festive season, this is a sweet, innocent-tasting drink with a hidden kick of chilli and alcohol. To make a non-alcoholic version, remove the Grand Marnier from the recipe, add a little sugar for sweetness and top up with tonic or soda water instead of prosecco. The spiced orange juice needs to be made the day before you want to serve the cocktail, to allow the flavours to infuse. If you buy the juice make sure it is only juice and doesn't contain any other flavours or additives.
Makes 8–10 cocktails
For the spiced orange juice
300 ml (10 fl oz) freshly squeezed blood orange juice (either from fruits or a chilled carton)
200 ml (7 fl oz) water
3 ´ 8 cm (3 in) strips of orange zest (use a potato peeler to peel off the strips)
5 tablespoons Grand Marnier, Cointreau or brandy
1 small dried red chilli or 1/2 fresh chilli
1 ´ 5 cm (2 in) cinnamon stick
1 star anise
3 cardamom pods, lightly crushed

To serve
1 bottle prosecco
Slices of orange to serve (optional)
Star anise to serve (optional)
Small cinnamon sticks to serve (optional)
To make the spiced orange juice, put all of the ingredients into a medium saucepan and bring to the boil. Cook for a couple of minutes and crush the spices gently with a wooden spoon. Remove from the heat and allow to cool to room temperature. Cover and chill in the fridge overnight (or at least a few hours) to infuse the flavours.
Pour the syrup through a sieve into a jug and chill. When you are ready to serve, pour 50 ml (2 fl oz) of the Spiced Orange Juice into each champagne glass over a couple of ice cubes and top with prosecco. Decorate the glass with orange slices, star anise and cinnamon sticks if you like.
You can buy signed copies of our latest book 'Rome – Centuries in an Italian Kitchen' here.