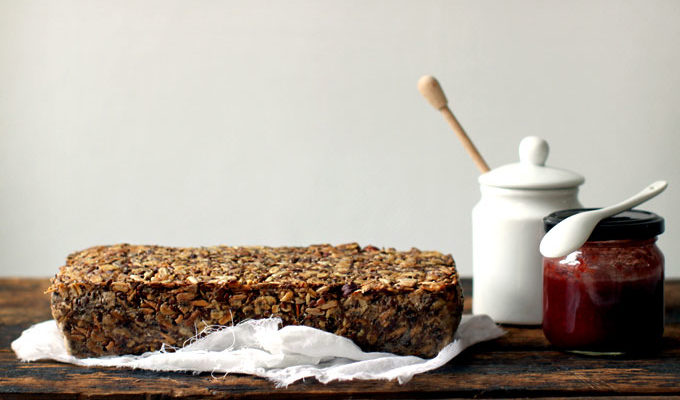 Seed and Nut Loaf
This dense nutty brown loaf is adapted from Sarah Britton's Life-Changing Loaf recipe that she developed while living in Denmark. The bread did literally change her life as the recipe from her blog – www.mynewroots.org – went viral. This is our version minus the maple syrup. You can use oats if you can't find quinoa flakes, but the carb count is higher.
This loaf is just gorgeous with butter, Marmite, cheese or pâté. As it is packed with nuts and seeds it has a high fat content, so don't scoff too much in one go.
MAKES 1 LOAF
(16 finger-width slices)
135g (4¾oz) sunflower seeds, plus 1 tablespoon extra (optional) to finish
60g (2½oz) ground flaxseeds
65g (2½oz) hazelnuts or almonds
75g (2¾oz) quinoa flakes or oats
2 tablespoons chia seeds, ground
3 tablespoons psyllium husk powder
1 teaspoon fine salt
oil, to grease
Per slice 5.1g carbs, 4.5g protein, 9.1g fat, 5.7g fibre, 131kcal
Put the dry ingredients into a large mixing bowl and stir to combine. Add 475ml (17 floz) of cold water and stir through with a metal spoon to form a firm, heavy dough. Leave to firm up for 15 minutes.
Preheat the oven to 200˚C/fan 180˚C/gas mark 6. Line the base and long sides of a loaf tin with a long rectangle of baking parchment that flaps over the sides to help lift the loaf out. Grease the short ends. Alternatively, use a silicone loaf mould.
Use your hands to transfer the dough into the tin and flatten down the top, scattering over the extra sunflower seeds (if using).
Bake for 45 minutes.
Slide a knife around the loaf and tip it out of the tin using the paper.
Put it onto a rack in the oven and remove the paper.
Bake it for a further 30 minutes until it sounds hollow when tapped and is firm to the touch.
Remove the loaf from the oven and leave to cool to room temperature on a wire rack before slicing.
If not freezing, store in a bag or sealed container for up to 5 days in the fridge or a cool place.
This recipe is from The Diabetes Weightloss Cookbook published by Kyle Books with photography by Susan Bell.