A hot and sunny weekend in July
Giancarlo had a great time with Birra Moretti in London this week making pizza in ten minutes with hundreds of people in Soho Square, Exchange Square and Canary Wharf. He is also going to be doing some "Long Lunches" with them, for a chance to win one for you and your friends visit facebook.com/morettiuk.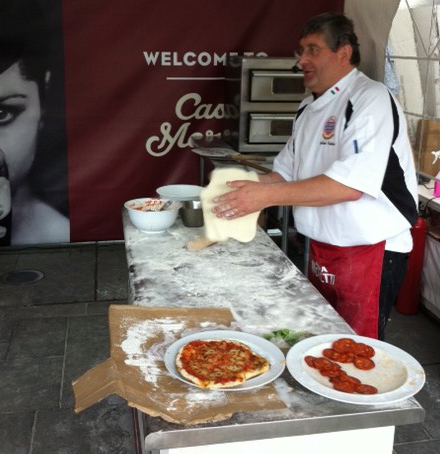 We love to use beer in our pizza dough. Try it for yourself and see the results, we think it is the base is lighter and crispier.
Pizza Margherita
Makes 4 pizzas
For the beer pizza dough
10g fresh yeast or 5g dried yeast
220ml Birra Moretti at room temperature
125ml tepid water
500g strong bread flour
2 teaspoons salt
Semolina for sliding the pizza
For the tomato topping
400g Italian tinned plum tomato
1 heaped teaspoon dried oregano
1 teaspoon salt
2 tablespoons olive oil
2 x 125g balls of mozzarella, drained and sliced
A handful of fresh basil leaves to garnish
Mix the dry ingredients together in a large bowl. If using fresh yeast stir this into the water until completely dissolved. Add the liquid to the dry ingredients in the bowl and using a dough scraper or your hand blend the ingredients together well.
To make the topping, put the tomatoes in a bowl and squash with your hands or use a stick blender to achieve a really smooth sauce. Add the oregano, oil and salt and stir well. Use straight away or store in the fridge for a couple of days. To assemble, simply top the pizza with some of the tomato sauce, scatter with mozzarella and sprinkle with a few basil leaves.
When all the flour is blended in, turn the dough out onto a lightly floured worksurface and knead for 8–10 minutes until smooth and elastic. Try to use additional flour sparingly; a good dough should be as wet as possible without being impossible to handle. Establish a pattern of pushing the dough out into a long oval, then fold it back towards you to trap the air in. Next give it a quarter turn and push it out again. Keep thinking: stretch it, fold it, turn it; stretch it, fold it, turn it.
The dough is ready when it is soft, feels elastic and stops sticking to the board.
Shape the dough into a ball and leave in an oiled bowl, covered with cling film in a warm draught-free place to rise until doubled in size or, if you have time, leave the dough to rise very slowly in the fridge. Many pizzaioli (pizza makers) do this and it ensures good acidity and flavour to their dough.
Preheat the oven to its hottest setting:
250°C/475°F/gas mark 9 is good; 275°C/530°F is great and up to 300°C is perfect. After the dough has risen, split it into 4 even sized pieces and shape into balls. Leave to rise on a floured surface covered in more flour and a dry cloth until doubled in size again.
When it has, roll out the dough balls on a floured surface to a thickness of about half a centimetre. Scatter some semolina onto the board, baking sheet or peel, pull the pizza onto it and spread over a tablespoon of tomato sauce. Top with a quarter of the mozzarella and/or other toppings.
Slide the pizza into the oven and quickly pull the board or peel away so that it glides onto the hot, upturned oven tray. Repeat with the second pizza. Bake for a few minutes only until the cheese is melted and the dough is cooked through. The bases should be golden underneath and the cheese bubbling. Garnish with the basil leaves and serve. Bake the second batch of pizzas in the same way.