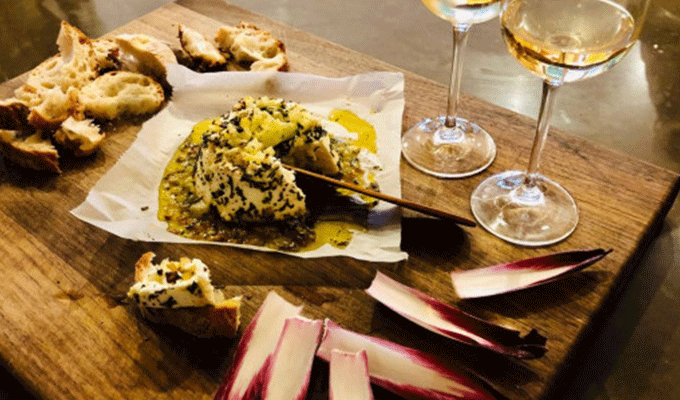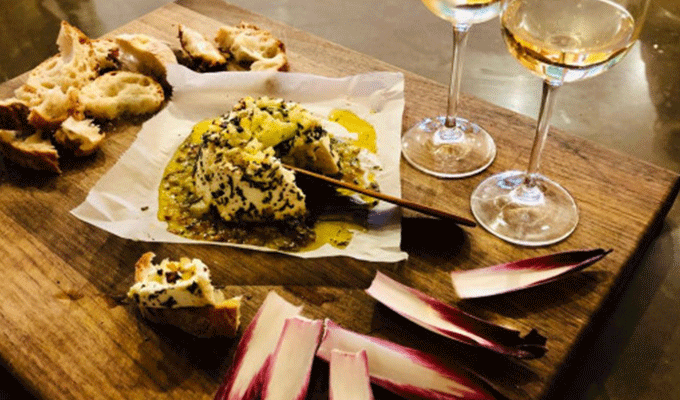 A Sicilian favourite recipe… quick, easy and ideal for a drinks party!
On a cool, bright day in Palermo, capital of Sicily we took a trip to the market in Ballarò. There I was bewitched, lured and dragged by my nose to a stall by the simple smell of roasting onions and rosemary.  It was owned by a father and son who performed a wonderful double act, calling out for people to come and admire their cheese stand.
They had every imaginable local cheese on offer, as well as a few inventions of the father. He took great pride in asking me to come and see his tiny oven where he was baking fresh ricotta smothered in rosemary needles, chopped onions and olive oil. It seemed such a simple idea I couldn't wait to get home to try it. It's brilliant recipe I keep returning to when I have people coming round. Serve the ricotta hot from the oven doused in the oniony oil with warm focaccia or handfuls of chicory leaves.
Ricotta al forno
Oven-baked ricotta with onions & rosemary
Serves 4–6 as a starter or part of antipasti
250 g (9 oz/1 cup) ricotta
salt and freshly ground black pepper
2 sprigs of rosemary, needles removed
from the stems
1 shallot or half a small onion, finely chopped
5 tablespoons extra-virgin olive oil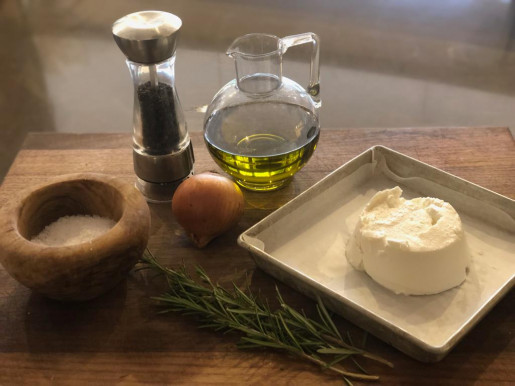 Preheat the oven to 180°C fan (Gas Mark 4) and loosely line a small baking tray with baking parchment; I tear a piece so that it has rough edges and serve the ricotta on it on a wooden board.
Drain the ricotta by tipping out any water from the container and turn it out onto the baking tray.  Gently make a 5cm (2") dip in the top of the cheese with a spoon.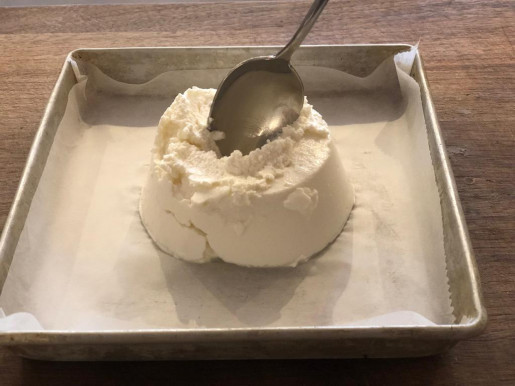 Scatter over the seasoning and rosemary tipping the tin to allow them the fall onto the sides of the cheese.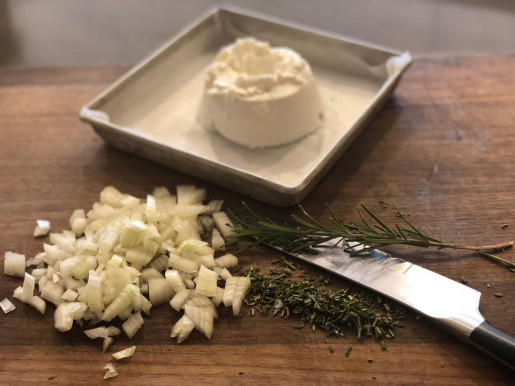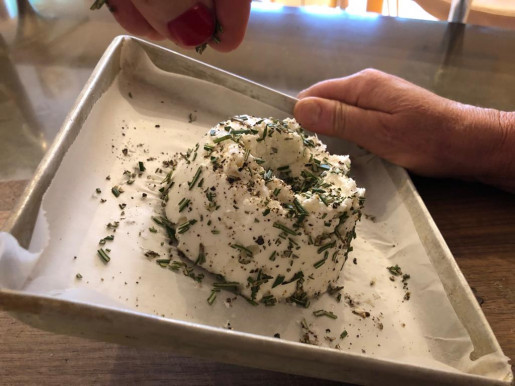 Add the chopped shallot, piling it up on top and allowing some to fall down the sides.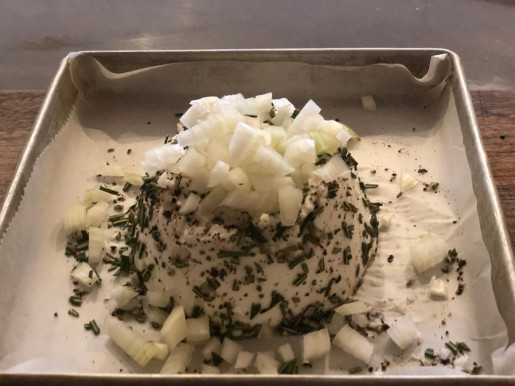 Pour over the oil.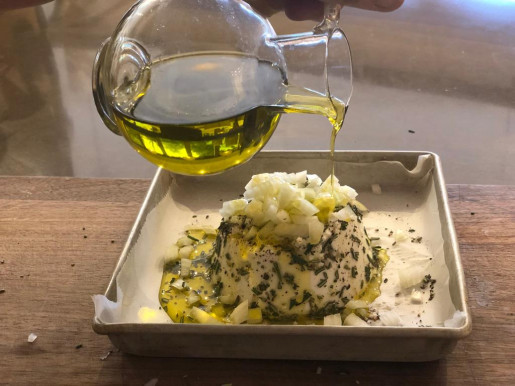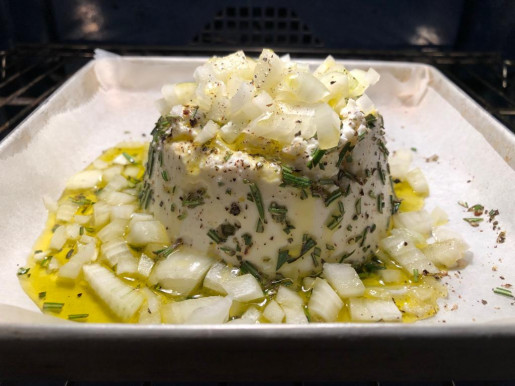 Bake for 20–30 minutes or until lightly browned. Serve warm with wine, bread, leaves and plenty of festive cheer.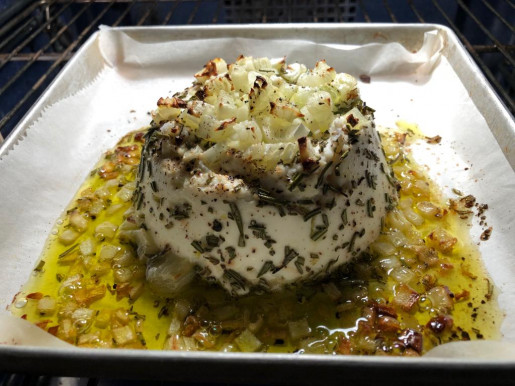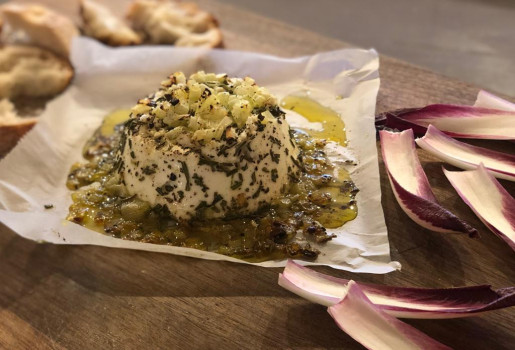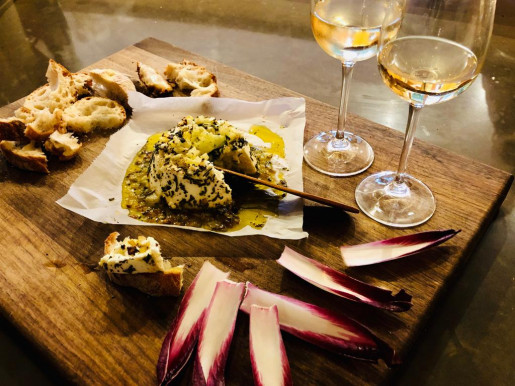 This recipe features in 'Sicily – Recipes from an Italian Island' signed copies of which can be purchased here.