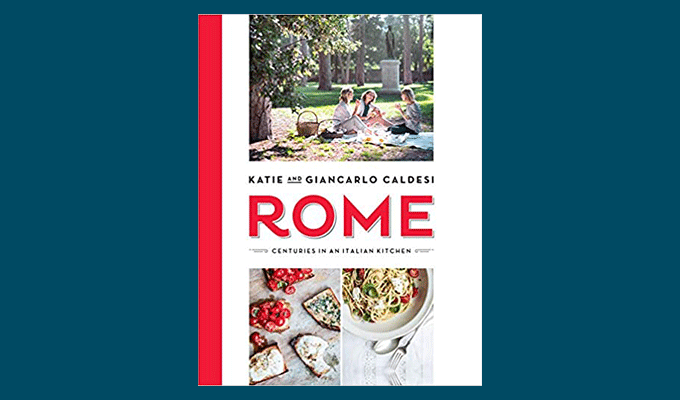 A slow cooked sensation from our latest book…
Photo by Helen Cathcart
Our recently published book 'Rome – Centuries in an Italian Kitchen' has been flying off the shelves and this is one of my favourite winter recipes from the book. We forget sometimes that the Roman empire extended far into Northern Europe, right up to North Northumberland in Britain's case, so many of their dishes have been influenced by the produce available in both cold and warm climates. This is what I'd call a 'rib-sticker' the ultimate winter fuel.
Coda alla Vaccinara
Oxtail Stew
Beef stew in all its forms is essential to the average Roman kitchen. It gives nourishment, comfort and that sense of security that comes from a ritual that you perform so regularly you can't imagine life without it. Even ragu, or meat sauce, that is made all over Italy is a form of stewed beef. Whether the meat is whole or ground, that marriage of beef and tomatoes cooked for a very long time together is hard to beat.
In Rome the Jewish have 'stracotto' meaning 'overcooked', born from a time when only the cheaper cuts were available to them. It was traditionally cooked on the ashes of a fire on a Friday so that it was still warm on the Sabbath when cooking was prohibited. Out of the many beef stew recipes, we have chosen to include Garofolato di Manzo made with a whole piece of meat pierced with spices, and Coda alla Vaccinara, which uses oxtail. You can usually order this from your butcher. It has a wonderfully rich, almost gamey flavour that after long, slow cooking produces meat that simply falls away from the bone. It is a good idea to do this dish a day before you want to eat it as the fat comes to the surface overnight and can be removed.
Serves 6
1.2 kg (2 lb 10 oz) oxtail
2 tablespoons sunflower oil
200 ml (7 oz) white wine
2 ´ 400 g (14 oz) tins tomatoes
1 heaped tablespoon tomato purée (paste)
1 small cinnamon stick
500 ml (17 fl oz) meat or vegetable stock, as necessary
For the soffritto
6 celery sticks with leaves, coarsely chopped into 5 mm (1/4 in) cubes
2 medium white onions, coarsely chopped
2 carrots, coarsely chopped
8 tablespoons extra-virgin olive oil
3 teaspoons fine salt
1/2 teaspoon freshly ground black pepper
3 bay leaves
Fill a large saucepan three quarters full with water and bring to the boil. Add the oxtail and bring the water back to the boil, then remove the oxtail from the water. Pour the water and any scum away. Boling the oxtail like this will clean it and get rid of some of the fat.
Make the soffritto in a large saucepan; gently fry the vegetables in the olive oil with the seasoning and bay leaves for around 5–10 minutes over a medium heat until tender.
Heat the sunflower oil in a large frying pan over a medium–high heat and brown the meat all over. Transfer the oxtail to the soffritto and then pour over the wine. Allow it to reduce for a few minutes. Add the tomatoes, purée and cinnamon, and bring to the boil with a little water to wash out the tins. Turn down to simmer and leave to cook, covered, over a low heat for 5 hours or until the meat falls from the bones. You can also do this long cooking time in the oven: heat the oven to 160°C (320°F/Gas 4) and cook the stew in a casserole dish. During the cooking, turn the oxtails from time to time to make sure they do not stick and top up with a little stock or water, if necessary, so that they are always covered. Serve with mashed potato, soft polenta or potato gnocchi.
For more recipes from the Roman kitchen you can purchase signed copies of 'Rome – Centuries in a Roman Kitchen' here.