A Summer Favourite…
What can I make for a family supper or a summer party this weekend?
One of our favourites at this time of the year is our version of "Chicken Shawarma". As not the most disciplined gardener all my lettuces come at once and I am always looking for ways of using the leaves.
'Shawarma' means 'turning' in Turkish and really this is best made from fatty cuts of meat like thighs, which are constantly turned over a heat source, so the skin and fat constantly baste the lean meat. We do it our way in an oven to achieve the same effect. We serve the shawarma in baby gem lettuce leaves with lemon crème fraîche, coriander and green olives.
Alternatively do as they do in Turkish kebab shops and offer a selection of accompaniments for people to make their own choice, such as flat-leaf parsley and mint leaves, chilli sauce, pickled green chillies or the Garlic Yogurt or Tahini and Yogurt Dressing.
This recipe is from our book "Around the World in Salads" published by Kyle Books with photography by Helen Cathcart and available here.
Chicken Shawarma, Lettuce and Coriander Salad with Lemon Crème Fraîche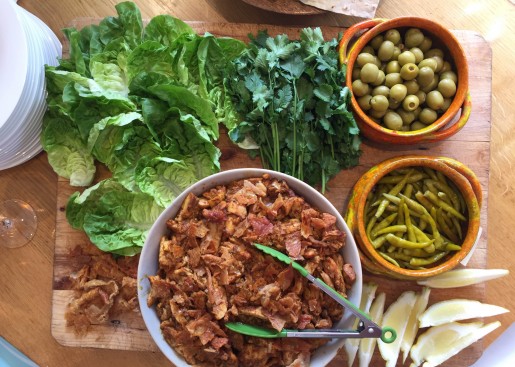 Serves 6

For the marinade
juice of 2 lemons
75ml olive oil
5 garlic cloves, grated
2 teaspoons ground cumin
3 teaspoons sweet (not smoked) paprika
1 teaspoon ground coriander
1 teaspoon salt
½ teaspoon freshly ground black pepper
1 teaspoon ground cinnamon
¼-½ teaspoon dried chilli flakes, according to taste
½ teaspoon ground turmeric

For the chicken
1kg boneless, skin on chicken thighs
2 red onions, each cut into 8 wedges 

For the lemon crème fraîche
200ml crème fraîche
finely grated zest of ½–1 lemon, according to taste
1–2 teaspoons lemon juice, according to taste
salt and freshly ground black pepper

For serving
Baby gem lettuce leaves
Coriander or parsley sprigs
Lemon wedges
Green olives, cut in half and stoned
Green chillies, optional
Put all of the marinade ingredients in a large bowl and mix together. (If you would like to make the chicken crackling see the instructions below.) Add the chicken and onions and toss in the marinade. Cover and leave in the fridge for at least 1 hour and up to overnight.
Meanwhile, make the lemon crème fraîche by mixing the ingredients together, taste and adjust the seasoning as necessary. Decant into a bowl and set aside in the fridge until needed.
When you are ready to cook preheat the oven to 220°C/gas mark 7. Line a baking tray with a silicone mat or baking parchment. Lay the chicken pieces onto the prepared tray spacing them out, pour over any leftover sauce.
Roast for 30–40 minutes or until the chicken is cooked through. To be sure the chicken is cooked through test the internal temperature with a meat thermometer – it should be 85°C. If you don't have a meat thermometer, pierce the thickest part of the chicken with a skewer and check that the juices are clear and not pink.
Remove the chicken from the oven and use a knife and fork to cut into shreds. If the skin is crispy we like to shred it and mix with the chicken. Put into a warm bowl.
Arrange the chicken with the lettuce leaves, coriander or parsley, lemon crème fraiche, lemon wedges, chillies and olives onto a large serving board.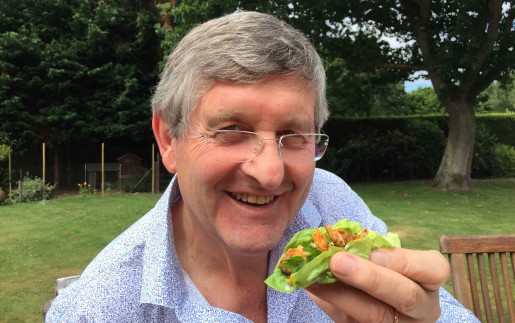 To make the chicken crackling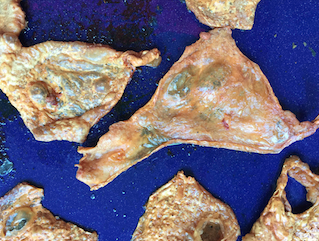 Peel away the skin from the chicken thighs and lay them flat onto a baking tray. Scatter with a little salt and pepper and bake at 180oC for 20 to 25 minutes or until cooked through, golden and crisp. Crumble these over the chicken once it is served for a delicious crispy crackling over the soft chicken.