Coconut Kisses… Sweet yet Saintly!
These little treats are ideal for when you want something sweet or want stop sweet cravings as they have hardly any sugar and make a great alternative to a chocolate bar or a processed biscuit. They're quick easy and fun to make and are ready in no time.

Baci di Cocco
Coconut kisses
As coconut is naturally sweet I have reduced the maple syrup right down to the minimum. You could make them without the sugar or use xylitol instead. These biscuits are also gluten free so you can indulge those who are intolerant. They are very moreish however, especially when still warm from the oven.

Makes approx. 20 kisses
150g desiccated coconut
2 egg whites
30g coconut oil or unsalted butter
1 teaspoon vanilla extract
Small pinch of salt
1-2 tablespoon maple syrup (depending on your sweet tooth or use xylitol to taste or 40g Totalsweet)

Preheat the oven to 160oC. Mix the coconut, coconut oil or butter, maple syrup and vanilla together until well combined. Beat the egg whites until stiff then fold into the coconut mixture. The mixture will form into a paste. Use a couple of teaspoons to drop mounds around the size of a walnut onto a baking parchment lined tray spaced apart by around 3cm. Put into the oven to bake for 15 to 20 minutes or until golden brown. Remove from the oven and allow to cool on a wire rack. Then store in an airtight tin for up to a week.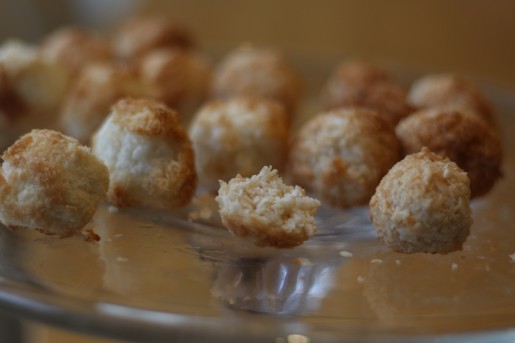 This recipe features on my 'New You, New Food' cookery course. See here for upcoming dates.