Cooking with honey – our evening with the Chalfont Beekeeping Society
We had a great meeting on Tuesday 27th September with our local beekeepers as we are hoping to become hive owners next year.  We gave a talk about cooking with honey and shared tips on using this beautiful natural product.  For details of the Chalfont Beekeepers contact:- www.chalfontbeekeepers.co.uk.
A few pointers to remember when cooking with honey:-
Honey is sweeter than sugar so you need less; therefore as a rough guide add three quarters of the amount of sugar in a recipe.
It has the same calorific value as sugar and cannot be given to diabetics.
Honey adds moisture to recipes so other liquids need to be reduced slightly to counteract this.  One of the members told me it is an invert sugar so does not behave in the same way as sugar, for example it doesn't work in a sponge cake.
Honey is more dense than sugar so it weighs more so don't substitute one with the other to the same proportions.
Honey adds its own flavour to the finished product, be aware of adding strong honeys to dishes where it might overshadow other ingredients.  Use mild honey such as acacia for dressings and stronger honey such as chestnut to eat with cheese.  Heather honey is wonderful in cakes and spread onto cheese.
Honey adds acid to a recipe, so often bicarbonate is added to bump up the alkaline.
And honey can cause baked foods to brown more quickly.
Italian uses for honey
Romans used it with snow and fruit juices which we tried last year and it was very effective with a squeeze from a fresh orange over snow and drizzled with honey, delicious!
In Montalcino, Tuscany, the national honey festival is held in September. It is in the beautiful grounds of the Castello Montalcino and is sure to inspire anyone remotely interested in honey.
I loved it.
Italians often eat honey with cheese try it spooned over freshly made ricotta or spread onto slices of Pecorino (sheep's milk) cheese.  I understand from one of the members it is also gorgeous over Greek Halloumi cheese slices.
Mixed with black truffle for truffle honey to drizzle over chicken or cheeses such as Pecorino or Parmesan.
Crogetti – fried dough squares or balls of fried dough drizzled with honey and cinnamon
Stirred into hot milk cold mornings.
Bee pollen is crunchy and can offer texture when sprinkled on foods.
Types of Italian honey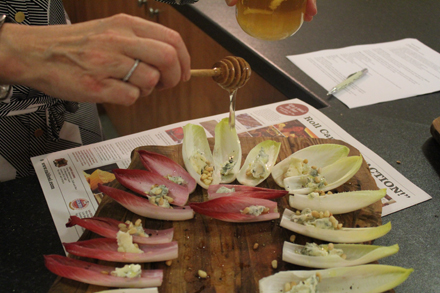 Italians can be more specific about where they honey is from and each one is labelled with the type of flower the bees have visited apart from Millefiori meaning "many flowers".  Italian honey varies hugely from mild to strong.  Personally I think chestnut honey tastes like horse manure smells but don't tell the Tuscans they love it!  My favourite is one called Melata which is supposedly made from the oozing sugar from overripe fruits.
Acacia is light and perfect for most uses.  Tiglio is from plain trees and there are many more…..
Why it is good for you
Honey has vitamins such as B6, Thiamin, Niacin, Riboflavin, minerals, calcium, potassium and zinc.  Natural antioxidants help to eliminate free radicals.  Honey and cider vinegar is used against arthritis.
Honey acts as an antiseptic/antibacterial agent for wounds, burns and sore throats. It also said to reduce swelling and prevent scarring. It can be used as oral antiseptic, especially mixed with lemon which is why we all like this drink when we have a cold.  Although my favourite nightcap is a cup of milk mixed with honey and whisky warmed in the microwave.
Storing honey
Honey should be stored at room temperature, in the fridge it becomes solid. The cold makes honey crystallize.  To dissolve the crystals, warm it up. Put the honey jar in warm water into the microwave with the lid off. Microwave on medium power and stir regularly until the crystals dissolve. If overheated it will burn so take care.
Sticking on the spoon
To stop honey sticking on a tablespoon when measuring, coat it lightly with vegetable oil before measuring. The honey will slide off the spoon.
Marinades
A little sweetness makes us all feel good!  Try rubbing honey on pork chops or mixed with lemon over of lamb or ham. It's easier to coat with honey if it is warmed up so just put the pot in the microwave for a moment, mix with a little lemon juice and a little grated lemon zest and baste away before and during cooking.  I am sure you all have had honey over gammon but have you tried it over salmon?
Oven-baked Salmon with Pistachio and Honey Crust
Salmone al forno in crosta di pistacchi e miele
Serves 4
50g shelled pistachios
30g homemade dry breadcrumbs
1 tablespoon rosemary
1 tablespoon thyme
4 salmon steaks or one piece of salmon (about 600g)
4 teaspoons honey
4 teaspoons olive oil
Salt and freshly ground black pepper
Preheat the oven to 180°C/350°F/gas mark 4. Prepare the crust for the salmon steaks. Chop the nuts by hand or in a food processor until they are the size of peppercorns. Set aside in a mixing bowl. Do the same with the bread and herbs to make herb breadcrumbs and mix thoroughly with the nuts and salt and pepper.
Season the salmon all over with a little salt and, if using steaks, lay them up against one another in a roasting pan. Drizzle the honey over the salmon spreading it out with your finger. Now coat with the breadcrumb mixture, patting it down so that it sticks to the honey. Drizzle over the oil. (If you have steaks, separate them to allow even cooking). Transfer to the oven for 15–25 minutes or until cooked through. Serve the salmon on a bed of parsnip mash or with a green salad.
Here is a great salad dressing to go with grilled meats and fish.

Insalata di Rucola, pinoli e melograno
Rocket, pinenut and pomegranate salad
Serves 4-6
1 handful of rocket per person, long stalks removed
85g pine nuts, lightly toasted
½ pomegranate, seeds only
2 tablespoons flat leaf parsley leaves, rough torn

Dressing
2 teaspoons honey
2 tablespoons extra-virgin olive oil
Salt and pepper to taste
1 to 2 tablespoons of honey vinegar or lemon juice
Mix the ingredients for the dressing together in a large bowl.
Add rocket, pinenuts and pomegranate seeds mix well.  Put into a clean dish and serve straight away.  Sprinkle with parsley.
And for a sweet treat, here a three easy recipes:-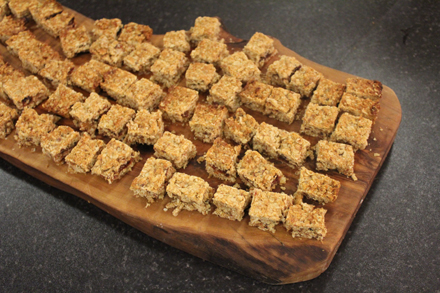 Date, oat and honey slices
Makes approximately 20 small squares
100g butter
4 tbsp honey
125g rolled oats
125g dates, chopped
75g wholemeal flour
1tsp baking powder
Preheat oven to 180°C.  Line a medium size baking tray with baking parchment.  Melt butter and honey together then add the oats and chopped dates. Stir to combine.   Add wholemeal flour and baking powder. Stir to combine.   Spoon the mixture into the tin and bake for around 20 minutes or until golden brown.
Swedish cream
A friend of mine offered me this delicious cream when we had a fruit salad at her house.  She had used banana, papaya, apple and kiwi for the salad but strawberries and raspberries are lovely in season too.  She simply whipped double cream up and stirred in runny honey and cinnamon to taste.  Delicious!
Apple Leather
Cooking apples are ideal for the cooked method of this or use eating apples or a mixture of the two for the non-cooking method.
Preheat the oven to 70°C/140°F.  Line a baking tray with cling film, baking parchment or a silicone mat.  Select ripe and unbruised fruit and remove the cores and pips.  Do not peel.  Cut it into chunks and put into a food processor or blender.  Add the juice of half a lemon and whizz to blend.  Add a little water to loosen the pulp to a "just liquid" consistency.  You need to be able to tip the puree from side to side in the tray to spread it out so the "medium thick soup stage" is what you are looking for.  If it isn't sweet enough for your taste add honey as necessary.
Pour the pureed apple onto the prepared trays and tip this way and that until the surface is covered and the puree is around half a centimetre thick.  Bake in the oven for around four to five hours or until the consistency of leather and no longer sticky to the touch.  Eat straight away or roll up while still just warm in the cling film or parchment.  Depending on the humidity the leather will last well in a dried out state.
If you prefer the taste of cooked apple, peel, core and chop them and cook with honey and lemon juice to taste for a few minutes adding enough water to achieve the soup consistency.  Follow instructions above for baking.