Discover the Origin Campaign
Katie was also busy this weekend with the Discover the Origin Campaign which has been a three year campaign promoting five key European products: Parma Ham, Parmigiano-Reggiano, Burgundy and Douro Valley wines and Port. Katie concentrated her efforts of using the foods from the campaign and cooked Pasta al Forno, a delicious combination of pasta, boiled egg (weird but works!), tomato sauce and meatballs. She also made a salad of roasted squash with Parmesan shavings and Broad Bean, Parmegiano-Reggiano and Mint Puree which is perfect as a crostini topping or as a side to lamb.
Here are the recipes:
Pasta al forno with Parma Ham and Parmigiano- Reggiano cheese
"It's great with the Reserva red from the Douro valley if you want to try one of the wines from the campaign."
Serves 8-10
For the tomato sauce:
1 medium onion, finely chopped
2 garlic cloves, peeled and crushed
75ml olive oil
Salt and pepper, to season
3 x 400g tins plum tomatoes
1 sprig basil
For the meatballs:
250g minced pork
250g minced beef
75g salami, diced (optional)
125g fresh white breadcrumbs
2 medium eggs
5 tablespoons grated Parmigiano-Reggiano cheese
Salt to taste
For the pasta:
100g Parma Ham
4 eggs, for boiling
1 packet lasagne sheets (500g)
50g Parmigiano-Reggiano cheese, finely grated
250g mozzarella, roughly torn into bite-size pieces
50ml olive oil (25ml for frying, 25ml for tossing with the pasta)
Preheat the oven to gas mark 4/180oC. Make the tomato sauce by frying the onions and garlic in the olive oil with the salt and pepper and when soft add the tinned tomatoes and basil. Bring to the boil and simmer for 30–40 minutes. Stir frequently, breaking up the tomatoes with a wooden spoon or potato masher.
Mix together all the ingredients for the meatballs in a bowl. Roll into marble-sized balls (wet hands may help with this).
Boil the eggs. Meanwhile, lightly fry the meatballs in olive oil and drain on kitchen paper. When the eggs are done, crack the shells and drop them into cold water to stop blue rings appearing.
Mix together the cheeses. Shell the eggs and chop them into rough pieces.
In a large lasagne dish, put a thin layer of tomato sauce followed by the lasagne sheets then cover with some more tomato sauce. Scatter over some of the meatballs, chopped eggs, mixed cheese and Parma Ham. Build the lasagne in layers until it fills the dish, finishing with a layer of tomato sauce and cheese. Bake for about 45 minutes or until golden brown and bubbling.
Serve the lasagne with mixed, dressed salad leaves on a separate plate and some bread for mopping up the tomato sauce.
Roast Butternut Squash and Parmesan Salad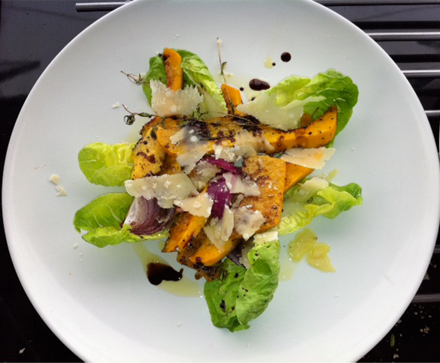 1 Butternut squash
2 red onions
Few sprigs of thyme
6 tablespoons of extra-virgin olive oil
1 tablespoon of Balsamic vinegar
Handful of pinenuts
Few shavings of Parmegiano-Reggiano
Salt and pepper
Peel the thinner skins varieties of pumpkin with a potato peeler and leave the skin in tact on the thicker ones.
Roast at 180oC in 5cm wedges with plenty of olive oil, salt and pepper.
After 15 minutes add wedges of red onion, rosemary or thyme and toss well with the oil in the tray.
Toast some pinenuts, shave some Parmesan and when the pumpkin and onion are browned move onto a platter. Drizzle over the oil from the pan mixed with balsamic vinegar.
Scatter over the nuts and cheese and serve.
Broad bean and wild garlic dip
Franco Taruschio made me this vibrant green dip in spring when he instructed our family in picking the long, green leaves of wild garlic. It is often found by rivers and now the children recognise the smell and gather it for us when we are out walking. The leaves have a gentler flavour than garlic bulbs. It is very moreish and good with lamb chops or on toasted bread for crostini.
Serves 12 allowing two pieces of toasted bread each approx 10cm by 7cm or Serves 6 as a vegetable dish
500g young broad beans in the pod or the same quantity of frozen beans
1 clove garlic, finely chopped or 10 leaves of wild garlic
8 large mint leaves
2 heaped tbsps freshly grated pecorino sardo or parmesan
4 tbsps or more of extra virgin olive oil
Salt and freshly ground black pepper
Shell the beans and blanch them in boiling water for a minute, then plunge into cold water. If the outer skins are tough and you have time, slip the beans out of their skins. Normally I find this unnecessary as the whole dip is so finely chopped.
In a food processor process the garlic and mint to a paste, add the beans then the cheese, salt and pepper and finally the olive oil. The end result should be a smooth, loose paste.
Slice a baguette approximately ½ cm thick and brush with olive oil. Place onto a tray and put into the oven until golden brown and crisp. Serve the broad bean paste. Finish by topping with finely shredded mint leaves.