Drying tomato seeds for next year's crop
Tuscan smallholder Nello Ceccuzzi hates shops. In fact he never really goes to one as he is 80% self-sufficient. He and his wife Livia grow nearly everything they need in their "orto" or vegetable garden. This year we visited him as he was picking tomatoes which he does as they just turn ripe. He was particularly proud of the ones with dark skins, they have a "sapori buoni" he told me, a good flavour.  They have tough skins but he will use them to make passata so the skins will be sieved out anyway. I will cover passata in the next blog post.  As Nello is ever watchful of pennies and proud of his bounty he takes seeds from this year's crop for the next.
Nello has never bought seeds but instead used varieties year in, year out that he got from his family or his neighbours. He knows they grow well in his soil and he likes their taste, size and texture. You can't save seeds from hybrid varieties also called F1.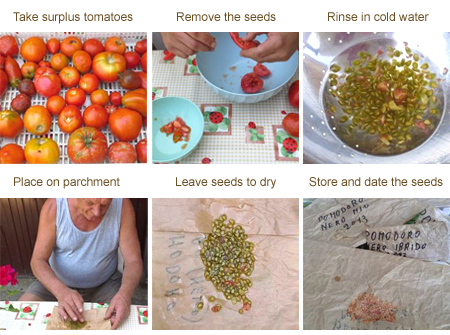 Here is how he does it. Remove enough seeds from a perfect tomato to give you a good batch of plants for next year and extras to allow for mistakes. Put them into a sieve and  rinse them under cold water to remove some of the gel that surrounds them.
Spread them onto paper or baking parchment and leave outside on a dry, still day or on a sunny windowsill weighed down so that it doesn't blow away. Alternatively use kitchen paper, the seeds won't come off but if you spread them out you can plant them on the paper and it will degrade in the soil.
When the seeds are thoroughly dry fold up the piece of paper and write on it what they are and when you dried them. Then keep in a tin or box in a dark, dry place until next year when you are ready to plant.  Simple, tomatoes for eternity without stepping over the threshold of a shop and parting with money.