Giancarlo's favourite Ragu …
If you want to start a heated argument with a group of Italian's you just need to ask them the best way to make a ragu. Everyone seems to have their own favourite recipe (it's normally the one their mother used) and there'll be an infinite number of secrets, tips and tricks to adhere to. Giancarlo's recipe for his Tuscan ragu is the one that he was taught by his mother and one that has been in the Caldesi family for generations. This is the recipe we use in the Caldesi restaurants and the one that our customers rave about, it's a rustic recipe which delivers a rich, unctuous argue. This ragu is truly Tuscan comfort food, a warming 'culinary hug'  that goes well with pappardelle and gnocchi alike.
Giancarlo's top tip :- " You don't want a watery ragu, it is meant to be thick and you need to be brave and not add extra liquid".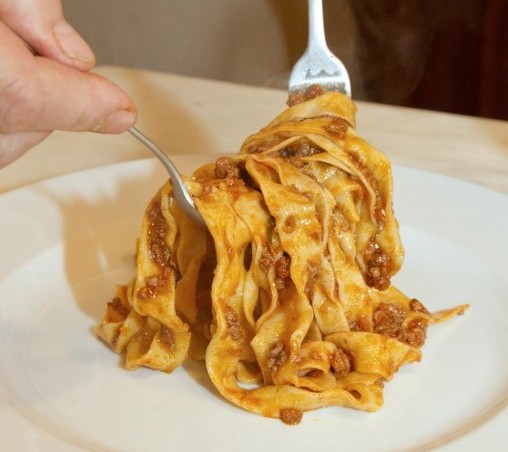 Ragù alla toscana – Tuscan ragù
 Serves 8 as a main, 10 as a starter
1 x quantity prepared soffritto (see recipe below), including the garlic and rosemary
500g beef mince
500g pork mince
300ml red wine
800g Italian tinned plum tomatoes
60g tomato purée
Salt and freshly ground pepper
Make the soffritto, frying the vegetables in hot oil for 15–20 minutes or until softened. Add the mince and fry for 10–15 minutes over a medium heat, stirring frequently, until the meat is browned and the water has been released and evaporated. The mixture should be sizzling as it is stirred. Add the wine and cook over a high heat for 5 minutes until the wine has separated from the oil. At this point add the tomatoes, rinsing out the cans with a little water and add this too along with the purée. Turn down to a simmer and leave to cook for 11/2 hours until the sauce is darker in colour and rich in taste. Adjust the seasoning to taste.

Basic Soffritto recipe
Also known as battuto, this is the essential base for Italian stews and soups, some sauces and ragù. The recipe varies by region, but most versions contain the 'holy trinity' of Italian vegetables: celery, onion and carrot. In summer, make batches to freeze for winter, including some without garlic.
 150g carrot (about 2-3)
150g celery (2-3 sticks)
150g onions (red or white)
150ml olive oil
2 garlic cloves (optional)
Salt and pepper
2 large sprigs of rosemary and/or thyme
2 bay leaves

Finely chop the ingredients by hand or in a food processor. It is best to cut them separately if you are using a machine as the carrots need longer than the celery and onion.
Heat the oil in a large frying pan over a medium-hot heat. Add the garlic, if using, and season with salt and pepper. Fry for 1 minute before adding the remaining ingredients. Keep frying, stirring frequently, for 15–20 minutes or until the vegetables have softened. The colours will have changed from bright and sharp to soft and golden. Use straight away or freeze
Freezing soffritto
Divide the standard quantity of soffritto into four and freeze in suitable containers. I use leftover yoghurt or ricotta pots. Once frozen turn out the blocks and put them in a plastic bag in the freezer.
Here's a link to a video with Katie's top tips for making a ragu.