Homemade tomato ketchup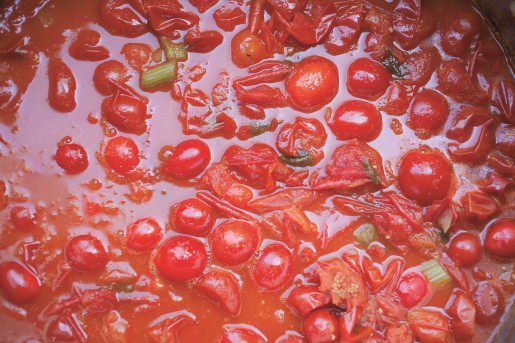 The sun is shining and I can smell the neighbours barbecues around me making my mouth water for sausages, beefburgers and grilled vegetables. And all with a generous dollop of ketchup, our homemade ketchup. We made a huge batch last year and it kept us going for months, we put it into sterlised bottles, designed our own label and knew exactly what went into it. Here is the recipe which is great on its own or as part of the Barbecue sauce recipe from our book, the Gentle Art of Preserving – it features in our magazine Il Giornale available at our restaurants and cookery school.
Tomato Ketchup
Get the best flavoured tomatoes you can find and this will reflect in the final flavour. I often end up using a mixture of cherry and large and some that have bruised parts cut away but they should always be ripe rather than soft.
Makes approx. 500g
2 kilo tomatoes
500g white or brown onions
2 celery sticks
40g fresh ginger
4 garlic cloves
2 teaspoons of salt or add to taste
100g golden caster or granulated sugar
50ml cider or red wine vinegar
For the spice bag
One teaspoon cloves
One teaspoon allspice berries
1 5cm cinnamon stick
6 cardamom pods
Half any large tomatoes then put all of them into a food processor with the onions, celery, ginger and garlic.  Little cherry tomatoes can go straight in the pan. Pulse them until roughly chopped or do this with a knife.  Pour the contents into a large preserving pan, add the salt and bring to the boil.  As soon as it bubbles turn the heat down to simmer and allow it to simmer stirring frequently for 1 to 1 1/2 hours or until the vegetables are soft.
Meanwhile put the spices into a bag and give them a bash a couple of times with a rolling pin to crush them lightly.  Add this to the simmering tomatoes.  When the vegetables are soft pass them through a food mill or sieve to get rid of the skins, seeds and cores – discard these.   Pour the remaining juice back into the preserving pan and bring to the boil again adding the sugar and vinegar.  Reduce the heat to very low and let it bubble away slowly for around an hour stirring frequently so that it doesn't catch on the bottom of the pan.  The sauce should reduce in this time by around half leaving a bright red, thick velvety sauce. Taste and add more salt if you feel it needs it.
Pour into warm, sterilised bottles and seal immediately. (If you want to keep the ketchup longer than 3 months, it is safest to waterbath the warm bottles for 10 minutes at this stage.) Alternatively store in a dark, cool place for up to 3 months. Once open, store in the fridge and consume within a month.
For more preserving recipes and details on sterilising, waterbathing etc see The Gentle Art of Preserving by Katie and Giancarlo Caldesi, Kyle Books 2013, £25 available at all our venues, good bookshops and amazon.