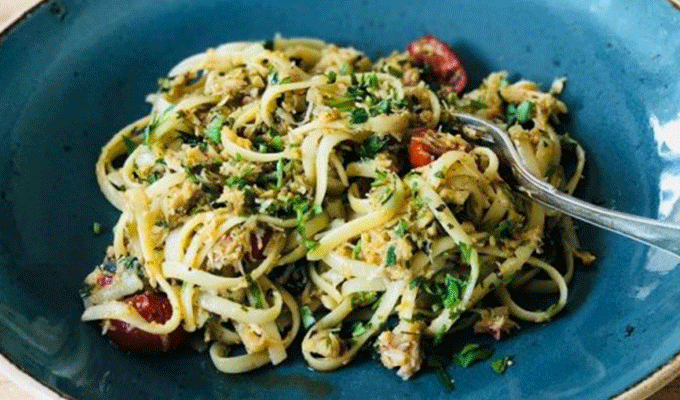 Linguine with Crab Chilli and Cream
I am always seduced by fresh crabs for sale when I am by the seaside, particularly when someone else has kindly dressed them for me. Everyone loves the pale pink and white meat but there is always the dilemma of what to do with the intensely-flavoured and smoother brown meat.
In this recipe the both are used; the dark meat for its creamy quality and fuller flavour and the white for its pretty looks and flaky texture. The strength of both crab meats can then take the kick of chilli and wine.   When the cream is stirred through it simply gathers the flavours together and coats the hot strands of linguine with the sauce.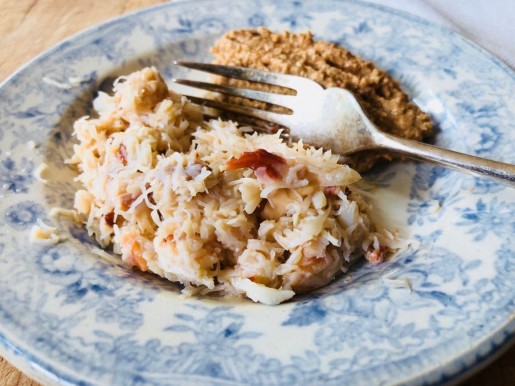 This recipe uses a "battuto" which is a mixture of herbs, garlic and seasoning that is finely chopped on a board with a large cook's knife.  It is typical in Italian cookery and gives a wonderful base flavour to a dish. As you are chopping you can't help but inhale the flavours of fresh parsley, garlic and chilli, its wonderful.
You will have no idea the strength of a red chilli by looking at it. They can be eye-wateringly hot or a bit 'meh' and insipid so must taste it. Pick a small piece cut from the centre of the chilli and eat it. The heat is in pith not so much in the seeds and this isn't present at the tip or stem ends. Only then will you know how much to add to your sauce to give it the hit you need. If there is no heat at all use a pinch of dried chilli flakes as well.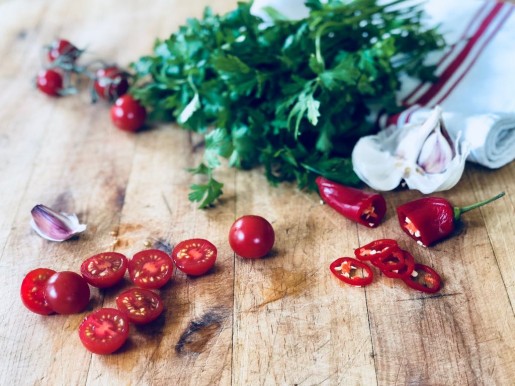 Serves 4 (as a main, 6 as a starter)
3 tablespoons extra-virgin olive oil
15 cherry tomatoes, halved
100 g (31/2 oz) brown crab meat and 300 g (10. oz) white crab meat
100 ml (31/2 fl oz/scant 1/2 cup) Prosecco or white wine
4 tablespoons double (heavy) cream
320 g (111/2 oz) dried linguine
For the Battuto
large handful of parsley, roughly chopped, plus 2 tablespoons finely chopped
1 garlic clove, peeled
fresh red chilli, finely chopped, to taste, and/or 1/4 teaspoon dried chilli flakes
salt and freshly ground black pepper
Make a battuto with the 2 tablespoons of parsley, the garlic, chilli, and a pinch of salt and pepper by finely chopping them together on a board with a sharp knife.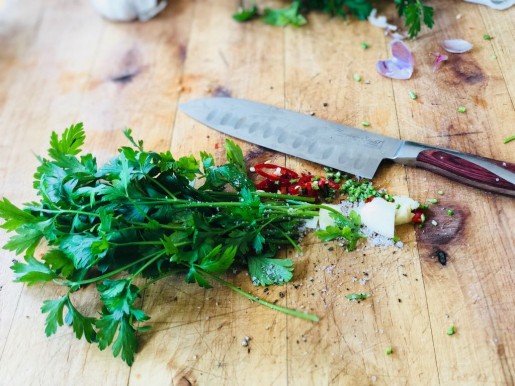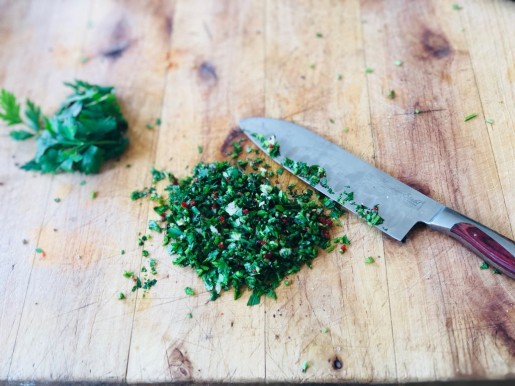 Heat the oil in a large frying pan over a low heat and fry the battuto for 3 minutes, until the garlic just starts to soften but doesn't burn. Add the cherry tomatoes and crab meat and fry for a couple of minutes.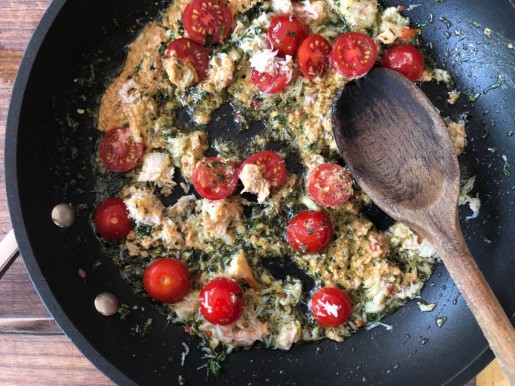 Increase the heat and pour in the Prosecco or white wine and allow it to evaporate for a few minutes until the strong smell of alcohol has gone.
Pour in the cream and shake the pan to blend it into the sauce. Taste and season with salt and pepper as necessary. Remove from the heat and set aside.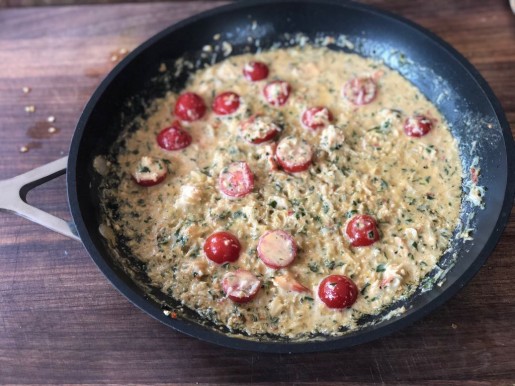 Cook the pasta until just al dente. Take 2 tablespoons of water from the pasta saucepan and add it to the sauce in the frying pan. Drain the pasta and put this in too.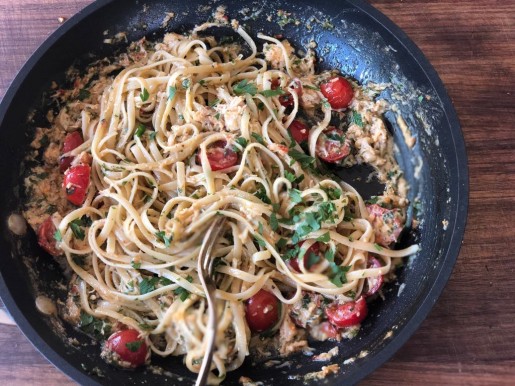 Add the remaining parsley and toss or stir through briefly. Serve straight away in warmed bowls.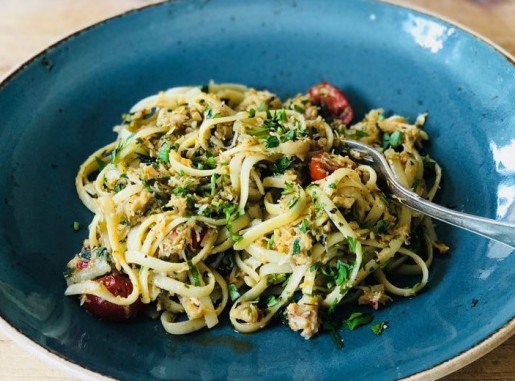 This recipe features in 'The Long and Short of Pasta' by Katie & Giancarlo Caldesi, published by Hardie Grant with photography by Helen Cathcart. Buy signed copies HERE.