Paola Rocchi at Caldesi in Campagna for Frescobaldi Fortnight
On Monday an Italian chef by the name of Paola Rocchi arrived at our house all the way from sunny Tuscany.  She is staying with us whilst we stage Frescobaldi Fortnight at Caldesi in Campagna – A chance to enjoy Paola's Tuscan food and the wines of her employers, the Frescobaldi family. Living with four men (two young and small, one husband and one elderly dad) it was lovely to have some female company for a change, and even better she is a fellow foodie. As Paola speaks no English I have also planned to get her at least saying a few phrases.
Paola is Head Chef at Castelgiaconda in Montalcino, one of the beautiful wine estates belonging to Frescobaldi. Originally from Lazio she now lives and works in Tuscany. She rides to work every day on her Harley Davidson loving the fresh air and changing landscape around her.
Day 1 
I assumed after her journey she would be tired but instead she asked if she could help me as I looked rather stressed (a quite normal expression on my face really). In no time at all I had her making muffins with my son for our Halloween party that night. After that she got stuck in making edible spiders, carving out pumpkins and the rest. I knew I liked her already. I gave her Beetroot, walnut and English goat's cheese salad followed by my homemade turkey and broccoli pie with an English red wine. The food scored better than the wine.
Day 2 
I drove Paola to our restaurant in Bray to meet the team and get preparing her dishes to be included on the menu. Having only been to the UK once before she was curious to see what our country looked like.(She thinks Maidenhead is lovely and is amused to see the houses looking different to one another and quite low in height!).Once at the restaurant she soon settled in and started preparing the mushroom and spelt soup and the slow-cooked stracotto. That is my favourite. It is a big piece of veal that cooks over four hours with onion, carrot and celery as well as a whole bottle of Frescobaldi white wine. The veal is then sliced and served with the cooking juices blended with the vegetables. Simple, but absolutely delicious. My kind of dish and pure comfort food when combined with soft polenta stirred through with Parmesan.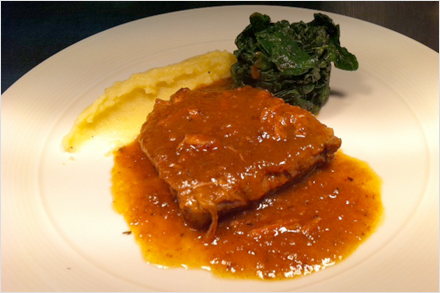 We finished the day with a glass of Tenuta di Castiglioni ICT 20008. Paola then explained she used to be a sommelier and how she was still fascinated by wine as well as cooking. We decided this wine was equally good with or without food and at £27.95 on the menu it wasn't going to break the bank. As we left the restaurant around 11pm we bid farewell to the remaining customers and Paola wished them "Good Morning"!  At least I got her speaking English, just not at the right time of day!
Day 3
I was giving a pasta making course at our house in Gerrards Cross (see the section on this site for courses in you are interested). As the mise en place was complete in Bray and Gregorio, our head chef, was on the case with the wild boar, the ribollita and the cacciucco, the Tuscan fish stew, she stayed behind to help with the course. Despite the fact Paola speaks no English she was great at demonstrating her pasta making skills with the students. I asked her to show us her cannelloni, which she made with my leftover turkey, eggs and Parmesan (great way to use up turkey at Christmas I thought).
That evening we shared her Tuscan wild boar stew cooked with red wine and chilli on black kale with Morellino di Scansano DOC 2009. Powerful and robust enough to cope with the gamey wild boar as well as having enough fruit and vanilla to soften the heat of the chilli. Pretty good way to finish the day really.
Day 4
Its back to the restaurant to finish the ribollita, the beans were soaking all night. And more duck ragu to make to go with the hand rolled spaghetti known as pici. For supper we had the Cacciucco, a dish from Livorno on the Tuscan coast made from as many fish as there are "c's" in the name with Pomino Benefizio DOC, Castello di Pomino 2009. A gorgeous combination, another day over and I drove Paola back home around 10.30pm. She managed to say "Good night" this time and was very pleased. On the way home a large rat ran across the road in front of us and she announced "Mouse, big", great I thought, things are improving.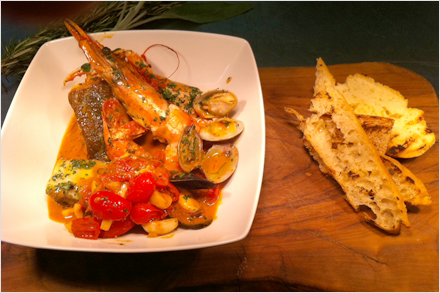 Day 5
At breakfast this morning she saw Berlosconi plastered over the newspapers and knew the British were laughing at him, she exclaimed "Oh my God", another British expression perfectly used!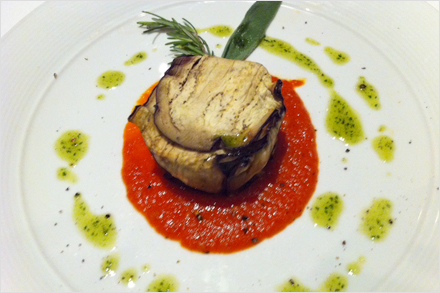 Gala Dinner Competition
We are holding a Gala Dinner Night on the 10th of November and would like to offer you the chance to win two places at our gala, simply enter our competition! To have a chance to win email us on competitions@caldesi.com and tell us which region is Paola from and which restaurant she will be cooking at during Frescobaldi Fortnight. Entries must be in by 8th November 2011 to qualify.
To book a table at the restaurant during Frescobaldi Fortnight call 01628 788500 or visit www.caldesi.com.