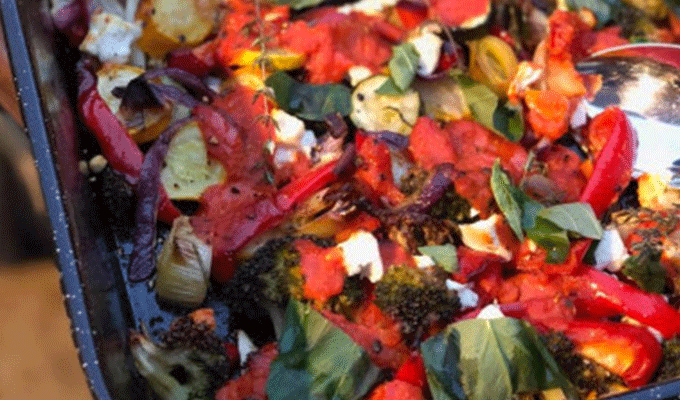 Rustling up Dinner from the Allotment Garden and Bottom of the Fridge
This weekend our family bundled into our car and drove down to Devon to see my sister Carly and show our Italian guest Pia what the south of England was all about.
As we arrived Carly whisked us off to pretty Instow, a village overlooking a vast estuary, where Pia was introduced to huge, warm, flaky pasties filled with meat and potatoes. Despite her diminutive stature she managed a whole one (rather to my disappointment as I thought we might share).  We bought huge scones, Devon's best clotted cream and local raspberry jam. She looked suspiciously at the thick, buttery cream with it celebrated crust but loved the combination and came back for more. She was so impressed she asked for the same the next day after a huge English cooked breakfast. This girl can eat and its so refreshing to find an Italian who loves British food.
After a brief paddle on blustery Saunton Sands Carly walked us up the hill to admire her allotment. I was amazed to see how much she had growing since she only started it four months ago. In my established garden of 11 years I have still only managed a herb bed, some courgettes and a couple of beans that struggle to get up the poles. (Note to self to try harder next year to beat sibling in the allotment challenge).
Between dry, crumbly leaves we found handfuls of ripe tomatoes, the last plump green beans, small bright yellow courgettes and a forgotten fat green one. We picked what we could find for our supper stopping to sample blackberries and whortleberries on the way home. In her garden we gathered thyme, rosemary and basil. I had bought local Devonian cheeses; a crumbly, creamy Sharpham Rustic, a soft goat's cheese, Riverford curd and a Somerset Brie. Since there were only little pieces left after the teenagers had devoured most of them for lunch we decided to use all of them up.
Carly suggested I made "med veg," as she called it, to use up her random selection of home-grown vegetables, a couple of manky carrots and a leek from her fridge and some leftover tomato sauce (recipe from last week's blog) and the cheeses from the bottom of my cool bag.
We loved the final dish and finished the lot so I decided to share the recipe. Pia was happy to eat something that resembled Italian food for once on the trip before we tipped her over the edge in food experiences with a curry the next day.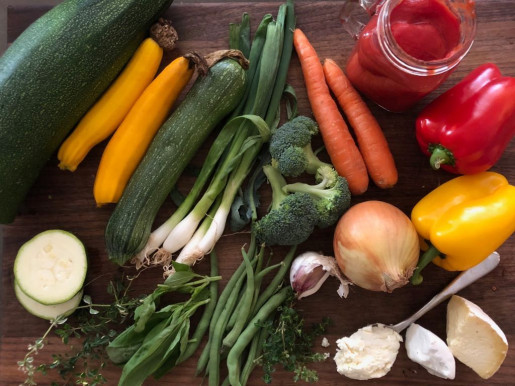 Oven-Roasted Vegetables with Crumbled Cheese, Thyme and Parsley
Serves 4
1 red pepper, seeded and sliced
1 leek or 3 spring onions, cut into 1cm slices
3 courgettes, cut into 1cm slices
An assortment of green beans, broccoli, radishes or any other vegetable you have
2 carrots, finely diced
1 white or red onion, cut into slim wedges
3 garlic cloves, unpeeled and lightly squashed
3 sprigs rosemary
10 sprigs of fresh thyme
6 tablespoons extra-virgin olive oil plus more for a drizzle at the end
200g of very ripe tomatoes or half a can of plum tomatoes or tomato passata
150 g (4 oz) soft cheese such as goat, brie, Sharpham Rustic, curd
Salt and freshly ground black pepper
Fresh basil, torn, to garnish
Preheat the oven to 200oC fan/400oF/Gas Mark 6.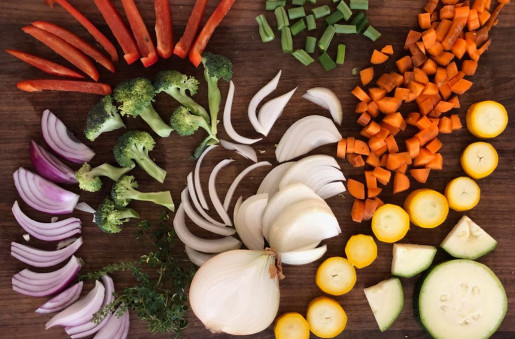 Put the vegetables into a large roasting dish and add the seasoning, rosemary, half of the thyme and 6 tablespoons of extra-virgin olive oil. Use your hands or a large spoon to combine the mixture together then spread out into a single layer. This is important – more than one layer means the vegetables will steam rather than roast.
Squash the garlic cloves lightly with the flat side of the knife to release their flavour. Add to the dish. Make sure the herbs are under the vegetables, so they offer their flavour but don't burn.
Roast for 15 minutes and remove from the oven. Meanwhile use a small food processor to whizz the tomatoes to a pulp (or use passata). Season with salt and pepper. Spoon this over the vegetables in splashes so they are not completely smothered in it. Crumble over the cheeses and add the remaining thyme sprigs.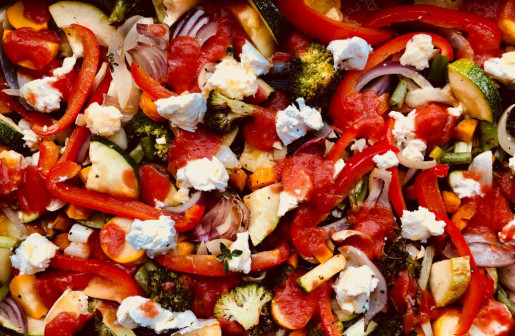 Put the roasting dish back into the oven to cook for another 15 minutes or until the cheese is melted and lightly browned. Remove from the oven and tear over the basil. Serve hot and enjoy.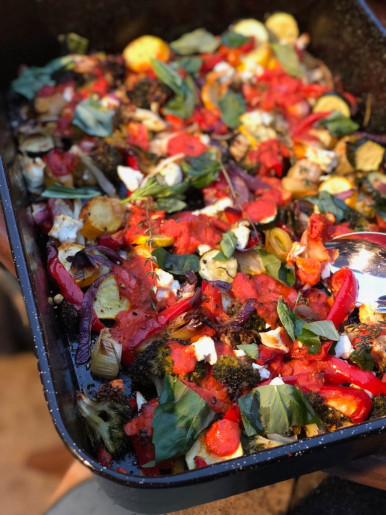 For more recipes using seasonal vegetables check out 'Around the World in Salads', signed copies available HERE.