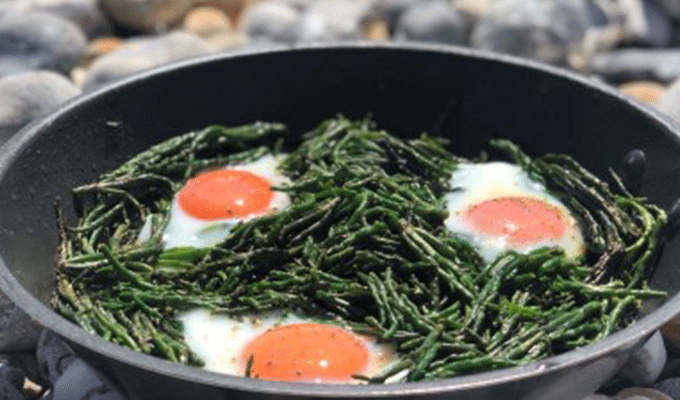 Samphire with Eggs and Butter
Sipping an early cup of coffee in bed, I admired the view from my bedroom window of flat marshland, grazing cows and the sea beyond. I was staying with a friend in Norfolk for the weekend, just outside the flinty village of Cley. I was intrigued by a rather incongruous and lonely little blue hut that stood opposite the house. A local family of ducks make their way along the road when a car drew up making them dive for safety in a nearby pond. The driver, unimpressed with the pastoral idyll of the scene, got out and promptly dropped off bulging white packages onto the shelves of the hut before speeding away.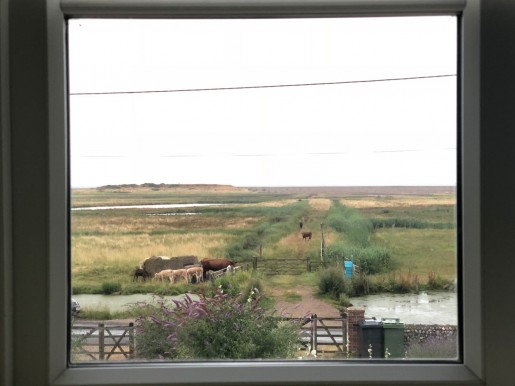 Later that morning I went to inspect the "drop". An honesty jar next to the bags asked for £2 for each. I peered inside and decided to buy one. Our breakfast that day, I decided, was going to be marsh samphire with butter and eggs.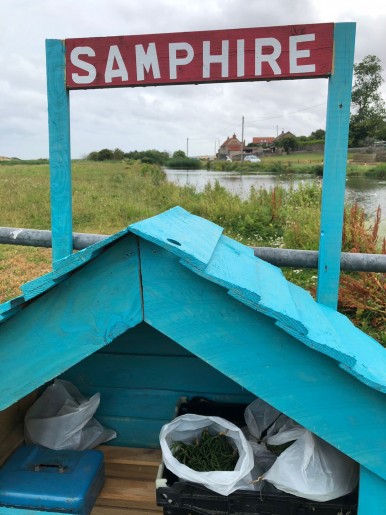 Samphire comes from the original name for coastal plants "Saint Pierre" after the patron saint of fishermen. In medieval Britain samphire was used to make soap and burnt to form glass. It's pleasant salty flavour, texture and availability have made it part of our diet for centuries. It is at its best between June and September.
My advice is to wash it well and taste it. It will always taste salty but it does differ in strength. If it is mild, it can simply be rinsed and eaten raw in salads or stir fried briefly in butter or olive oil. Trim the woody roots and fibrous stems from the softer green parts.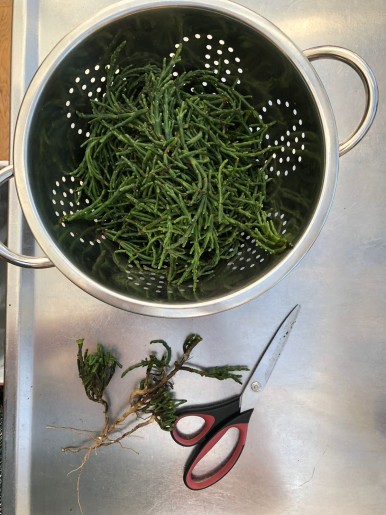 This samphire was too salty so I decided to blanch it in boiling water poured straight through it from a kettle to get rid of some of the salt.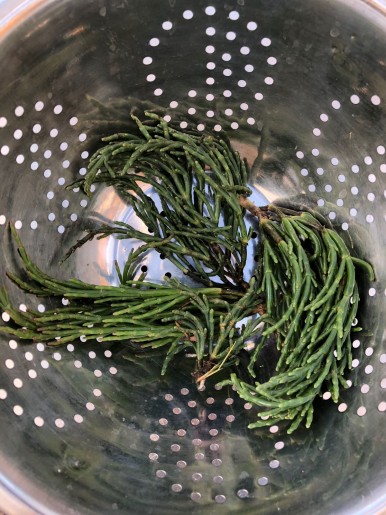 I plunged it into ice cold water to stop the vibrant green disappearing.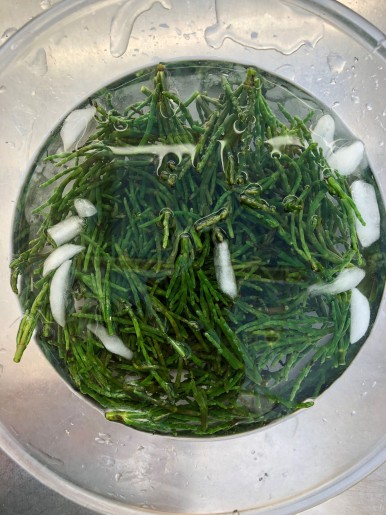 Then it was time to cook, after melting a generous knob of butter with a splash of extra-virgin olive oil into a frying pan I tossed in the samphire. Making three holes with a wooden spoon in the nest of hot, buttered stems I cracked in three eggs. I put on the lid and allowed the eggs to steam inside until just set. Within 5 minutes they were done and ready to eat with hot buttered sourdough toast.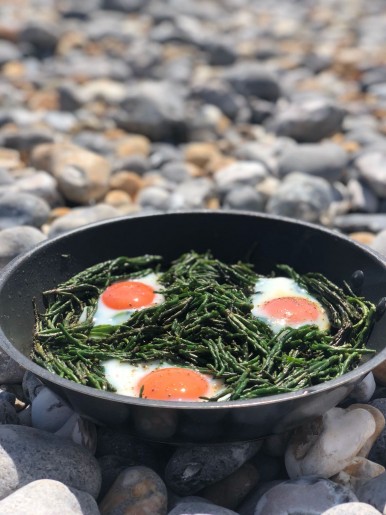 Breakfast is served!