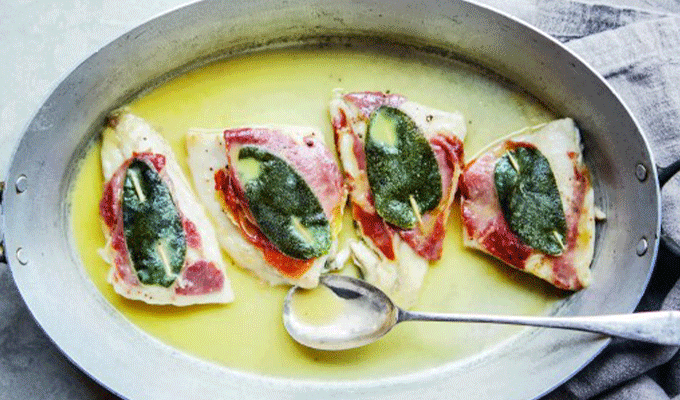 Seabass Saltimbocca
This is one of our friend Stefania's 'supper in three ingredients' recipes. She likes to have everything ready
around her, including a side dish of potatoes or Green Beans with Lemon, as it is a quick dish to cook.
Sea Bass with Parma Ham and Sage Leaves
Saltimbocca di Spigola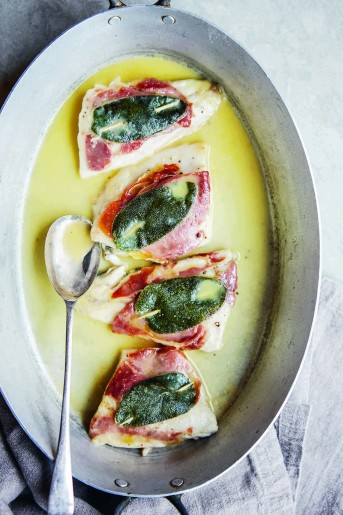 Serves 4
8 small skin-on sea bass
or sea bream fillets
(approx. 180 g/6 oz each)
salt and freshly ground
black pepper
4 slices prosciutto
8 large sage leaves
plain (all-purpose) or
'00' flour for dusting
2 tablespoons olive oil
50 ml (2 fl oz) white wine
30 g (1 oz) salted butter
 
METHOD: Season both sides of the fish. Cut the prosciutto in
half widthways so you have 8 slices. Lay a slice of prosciutto and
a sage leaf on top of the skinless side of the fish and fix them
into place with a toothpick. Repeat this for each fillet. Put some
flour into a bowl and dust each piece of fish in flour; shake off the
excess and put them on a plate.
Heat the oil in a large non-stick frying pan. Fry the fish prosciuttoside
down for 2 minutes and then turn over when just browned.
Fry skin-side down for another 2–3 minutes or until the fish is
cooked through. Add the wine and allow to evaporate. Stir in the
butter to thicken the sauce. Remove from the heat and serve the
fish straight away drizzled with the sauce.
For more recipes from 'Rome – Centuries in an Italian Kitchen' buy signed copies of the book here.