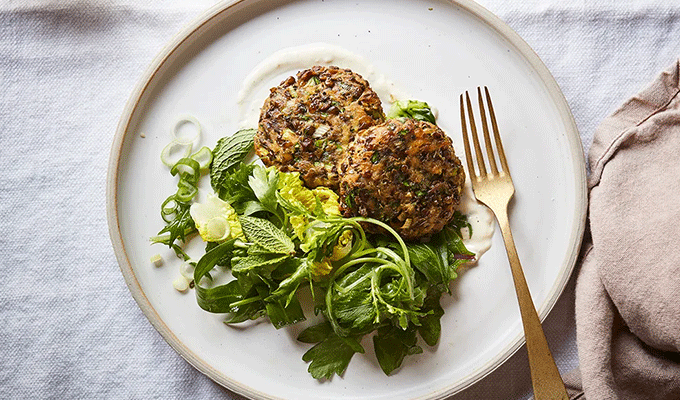 Smoked Mackerel Fishcakes with Horseradish & Lemon Crème Fraîche
Smoked mackerel gives a familiar, traditional taste to the fishcakes and brings all the goodness of oily fish; to vary them, use hot-smoked salmon, canned salmon or sardines.  I have served these with lettuce, tomato and the Horseradish & Lemon Crème Fraîche.  These are also delicious made half the size to serve as canapés.
SERVES 4/MAKES 8 FISHCAKES
1 tablespoon extra virgin olive oil or ghee, to grease
200g (7oz) smoked mackerel fillets, skinned
4 spring onions
3 tablespoons finely chopped parsley
265g (9½oz) cooked or canned, drained Puy or green lentils, cooked from 130g (4½oz) dried lentils
finely grated zest of 1 lemon
1 egg
½ teaspoon salt and plenty of freshly ground black pepper
(unless using peppered mackerel)
lemon wedges, to serve
For the horseradish & lemon crème fraîche
juice of ½ lemon
100g (3½oz) crème fraîche
2 tablespoons horseradish sauce
salt and freshly ground black pepper
Per serving 13g carbs, 3.5g fibre, 19g protein, 28g fat, 391kcal
Preheat the oven to 220°C/200°C fan/425°F/gas mark 7.
Grease a baking tray with the oil.
To make the fishcakes, either chop the fish, onions and parsley by hand, mash the lentils with a fork in a bowl and then combine with the remaining ingredients, or put all the ingredients into a food processor and blitz until you have a rough textured paste.
Divide the mixture into 8 balls (each one will weigh roughly 70g/2½oz) and shape into patties about 7cm (2¾in) diameter and 2cm (¾in) thick. Lay them onto the prepared baking tray and cook for 20 minutes or until hot inside and firm to the touch. They should be lightly browned.
Meanwhile, make the horseradish and lemon crème fraîche. Mix the ingredients together briefly in a small bowl, adjust the seasoning to taste and put in the fridge to chill.
Serve the fishcakes warm or at room temperature with the lemon wedges and the horseradish and lemon crème fraîche and lettuce.
This recipe is from The Reverse Your Diabetes Cookbook published by Kyle Books with photography by Maja Smend.