Stubborn Green Tomatoes
Use them up in this wonderful Indian chutney called Tomato Kasundi taken from our latest cookbook of recipes called The Gentle Art of Preserving. My favourite way to serve this dish is heated with halved boiled eggs, dollops of Greek yogurt and a generous scattering of coriander. It is so tasty and a real pretty dish, I'm going to make three times the amount next time tomatoes are in season.
Makes approx. 6 x 340ml jars
3kg ripe tomatoes
2 tablespoons black mustard seeds
2 tablespoons cumin seeds?200g fresh ginger, peeled
100g garlic, peeled?2–3 red chillies, depending on the heat you prefer
1 tablespoon turmeric powder
600ml malt vinegar
4 tablespoons sunflower oil
1 tablespoon salt
500g soft light brown sugar
First prepare the tomatoes. Make a cross in the bottom of each tomato ?and remove the green core. Plunge into boiling water for 30 seconds–1 minute, remove with a slotted spoon and plunge immediately into very cold water.


Peel off the skins, cut each tomato in half, scoop out the seeds and discard. Chop the flesh roughly and set aside in a bowl.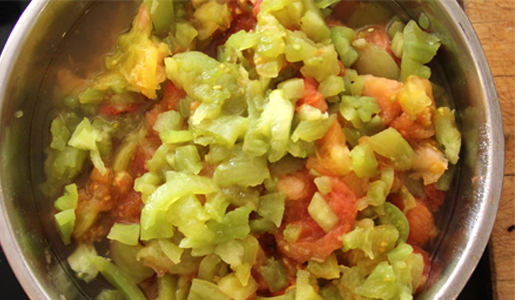 Toast the mustard seeds and cumin seeds in a dry pan for 3–4 minutes until they start to pop and release their aroma. Tip them into a mortar and pestle and grind to a rough powder. Place the ginger, garlic and chillies together in a food processor and blend to a coarse purée.


Add the spices to the food processor along with approx. 200ml of the vinegar and blend again.
Heat the sunflower oil in a heavy- based pan, scoop in the paste and?fry for a few minutes to release the fragrance. Add the remaining vinegar with the salt and sugar followed by the tomatoes. Bring to the boil, stirring to dissolve the sugar, and then reduce the heat and simmer for approximately 2 hours, stirring occasionally to prevent it sticking on the bottom. The chutney is ready when it reaches the trail stage meaning that you can draw a line in it with a spoon and the line stays there.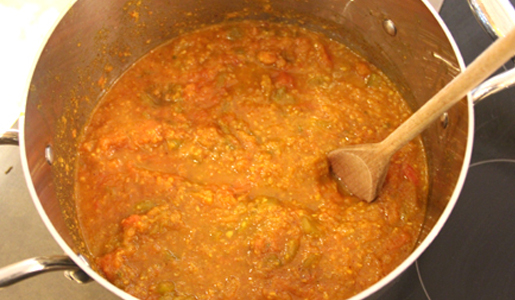 Taste and adjust the salt and chilli as necessary before bottling into warm, sterilised jars. Seal with vinegar-proof plastic lined lids, label and store the dish in a cool, dark place for up to a year. You can eat this wonderful dish with curries, cheese or heat up and use as a sauce.