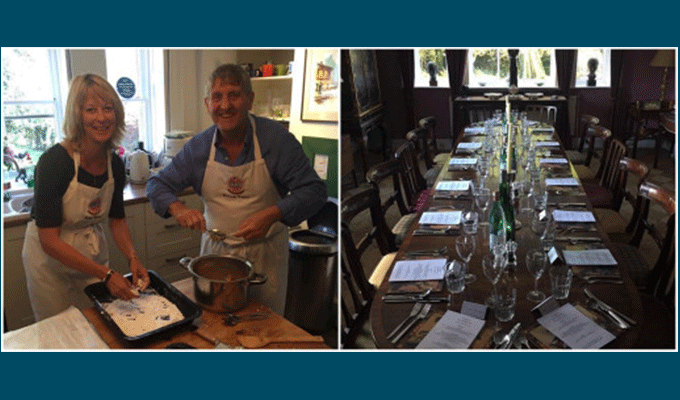 Supperclub Cooking at Williams
Last weekend we were invited to cook for William Sitwell's monthly supperclub at Weston Hall. We chose to cook from two of our books, Rome: centuries in a Roman Kitchen and Tuscany: Simple Meals and Fabulous Feasts both published by Hardie Grant. It gave us a chance to cook some of our favourite recipes such as the Roman porchetta, a rolled belly of pork stuffed with sage and rosemary as well as Giancarlo's famous tiramisu made with Tuscan dessert wine, Vin Santo. However to start with we made a recipe which we know is a crowd pleaser.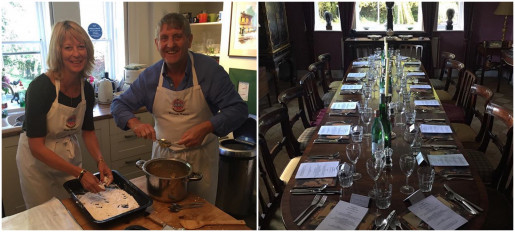 Titziana's stuffed aubergines
This is Giancarlo's cousin Titziana's recipe from Buonconvento in Tuscany. She makes stuffed aubergines (eggplant) quickly for a standby lunch or starter. They keep well in the fridge so you can prepare them the day before and cook them just before serving.
Serves 6
3–4 tablespoons extra-virgin olive oil
2 aubergines (eggplant), sliced into 1 cm- (1/2 in-) thick lengths
salt and freshly ground black pepper
250 g (9 oz/1 cup) ricotta, drained
small handful of chives, finely chopped (optional)
small handful of mint leaves, finely chopped
10 g (½ oz) Parmesan, finely grated
6 tablespoons homemade tomato sauce or tomato passata (see here for recipe)
Preheat the oven to 180°C (350°F/Gas 4). Cut the aubergines lengthways with a long, sharp knife.  Try to get them no wider than 1cm and ideally they should be cut evenly so they all cook in the same time. You can throw the ends away. Brush a little of the oil over an oven tray and lay the aubergine slices in a single layer over it.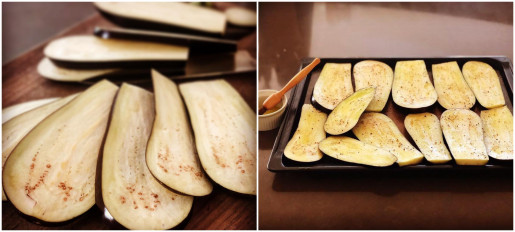 Brush the tops of the slices sparingly with the remaining olive oil. Sprinkle them with salt and pepper to taste and bake for 20–25 minutes until soft and lightly golden. Remove from the oven and allow to cool for a few minutes.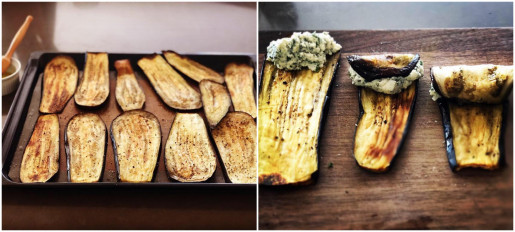 Meanwhile, mix the rest of the ingredients (except the tomato sauce) together in a bowl to form the stuffing. You will need a good handful of mint to provide the flavour, do taste the mix before you use it. Do add more mint, chives and seasoning as necessary to give the stuffing punch and strength.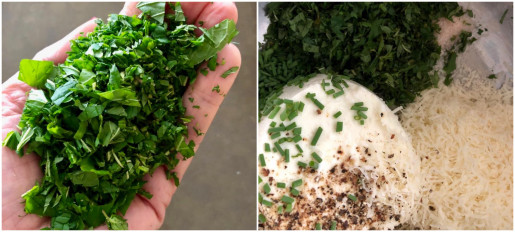 Put a dessertspoonful of the stuffing onto one end of each aubergine slice. You may have a little stuffing left in which eat it on hot toast, its delicious.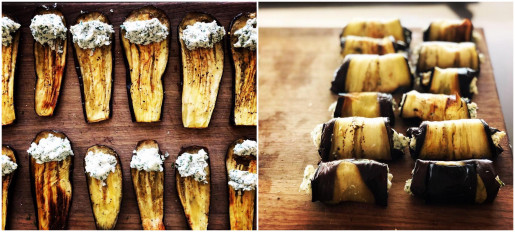 Roll them up and place them seam side down in a lasagne dish. Spoon a little tomato sauce over each roll and bake for 20 minutes or until the sauce is bubbling hot and just starting to brown. Serve warm with a green salad.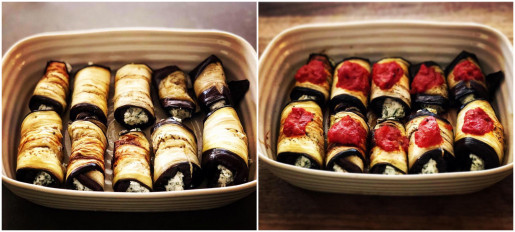 This recipe appears in Tuscany: Simple Meals and Fabulous Feasts published by Hardie Grant UK.
Details of William's Supperclub can be found here.