Talking Turkey
It was a wet and dusky afternoon in October when I decided it was time to visit Sarah Copas at her free-range turkey farm. As we arrived at the farm we were greeted by the sight of several thousand birds pecking and running around in fields and my two bored boys (it was the school holidays) were immediately engaged. Sarah encouraged us to take a walk into the cherry orchards where most are kept. As we entered they ran up to us – they have the funniest run; their fat bellies swinging from left to right as they hop from one foot to another. (A little too like me at Wednesday night Zumba!). My sons shrieked with delight and to our astonishment the turkeys answered right back with the same pitch. We spent a good 20 minutes watching them and calling out to hear them answer.
If you wanted to eat poultry knowing it had enjoyed a good life then these birds would be the answer. They were happy, healthy and had a great deal of space to run around in including an area of maize to give them a feeling of safety and cover. Big barns provided straw bales for their natural roosting behaviour. At night two specially trained collie dogs are used to round them into barns.
So concerned are the Copas family that the birds are happy and well that at the time they were being trained to like fireworks (my visit was during the run up to Guy Fawkes). Each night a rocket or two was being set off so that November 5th wouldn't be such a shock! Apparently when turkeys are startled they can fall over and once on their backs cannot get up again.
I came home having had a fantastic time and bought a turkey too. At 5.8 kilos it took around 2 ½ hours to cook. It even came with a popper to tell you when it is ready.
These birds have a superb taste because Sarah and her family leave them to grow up to 7 months old (compared to an average turkey which is only two months old.) During this time they develop a layer of fat which means they don't need to be basted at all and yet the meat remains juicy and succulent. The maturity of the turkey also means they have more meat on them so they go a lot further. Mine provided five meals for a family of five.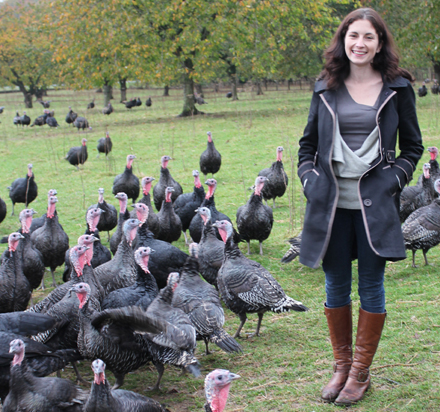 Specialist pluckers are bought in to hand pluck each bird hence the occasional little black stub left behind. These crispen on cooking and can simply be brushed away but it was this pathetically slight negativity that stopped the bronze turkey being farmed from the late 60's to the early 90's when the white feathered bird was more fashionable. As interest in free-range meat increased in the 90's the bronze turkey began to increase in popularity again as it became synonymous with being reared outside. Sarah's mother, Brenda, has developed her tried and tested methods of cooking which I followed. It was very straight forward and recommended cooking the turkey upside down to begin with.  She also explains how to make gravy from the giblets and an easy stuffing. Her recipes and other information arrive with the turkey and are also available on their site www.copasturkeys.co.uk.
Being a frugal cook, after our sumptuous traditional roast turkey, we enjoyed the remaining turkey in another five ways:- cold with bubble and squeak, with broccoli, ginger and noodles in chow mien, with tomato and cheese in cannelloni, with onions and spices in curry and of course stock for minestrone.


Turkey cannelloni
Use leftover cold turkey for filling cannelloni tubes. Put a mixture of white and dark meat into a food processor or chop by hand until you have fine mince. Add to this one egg, a handful of soft white breadcrumbs, a handful of grated Parmesan, good pinch of nutmeg, salt and pepper. If the mixture seems a little dry add a dash of milk. Fill dried cannelloni tubes with the mixture using a piping bag. Lay these into a lasagne dish. Pour over tomato and béchamel sauces, grate over some more Parmesan and bake for 20 minutes at 180oC or until cooked through.