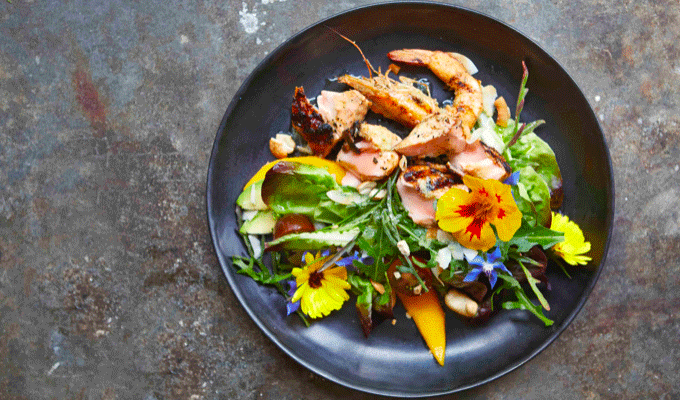 Tandoori Salmon and Prawns on Indian Flower Salad
Zahda's Tandoori Salmon and Prawns on Indian Flower Salad
This recipe is from the Punjab where Zahda Saeed's family originated. Zahda is a teacher and runs supper clubs. She loves to teach her style of Indian cooking passed down through the generations. Tandoori chicken is usually made using chicken thigh meat but works just as well with seafood. If you are using chicken thigh meat cook it for an extra 10–20 minutes. Zahda often cooks barbecue-style for her large family and can entertain up to 20 people at a time so she likes to prepare and marinate meat and fish the night before and cook it the next day. Equally, when she was a working mum she would prepare this recipe in the morning and cook it in the oven for supper for her children. She likes the fact that it is healthy Indian food and serves it with warmed pittas and salad. The yellow egg powder adds a rich orangey red colour to the dish but it can be left out if you prefer a replace with turmeric for a golden colour.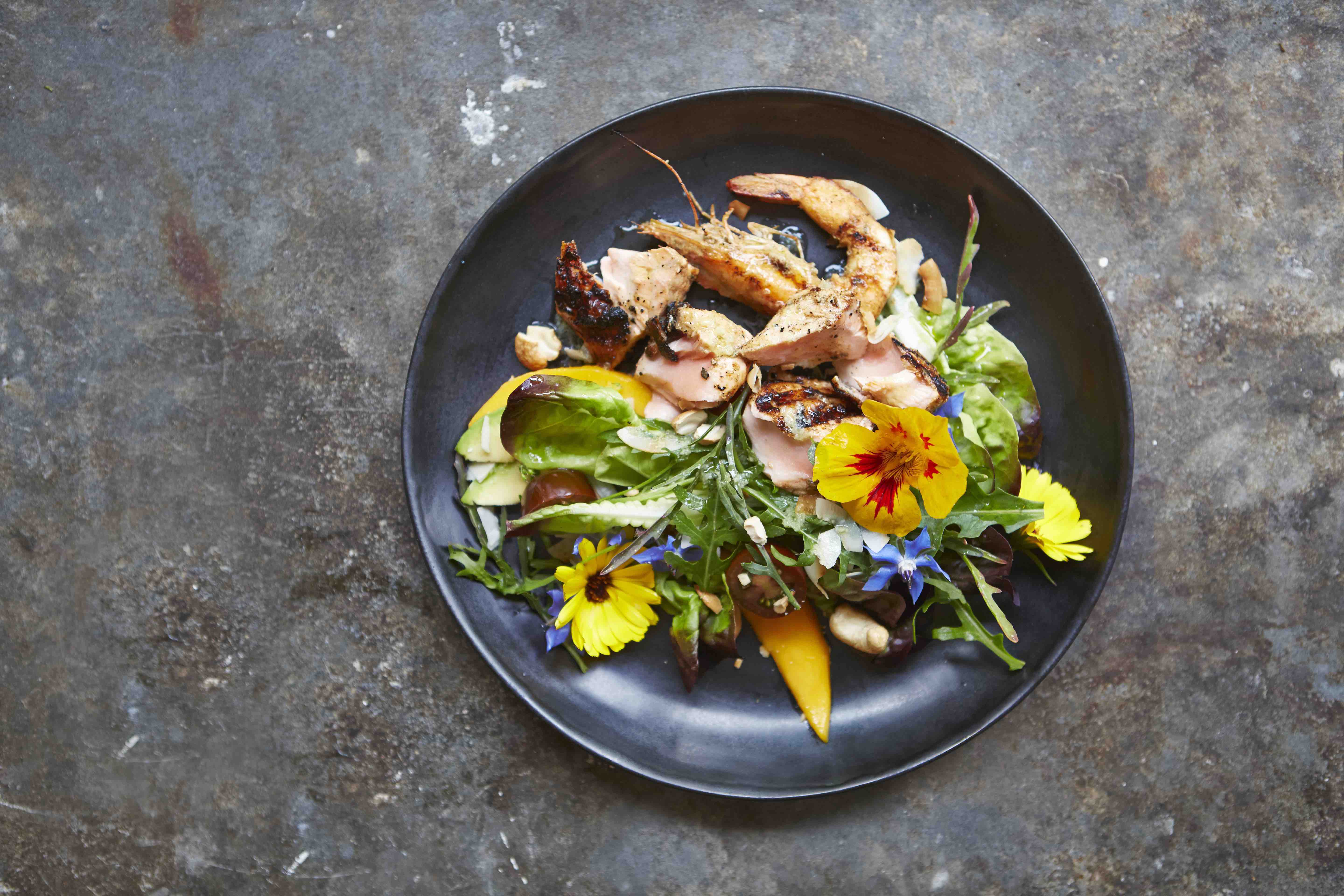 We have designed our Indian flower salad to go with the flavours and textures of either the seafood or chicken version of the dish, based on what we grow in the garden in summer and exotic ingredients from our local Asian store. Ajwain is a seed that tastes a little like dried sage so if you can't find it use sage instead or omit it altogether. This can be made at any time of year, you just won't get the flowers so add a few coriander leaves instead. I have a bit of a thing for flowers as they just add such colour and zing to a dish. I particularly like the purple-blue star of the borage flowers against the orange mango.
Serves 6
For the fish or meat and marinade
1kg salmon fillet, skin-on and pin-boned and
8–10 shell-on tiger prawns
or 1.2 kilo boneless, skin-on chicken thighs
2 teaspoons salt
juice of 1 lemon
100g natural yogurt
6 garlic cloves, grated
¼ teaspoon ajwain or dried sage (optional)
2-3 heaped teaspoons chilli powder, according to taste
2 teaspoons ground cumin
1 tablespoon garam masala
1 teaspoon raw mild honey, optional
½ teaspoon cumin seeds
¼ teaspoon egg yellow powder or turmeric for colour (optional)
For the Indian flower salad
25g coconut shavings or desiccated coconut
50g cashews
2 large handfuls of sweet and strongly flavoured salad leaves, such as soft round lettuce, Little Gem, rocket, mustard, mizuna or nasturtium
1 mango, cut into 2cm dice
10 cherry tomatoes, halved
a large handful of edible flowers, such as nasturtium, blue borage, thyme, sage or coriander
1 avocado, sliced
For the dressing
3 tablespoons extra virgin olive oil
2 tablespoons lemon juice (approx. 1 small lemon)
1 teaspoon clear honey
¼–½ red chilli, according to taste, finely chopped
1 heaped teaspoon finely grated fresh root ginger
salt
Per serving: Total carbs: 19.5g, fibre 5g, protein 50g, fat 33.5g, 574 kcal
Cut the salmon into 5cm cubes. Put the salmon and prawns or chicken, into a large bowl with the salt and the lemon juice and toss to combine. Leave for 10 minutes.
Meanwhile, prepare the marinade by combining the remaining ingredients in a large bowl. Add the fish and prawns or meat to the marinade with any juices from the bowl and leave to marinate, covered, in the fridge for at least 1 hour and up to 12 hours.
Preheat the grill to 200°C/gas mark 6. Space out the pieces of salmon (not the prawns) or chicken onto a rack with a tray underneath to catch the juices. Splash any leftover marinade over the top and cook the salmon for 15–20 minutes or the chicken for 30–35 minutes. Start the chicken skin side up and turn when crispy to cook the underside. Add the prawns to the salmon for the last 5 minutes or until cooked through.
Toast the coconut and cashews separately (the coconut is quicker to cook) until lightly browned on a baking tray in the oven while the fish or chicken is cooking. Keep an eye on them as they burn easily and will be done in 5 minutes or so. This can also be done in a dry frying pan.
Arrange the salad ingredients apart from the flowers onto a serving dish.
Mix the dressing ingredients, altering the seasoning to taste with salt and chilli; drizzle over the salad and scatter the flowers over the top. Serve the salmon and prawns or chicken alongside the salad.
Tip
This recipe also works well on a barbecue in which case the pieces of meat or fish would be threaded onto skewers for easy turning over the coals. Make sure the chicken is cooked through and the juices run clear when pierced with a skewer.
This recipe is from 'Around the World in Salads' published by Kyle Books with photography by Helen Cathcart. See here to purchase.