Three Wise Italians visit Saturday Kitchen
Giancarlo enjoys his debut appearance on Saturday Kitchen on 21st December.  It was recorded earlier in the year when they got into the festive mood by donning Christmas jumpers on a particularly warm weekend.  I think Giancarlo got away with it lightly actually in a smart navy blue affair festoned with a not so subtle Christmas pudding on the front. Gennaro had an particularly OTT comedy reindeer and Carluccio was resplendent in a more subdued red, patterned number!
Giancarlo was spreading the preserving message from our book The Gentle Art of Preserving by showing James Martin how you can hot and cold smoke at home. Below is the recipe he used for the Hot Smoked Salmon Pasta, the smoker and the book  are both available through our online shop.
Hot smoked salmon (if you don't have a smoker buy hot smoked (cooked) salmon and go straight to the recipe below).
preparation: You will need salmon fillets for this. The size doesn't matter but thicker pieces will take longer than thin. Sprinkle a thin layer of fine sea salt over the base of a lasagne dish or similar and arrange the salmon fillets, skin-side down, on top. Sprinkle some more salt over the surface of the fish, cover the dish with clingfilm and set aside to cure in the fridge for approx. 1 hour.
Rinse the fillets briefly under the tap and pat dry on kitchen paper. Arrange on a wire rack in the fridge or a cool room to dry for 30 minutes or so to form a pellicle (a thin skin that attracts the smoke particles).
Wood choice: Alder, maple, beech or oak dust.
Timing: Hot smoke for approx. 20 minutes in a Cameron or barbecue style smoker. Once the fish is cooked it should feel firm to the touch.
Serving suggestion: Enjoy hot, straight from the smoker. Alternatively, cool it down and have it with salad.
Storage: Keep wrapped in cling film or in a covered container in the fridge and eat within 7 days.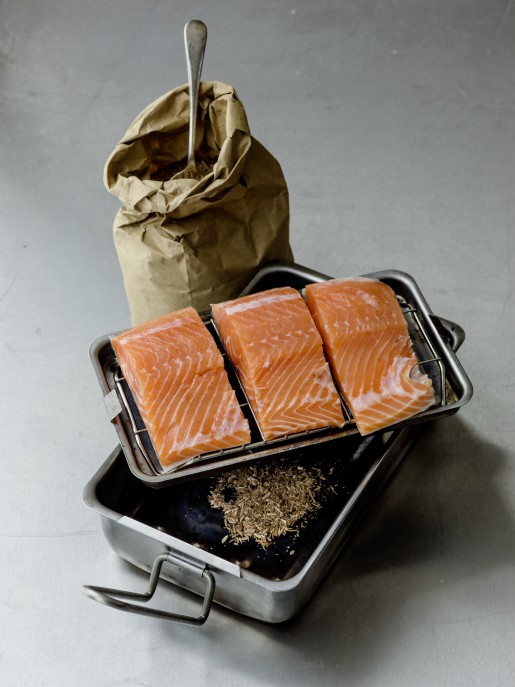 Pasta with hot smoked salmon, cream and chilli vodka
There is a well-known recipe in Italy that combines smoked salmon with penne and vodka bound together with cream. I am not sure of its origin, as neither salmon nor vodka is found traditionally in Italy. However it is a wonderful combination whatever the origin and even better when made with your own produce. I love to serve each person with a shot glass of chilli vodka to drink with their pasta – it adds a real kick and a giggle to the meal.
Serves 8–10
600g rigatoni or penne pasta
300g hot smoked salmon (see opposite)
1 white onion, finely chopped
2 garlic cloves, peeled, lightly crushed but left whole
2 tablespoons extra virgin olive oil
salt and pepper
100ml chilli vodka (see page 00)
600ml double cream
roughly chopped fresh parsley, to serve
Put the pasta to cook in a large pan filled with boiling salted water. Meanwhile, fry the onion and garlic in the olive oil in a large frying pan over a medium heat until soft but not coloured, approx. 5 minutes. Add a pinch of salt, bearing in mind that the salmon will be salty already, and a generous pinch of black pepper. Pour in the chilli vodka and ignite if you wish (stand back) or simply leave for a couple of minutes to burn off the alcohol. Flake the salmon into the pan and pour in the cream. Cook over a low heat until the sauce has thickened and the pasta is al dente. Drain the pasta through a colander and add to the pan with the salmon and cream. Toss through gently so as not to break up the salmon any more and serve with a sprinkling of fresh parsley.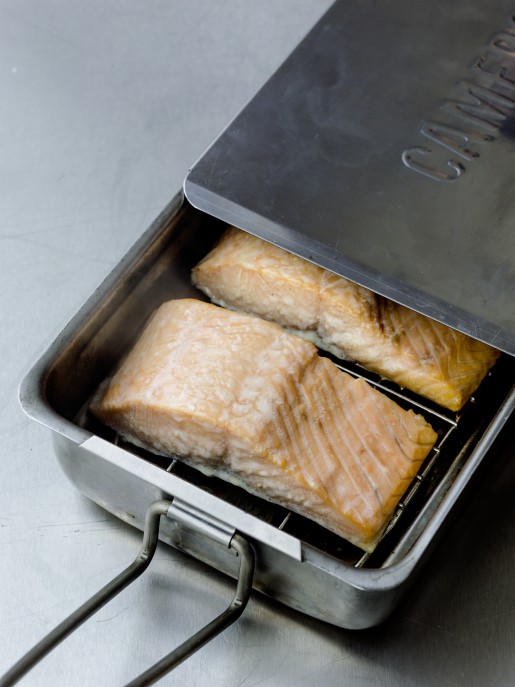 Recipe extracted from The Gentle Art of Preserving by Katie and Giancarlo Caldesi published by Kyle Books 2013.