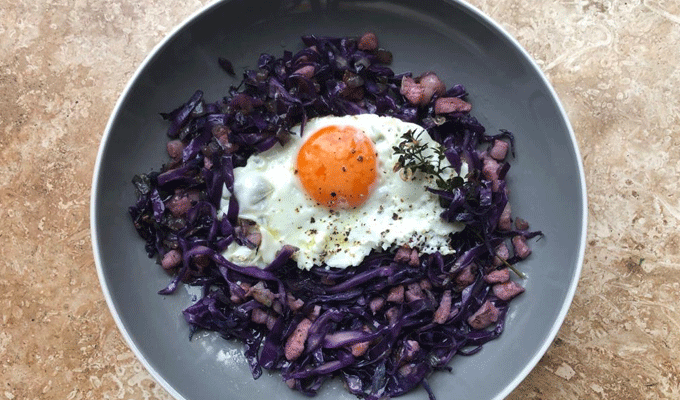 Hold the pasta, cabbage for us today
Since we've gone low-carb in our household we have fallen in love with the crunchy, versatile charms of cabbage. They have a fraction of the carbs of pasta, are very cheap, locally grown and make a meal in under 10 minutes. What's not to like? In fact we have added soft cabbage ribbons to our menu in our restaurants for those preferring their traditional pasta sauces on something a little less traditional. See here to read about Giancarlo's journey into a low-carb lifestyle and reversing his diabetes type 2. Please don't worry, all our signature fresh pasta dishes are still there, we are just giving you the choice.
All the cabbage family have different cooking times and flavours. White cabbage's neutral flavour means it has versatility; we use it to substitute pasta with any pasta sauce, finely sliced it will transform into noodles in a stir-fry or tear the leaves and served buttered as a side rather than potatoes.  It will take 7 to 10 minutes to transform into soft, tender ribbons. The more delicate, bitter green leaves of savoy or kale mean they are excellent with meat stews, robustly-flavoured fish or any cheese sauces; cook for no more than five minutes. Red cabbage is best paired with onion, apple or both. Their sweetness befriends and softens any bitterness.  Slice red cabbage thinly for coleslaw, stir-fries or sides and watch out for its strange ability to turn things blue.
How to cut cabbage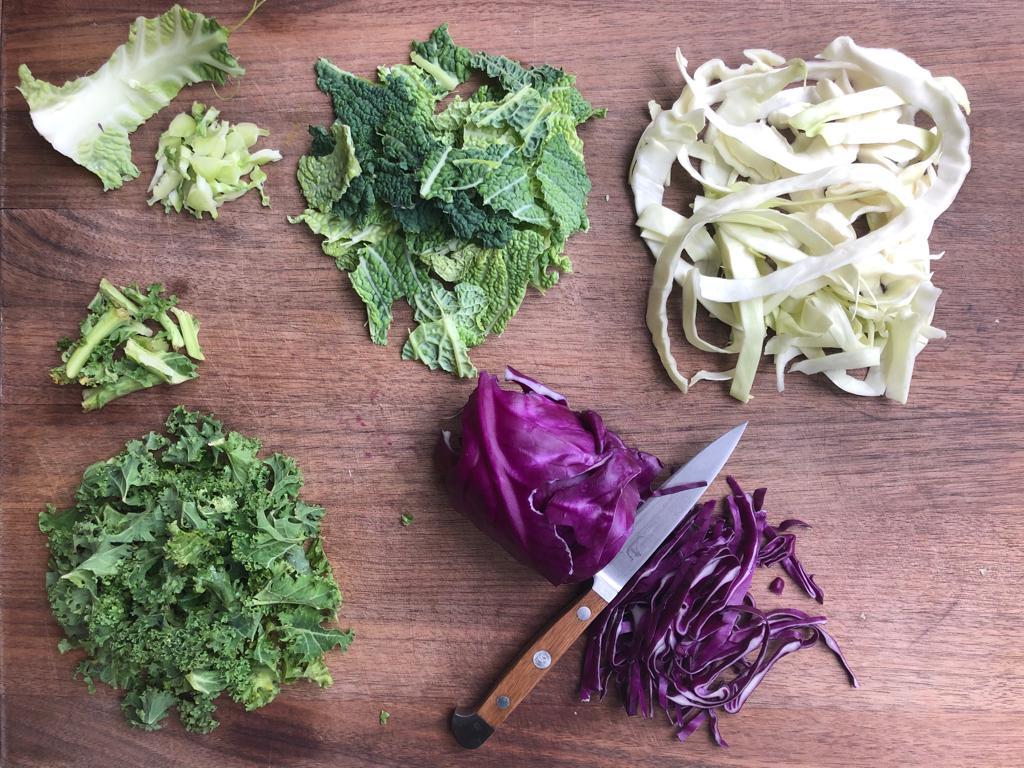 Separate the tough stems from savoy (12 o'clock) and kale (7 o'clock). Cut them thinly and boil or add to stir-fries. White cabbage (2 o'clock), cut into tagliatelle-sized ribbons, hard core removed and ready for the pot. The outer leaves of red cabbage  (5 o'clock) spiralled up and cut through into fine tagliolini sized ribbons ready for a stir-fry.
Savoy, Curly Kale, Cavalo Nero or Sweetheart Cabbage with Butter 
This makes a simple side dish to sausages, roast meats or a cheese main course. It is also good with a couple of poached eggs on top.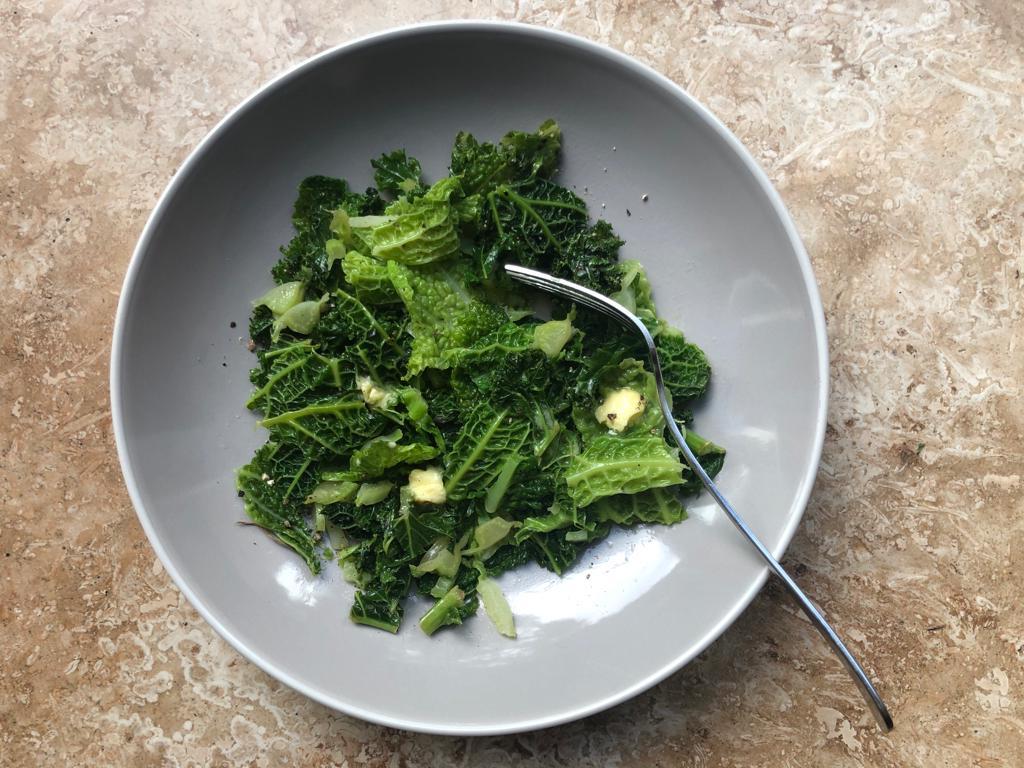 Serves 2
300g kale, cavalo nero, hispi, sweetheart or pointed cabbage
20g knob of butter or olive oil
4 tablespoons water
Salt and pepper
15g Parmesan, finely grated, optional
Remove any very tough stems, damaged leaves or hard core from the cabbage. Tear the leaves into pieces around 5 cm across or roll the large leaves up into a spiral and cut through into fat or thin ribbons. Put it into a microwave bowl with the salted butter, water, salt and pepper. Microwave on full power for 5 to 7 minutes, covered in a plate, stir once half way through.
Alternatively put the pieces into a medium saucepan with the butter, water and seasoning and cover with a lid. Cook over a medium heat for 5 to 8 minutes or until  tender. Drain and serve in a warm bowl with cheese, if you like, as a base for pasta or as a side dish.
Per serving: 3.7g carbs, 3.3g fibre, 7.6g protein, 17g fat, 208kcal
Giancarlo's red cabbage and apple fry-up
Giancarlo often doesn't have time to eat when he is at work so he loves dishes he can whip up quickly and eat in front of the footie when he gets to relax. This is one of his latest ideas, it's simple and quick to make and he loves it with bacon added to the cabbage and two fried eggs. It'll make an excellent breakfast, lunch or dinner. Add more eggs, sausages, mushrooms as you wish.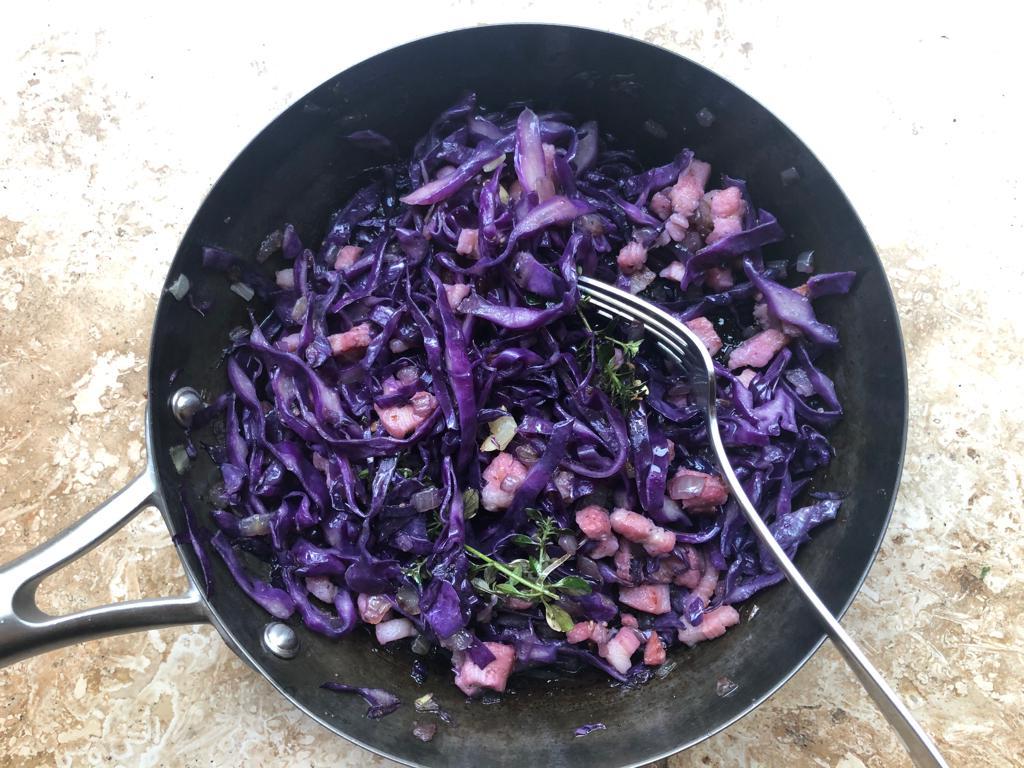 Serves 2
2 tablespoons of extra-virgin olive oil
1 small onion, finely sliced from root to tip
2 rashers of smoked streaky bacon, finely chopped, or lardons, optional
200g red cabbage, finely shredded
1 small apple, coarsely grated, optional
Half a teaspoon of caraway seeds, or 2 sprigs thyme, optional
Salt and freshly-ground black pepper
2 eggs
Heat the oil in a frying pan over a medium heat and fry the onion and bacon, if using, and stir through. Cook for around 7 minutes or until it is soft and lightly caramelised. Add the cabbage, apple, seeds, if using, and seasoning, turn the heat to low and stir again.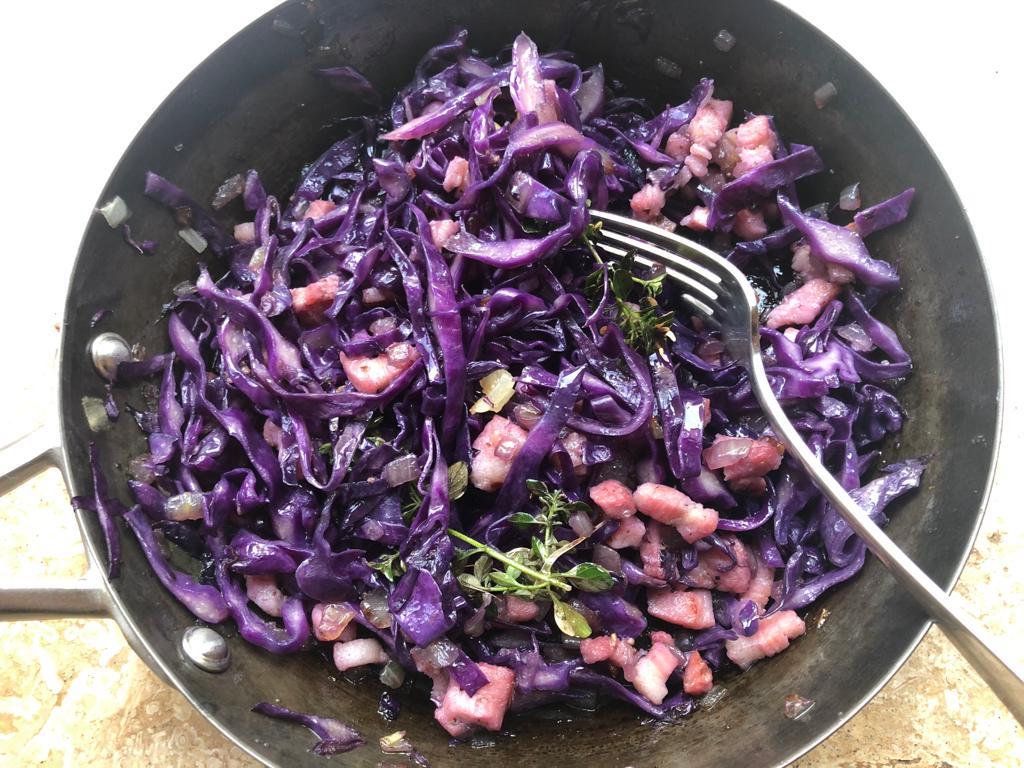 Put the lid on and leave it to cook for around 10 minutes or until the onion is lightly browned and the cabbage is soft and tender. Taste and adjust the seasoning as necessary. Serve straight or cool and reheat when it is needed.
If you are having it with eggs, simply move the cabbage to one side of the pan and crack in the eggs. Fry until they are done to your liking and serve straight away.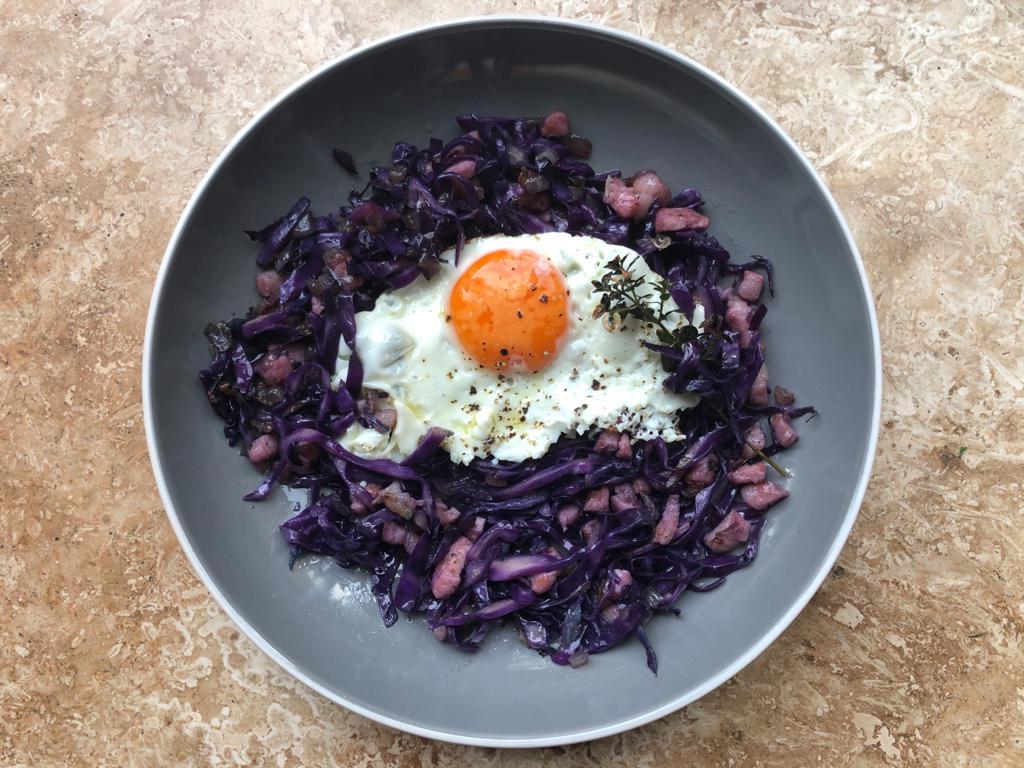 Per serving: 15g carbs, 5.8g fibre, 15g protein, 24g fat, 344kcal