Magic Muffins …
Low-carb almond muffins
This is a perfect breakfast or easily-carried lunch to take to work, I make them almost every day. You can make them sweet (no sugar but the natural sweetness of apple and the vanilla flavour) or savoury.
The muffins can be eaten just as they are or topped with cream cheese, crème fraiche or almond butter, berries or roasted vegetables to make them into more of a meal. They are now a family favourite in our house since we used to like making mug cakes but they were always full of flour and sugar. This version means we can all the fun of a hot cake but less of the carbs.
Makes 1 standard sized mug cake
1 egg
Knob of melted butter or 2 teaspoons coconut oil or olive oil
50g or ¼ cup ground almonds
Half a grated apple or pear or half a courgette, coarsely grated
Half a teaspoon baking powder
Half a teaspoon vanilla extract and/or pinch of cinnamon or mixed spice or 1 teaspoon cocoa powder or use pinch of salt and pepper if you are making a savoury version
Mix the egg and melted fat together.
Add the ground almonds, baking powder and spice, if required.
Add the fruit if required. Mix well.
Put in a small microwavable pot or mug and microwave on full-power for 3 minutes.
They can be cooked in the oven for 10 to 15 minutes at 180oC fan and you can even cook lots at a time in a cupcake tray.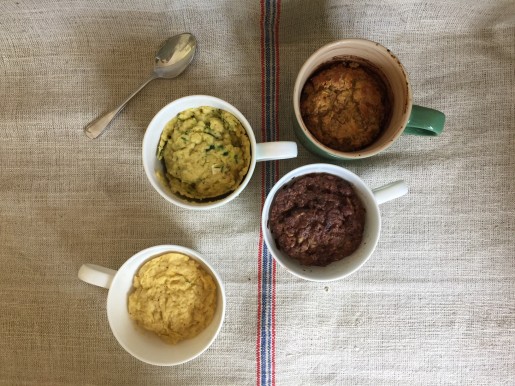 For the savoury version, substitute grated carrot or courgette for the fruit, add pepper and salt, mixed herbs and some Parmesan to the mix instead of the spices. If you make the mixture in a square container it can then be sliced in two to make a sandwich.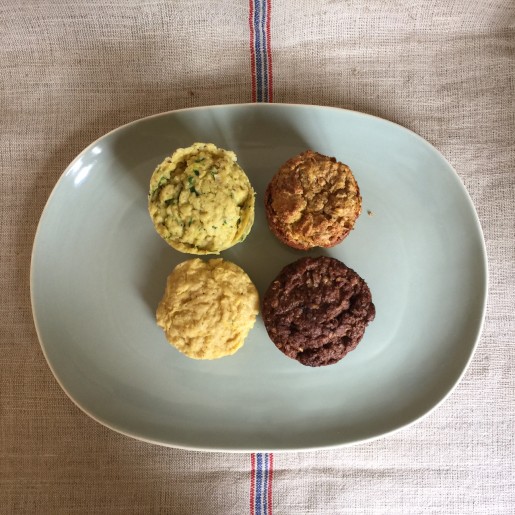 We split one mixture made with apple in half and cooked them in coffee cups in the microwave, one half was flavoured with a 1 heaped teaspoon cocoa powder, vanilla extract and little shards of bitter 85% chocolate, the other half was flavoured with cinnamon powder and topped with almond butter and apple slices.
The savoury one was flavoured with cubes of goat's cheese and grated courgette and topped with cream cheese, cherry tomato and basil (it was cooked in the oven). Finally the last one was apple and vanilla and topped with crème fraiche and strawberries. Have fun experimenting, the possibilities are endless!