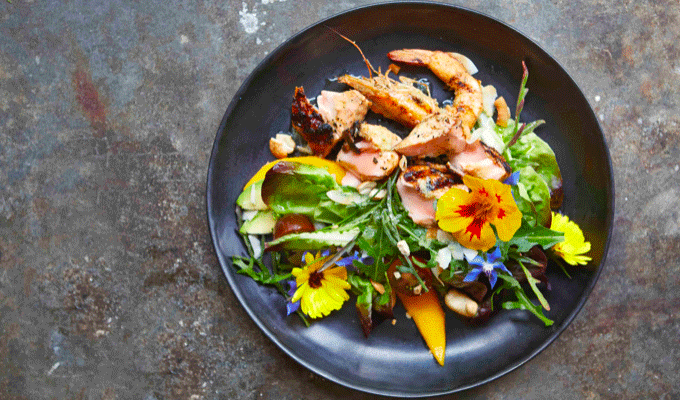 Salmon, Asparagus and Pea salad
Salmon, asparagus & pea salad with watercress dressing
serves 6
This quintessentially English dish of pink poached salmon against a verdant selection of leaves is as vibrant as a sunny spring day.
It is easy to put together and the fish and dressing can be prepared in advance, so it's ideal for entertaining.
750g fillet of salmon or 1 side of a small salmon, skin on and pin-boned
2 tablespoons white wine
a small handful of pea shoots
salt and freshly ground black pepper
For the dressing:-
1 shallot, finely chopped
1 tablespoon extra virgin olive oil
100g watercress
200ml crème fraîche
For the salad:-
12 asparagus spears, woody ends removed
300g fresh peas
a small handful of dill, stems removed
a small handful of mint leaves, roughly torn
a small handful of tarragon leaves, stems removed
a handful of watercress
English cucumber, peeled and thinly sliced
juice of  a lemon
2 tablespoons extra virgin olive oil
Per serving: Total carbs 13g, fibre 3.7g, fat 26.3g, protein 35g, 430kcal
Method
Preheat the oven to 180°C/gas mark 4.
Put the salmon on a large piece of baking parchment, spoon over the wine, season and secure the edges of the parchment to form a parcel, then cook for 20–25 minutes or until just cooked through.
Remove from the oven and leave to cool while you prepare the remaining ingredients. When cool enough to touch, remove the skin and flake the fish into large pieces.
Boil or steam the peas and asparagus – about 10 minutes for the peas and 5–8 minutes for the asparagus. Plunge the vegetables into cold water to cool quickly and keep their colour.
Meanwhile, prepare the dressing by frying the shallot in the oil with salt and pepper in a small pan over a gentle heat until softened, but make sure it does not take on any colour. Remove from the heat and leave to cool. Pour this into a food processor, add the watercress and whizz. Add the crème fraîche and pulse until well blended. Season to taste.
Put all the salad vegetables and herbs in a large bowl, toss in the lemon juice and olive oil and arrange around the edge of a platter.
Lay the salmon on top, in the centre, and splash on the crème fraîche dressing or serve on the side. Scatter the pea shoots on top of the salmon.
From ' Around the World in Salads' by Kyle Books with photography by Helen Cathcart, available here.