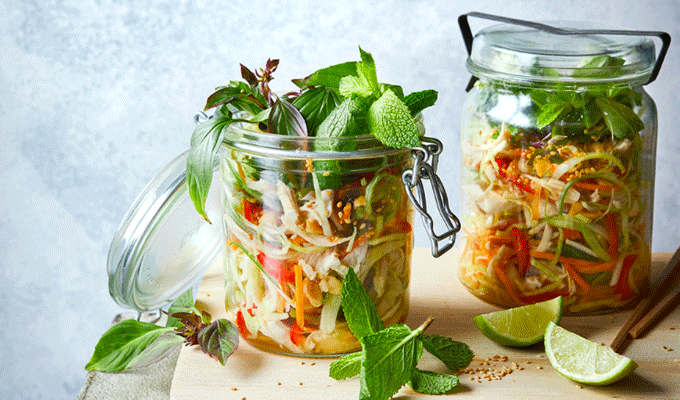 Vietnamese Chicken Salad
On our travels to Vietnam, I was amazed to see the quantity of herbs used, huge bunches of them, instead of salad leaves. They give so much zing and flavour; don't stint on them. If you don't have enough of one herb, just add more of another. If you use red cabbage, your chicken will be purple in colour, which is amusing although the flavour is the same. This recipe is a good way to use up leftover cooked chicken or turkey, in which case miss out the poaching instructions. Traditionally, the dressing has garlic, but you can omit this if you care about breathing over colleague.
SERVES 2
3 spring onions, finely sliced
2 boneless, skinless chicken breasts
2 tablespoons sesame seeds
150g (5.oz) white or red cabbage
1 small carrot
1/2 red or yellow pepper
50g (1.oz) roasted peanuts
a large handful of a mixture of Thai basil, coriander and mint, leaves roughly torn and stalks finely chopped
1 tablespoon finely grated ginger
For the dressing
juice of 2 limes
4 tablespoons Vietnamese fish sauce or 3 tablespoons nam pla
3 tablespoons rice vinegar
1 teaspoon mild honey
1/4 – 1/2 hot red or green chilli, finely chopped or a good pinch of chilli flakes
1 small garlic clove, finely chopped or grated (optional)
Per serving 20g carbs, 8g fibre, 41g protein, 27g fat, 522kcal
Soak the spring onions in cold water for 15 minutes, then drain and set aside. Poach the chicken in a saucepan of boiling salted water for 15–20 minutes or until cooked through and no longer pink inside. Leave to cool in the water for 10 minutes, then drain and leave to cool completely.
Toast the sesame seeds in a dry pan, stirring frequently until they start to pop and turn golden brown, then remove from the heat and tip onto a plate to cool.
Mix the dressing ingredients together in a small bowl.
Finely slice the cabbage with a very sharp knife on a chopping board.
Take time to get the shreds very thinly sliced. Tear the chicken into shreds.
Cut the carrot and pepper with a sharp knife into julienne strips, or use a gadget that shreds, and add them straight into the dressing in a large bowl to prevent them browning.
To assemble the salad, mix the chicken, cabbage, peanuts and herbs into the bowl with the carrot, pepper, ginger and dressing.
Arrange on a serving platter and scatter over the toasted sesame seeds.
Recipe from 'The Reverse Your Diabetes Cookbook' published by Kyle Books with photography Maja Smend.