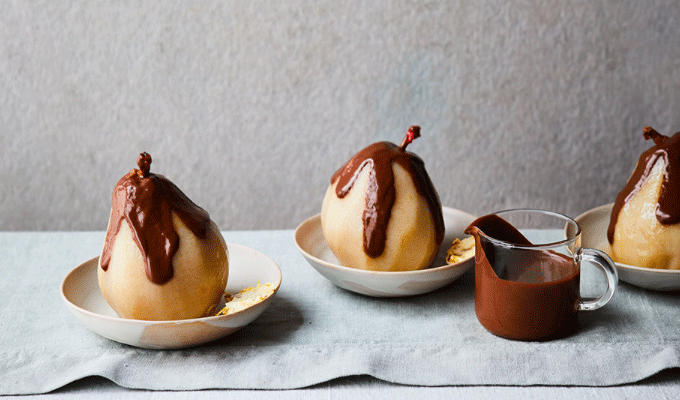 Poached Pears with Orange Stuffing & Hot Chocolate Sauce
These pretty pears can be prepared in advance and stored in the fridge until you are ready to serve. I like to serve them chilled from the fridge with a jug of hot chocolate sauce to pour over the top.
SERVES 4
4 medium, ripe pears
juice of 1 lemon (put the squeezed halves in the water in which you cook the pears)
5cm (2in) cinnamon stick
1 teaspoon vanilla extract
For the stuffing
50g (1 3/4 oz) full-fat cream cheese
finely grated zest of  orange
1 Medjool date, pitted and chopped finely
For the hot chocolate sauce
125ml (4fl oz) double cream
50g (1 3/4 oz) dark (85%) chocolate, finely chopped
Per serving 28g carbs, 6.2g fibre, 2.9g protein, 27g fat, 372kcal
Peel the pears, leaving the stalks intact, and put them into a medium size pan with enough hot water to cover them. Add the lemon juice and squeezed lemon halves, cinnamon stick and vanilla and bring to the boil.
Cover the pan and cook the pears until tender. Ripe ones only need about 15 minutes but unripe, firm pears may need up to 1 hour. Pierce them with a skewer or fork to check they are soft.
Meanwhile, make the stuffing by mixing the ingredients together into a paste in a small bowl, mashing the date to distribute it evenly. Set aside.
Remove the cooked pears from the pan using a slotted spoon and stand them on a serving plate to cool to room temperature. Slice off the top 3cm (1 1/4 in) of each pear and reserve. Carefully cut out the centres using an apple corer. Use a teaspoon and your finger to push the stuffing into the cavities. Put the tops back on the pears.
When you are ready to serve, stand the pears onto individual plates.
To make the chocolate sauce, heat the cream to just below boiling in a small pan. Pour over the chocolate in a bowl and stir through until you have a glossy, smooth sauce. Spoon over the pears before serving or serve it separately in a warm jug.
This recipe is from The Reverse Your Diabetes Cookbook published by Kyle Book with photography by Maja Smend.