A busy weekend in July
Giancarlo and I had great fun at Westfield over the weekend, sadly not shopping but demonstrating how to make fresh pasta and some summery sauces to the crowds at the BBC Good Food Show.  Here are our recipes we cooked up with summer produce.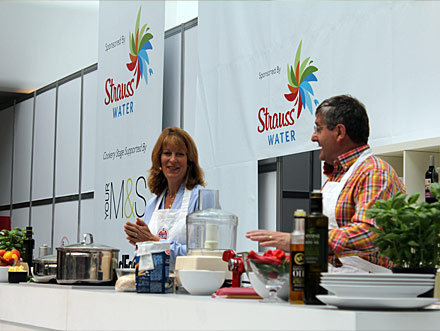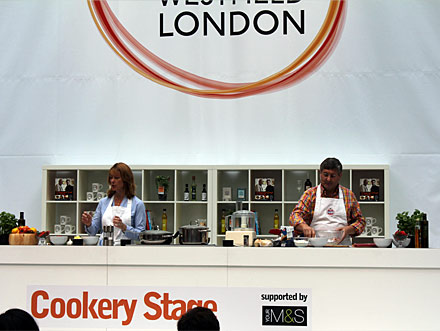 Courgette, Cherry Tomato and Chilli Pasta Sauce
Serve 4
320g dried pasta such as Penne or Tagliatelle
4 tablespoons of extra-virgin olive oil
1 fat courgette or 2 small, diced
3 garlic cloves, peeled and crushed
1 red chilli, finely sliced (depending on strength)
500g cherry tomatoes, halved
3 sprig basil, torn roughly
Salt and freshly ground black pepper
50g Parmesan cheese, freshly grated
Bring a pan of salted water to the boil and pour in the pasta and cook until al dente.
Meanwhile, heat the oil in frying pan, when hot add the courgette, 1 sprig of basil, garlic cloves and chilli and sauté until lightly browned.  Add the cherry tomatoes and continue to fry for 3 minutes on a high heat.  Do not overcook the tomatoes. Drain the pasta and toss with the sauce. Serve on warm plates topped with Parmesan and the remaining basil.
Genovese Pesto with Green beans and Potatoes
Originally a sauce made from basil leaves during summer that when covered with oil would last until winter. Over the years experimental chefs have adapted the recipe to use different ingredients. Even within Liguria when talking about Pesto Genovese, the Ligurians will argue about which is the best way to make it. Here is my version which I believe is the nearest one can get to the definitive Ligurian without growing your own Ligurian basil. For a genuine Ligurian pesto add some cooked potatoes and green beans to the pasta just before serving.
50g basil, leaves torn from their stems
50g pinenuts, toasted
125ml extra virgin olive oil
1 small garlic clove, peeled
25g parmesan, finely grated
Purists will use a pestle and mortar but if your kitchen doesn't have one, use a food processor instead. I prefer to toast the pinenuts, I feel their presence is stronger this way, although left raw is also fine. Put the basil leaves into the mortar and bash them with the pestle until they become a pulp. Add the garlic and nuts and bash repetitively again. IF you are using a food processor put the basil, garlic and nuts in together to blitz first.  Next, for each method, add the olive oil, followed by the cheese. Add salt and black pepper to taste.
Note: never heat the pesto – simply stir it into hot drained pasta instead. To keep the pesto, put it into a sterile jar and top up with a little olive oil so that the pesto is completely covered. It will last for a few days like this in a fridge.


Along with having to perform live shows at Westfield, Giancarlo also had to rush across London to film as a judge on the TV show 'Monster Munchies' (GoodFood Channel). The programme airs in November and features two teams making massive pizzas which Giancarlo judged for presentation, taste and creativity. Also on the judging we're Nanny P and Jessica from 'The Only Way is Essex' who both confessed to liking a nice slice of pizza in between filming their hit ITV2 show.