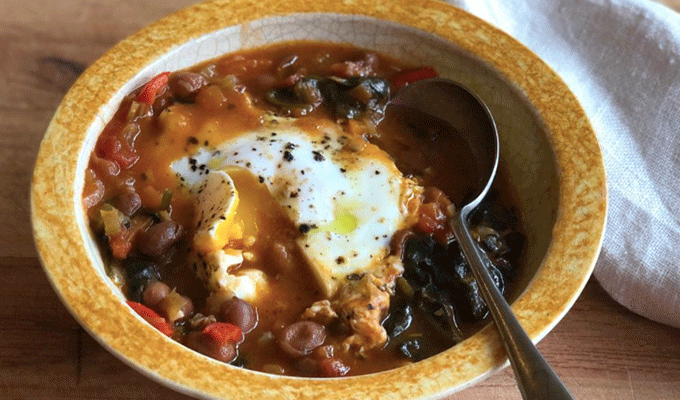 A Hearty, Healthy Bean, Kale and Pepper Soup
This soup starts with a soffritto, a fried mixture of finely chopped vegetables with herbs that gives a wonderful base flavour. Cut the vegetables by hand or use a food processor to blitz them briefly. Use tinned beans or soaked and cooked dried beans instead. This soup is full of fibre, warmth from the chilli and nourishment from the chicken stock. To bump up the protein poach eggs in the soup.
Bean, kale and pepper soup with poached eggs
Serves 6
5 tablespoons extra-virgin olive oil plus a little more to finish
1 medium carrot, finely chopped
2 celery sticks, finely chopped
1 small leek or an onion, finely chopped
1 red pepper, diced into 1 cm cubes
2 garlic cloves, peeled and lightly crushed
1 15cm approx. sprig of rosemary or few sprigs of thyme
Half to 1 teaspoon of red chilli, finely chopped, or dried chilli flakes, added according to taste
Salt and freshly-ground black pepper
2 x 400g tins of beans such as borlotti or cannellini, drained
2 tablespoons tomato puree
400g tin of Italian plum tomatoes
1.5 litres of warm chicken, vegetable, ham stock or hot water
200g roughly chopped leaves of any kale, cabbage or spinach leaves
6 eggs, optional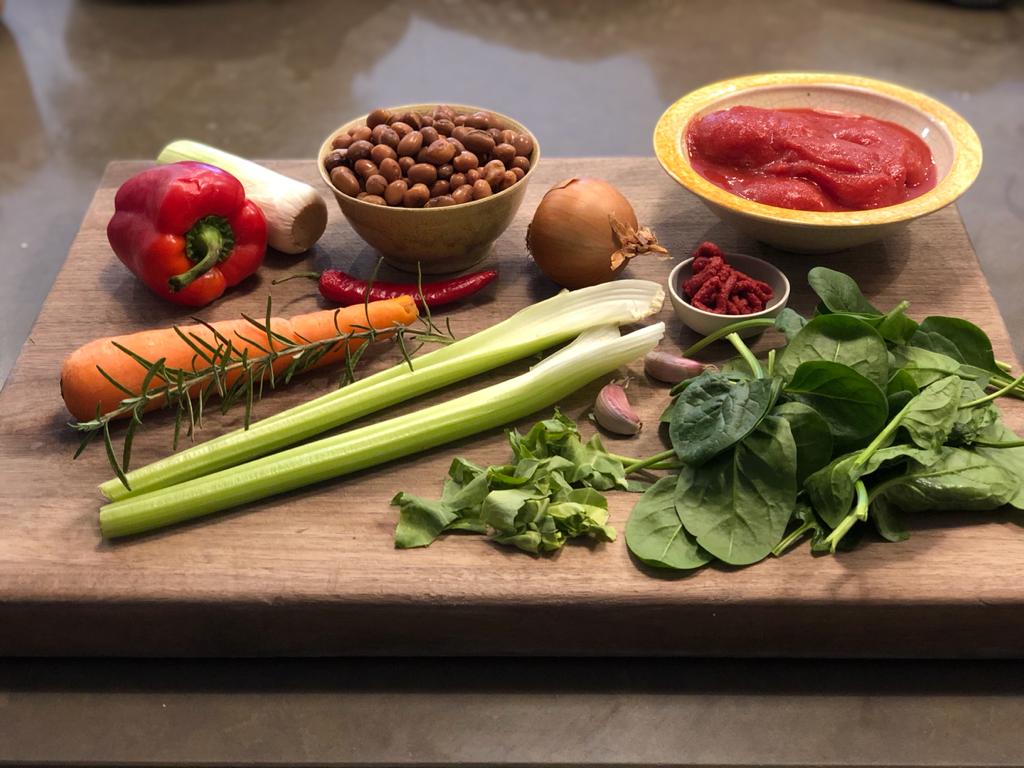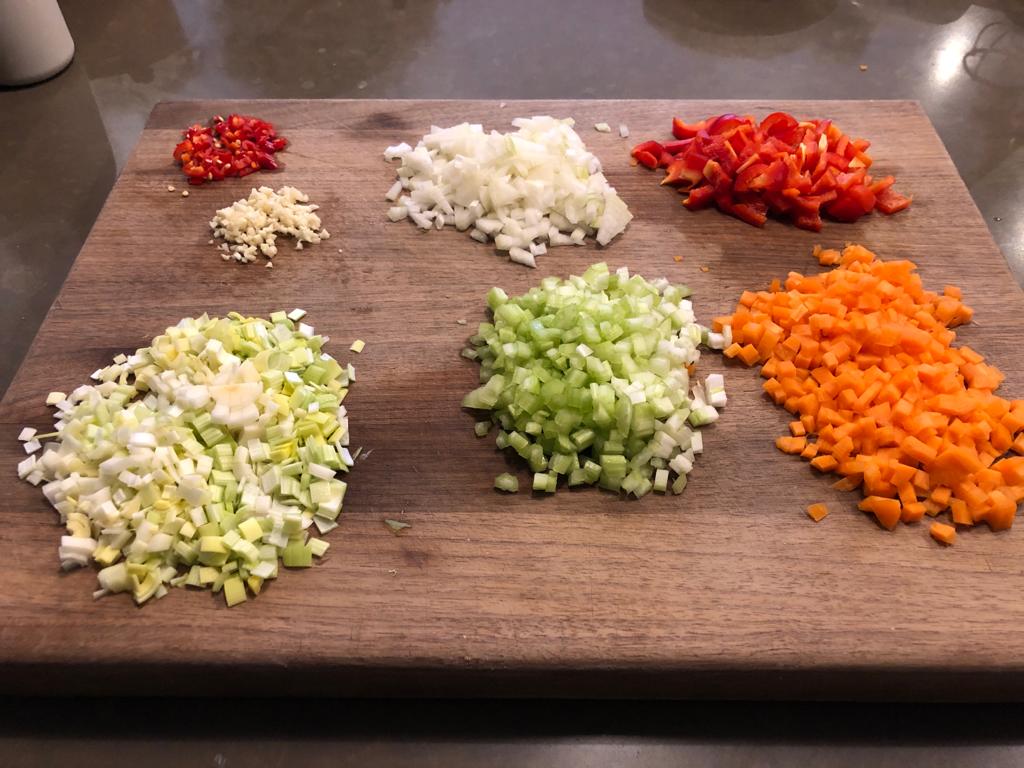 Heat the oil in a pan over a low to medium heat and add the finely chopped carrot, celery, leek or onion, red pepper, garlic, rosemary, salt and pepper.  Leave to cook for 10 to 15 minutes, stirring frequently, until the vegetables soften.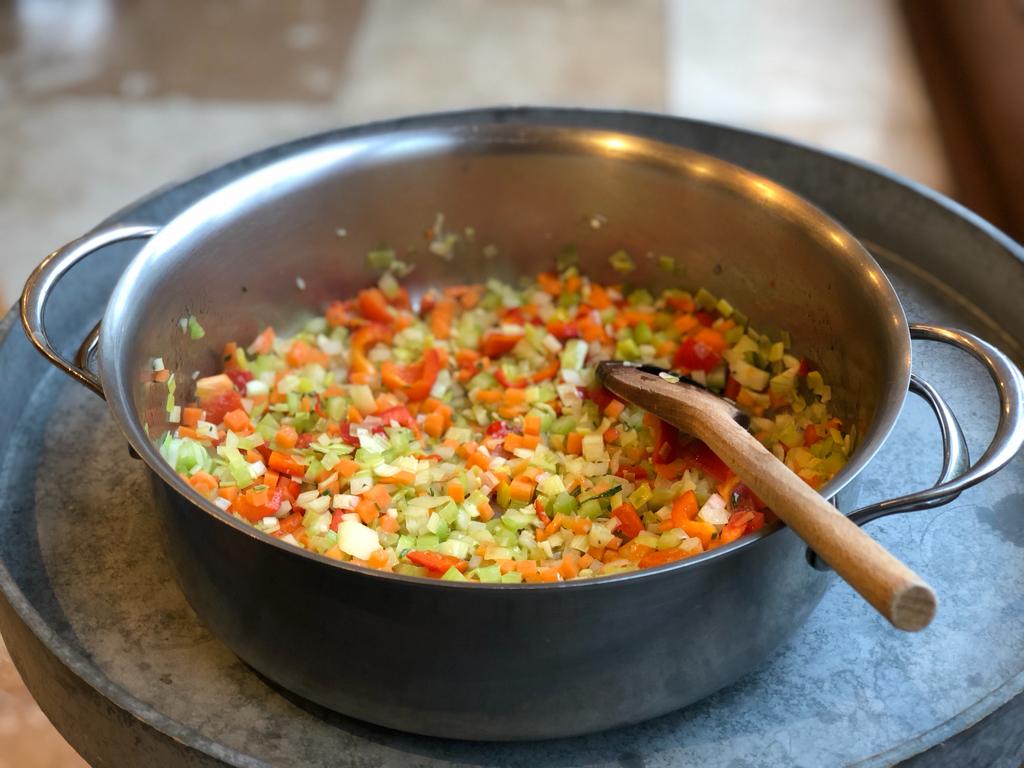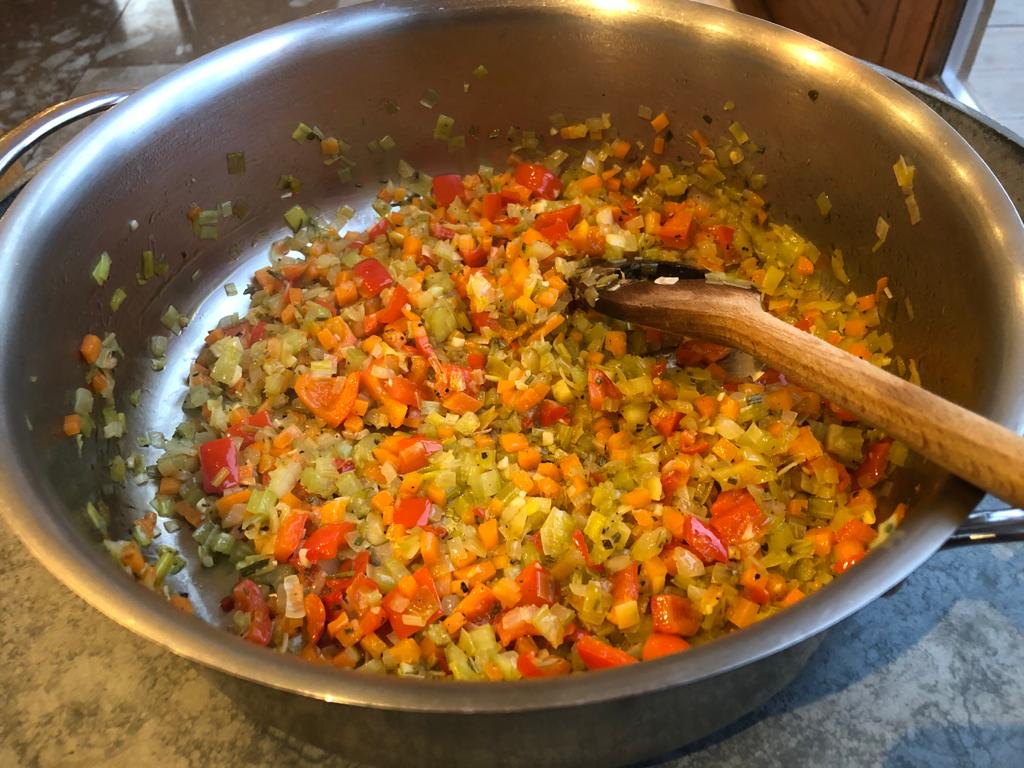 Next add the beans, tomato puree, tomatoes and stock and bring to the boil. Give the soup a gentle mash with a potato masher to break up some of the tomatoes and beans which will thicken the soup. Lower the heat to a simmer. Cook for 20 minutes, stirring frequently.
Add the leaves to the pan, with any tougher leaves going in first, and put on the lid. Leave to cook until they wilt. Taste the soup and adjust the seasoning as necessary.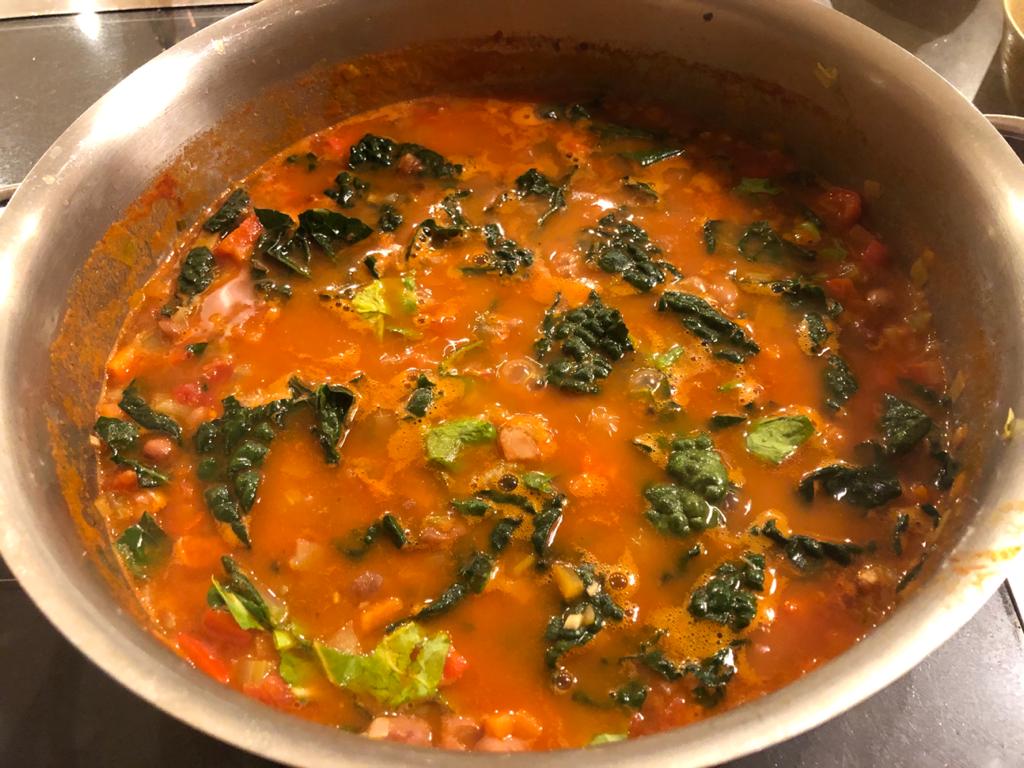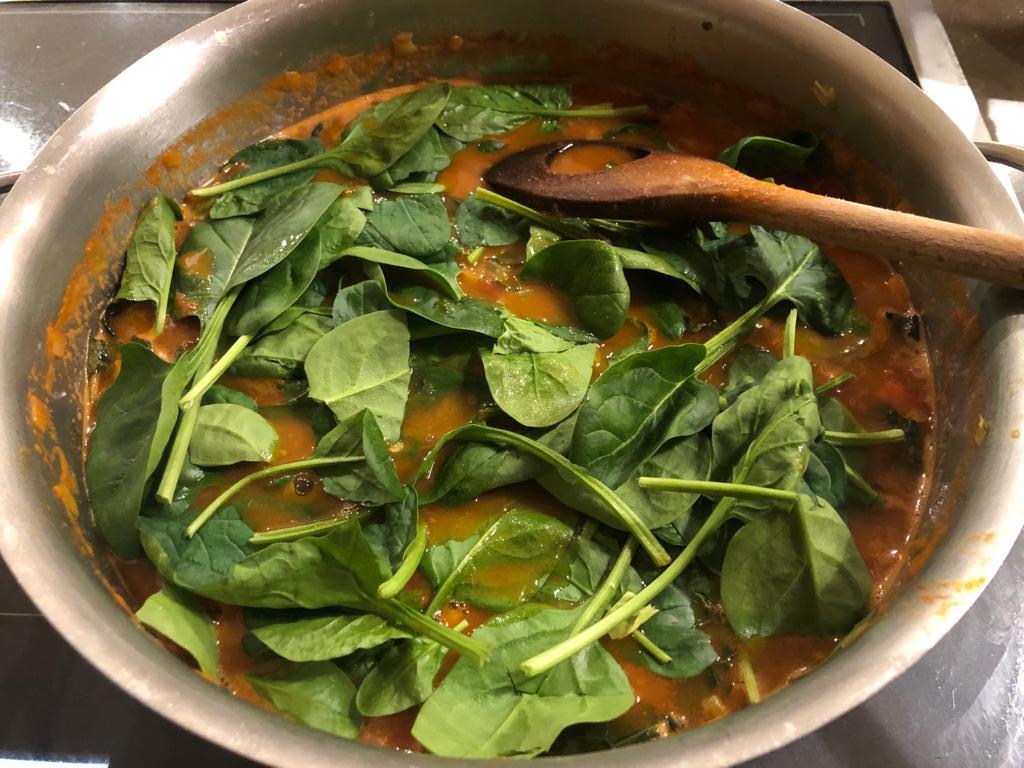 If cooking eggs in the soup; crack the eggs into the soup and scatter with a little salt and pepper. Put the lid onto the pan and leave for 3 to 5 minutes depending on how you like your eggs cooked. Serve straight away drizzled with extra-virgin oil.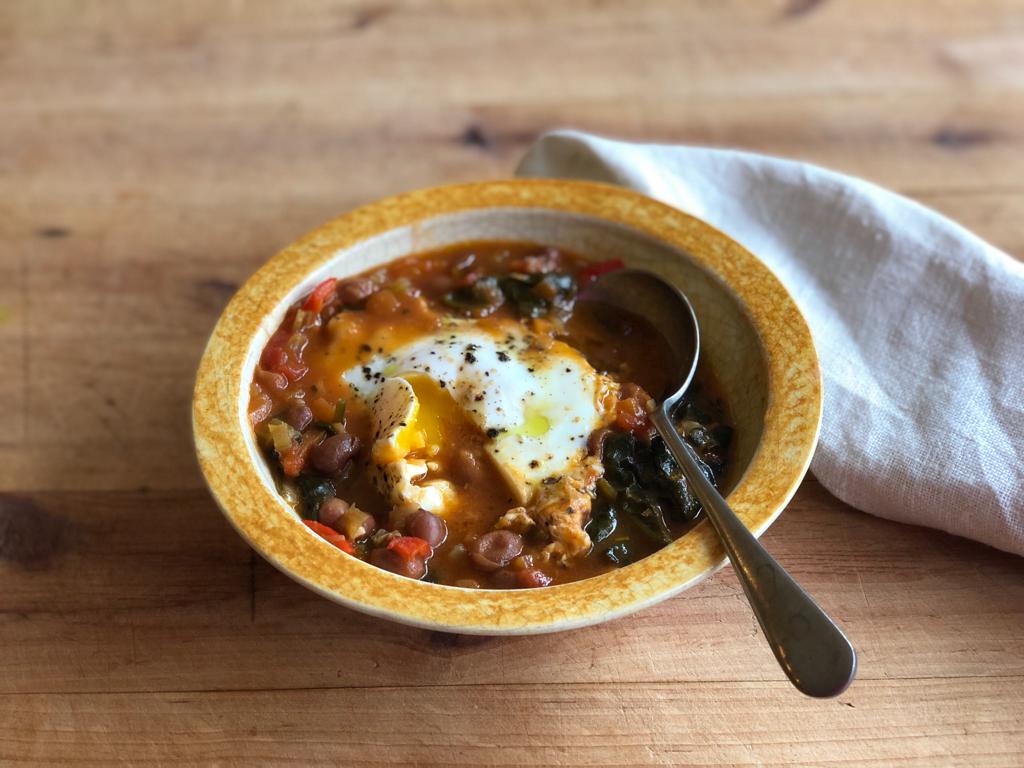 Per serving including one egg: carbs 17g, 10g fibre, 19g protein, 18g fat, 328kcal