A Night in Venice… at the RAC!
We were recently asked to hold an event at the historical Royal Automobile Club in London's Mayfair. Our theme of the evening was our recent book 'Venice – Recipes Lost and Found'. We designed a menu based on recipes we had discovered as we researched the region's dishes.
Giancarlo, with the kind assistance of RAC Head Chef Phil Corrick and his brigade, prepared a banquet which included Crostini of Whipped Salt Cod on Toasted Polenta, Ricotta and Walnut Pesto on Crostini, Beef and Potato Patties and Spiced Fish Patties.
The fish course was at the truly fine flavours of Cisame De Pesce or in English Sole and Prawns in Soar.
Our main course is a dish truly highlighted the spice trade roots of the city and was a dish of Chicken with ginger, saffron and dates, this was served with a pomegranate bejewelled rice and spinach. If you have seen us doing our live demo this week then this is a dish we feature at food festivals this year.
Our dessert was the crowd pleasing Fritelle Allo Zabaione – doughnuts filled with a zabaglione cream. I remember eating these gorgeous morsels when I was supposed to be studying art and sculpture in Venice when I was 21. I don't remember a single painting but I do remember the doughnuts; I should have known then that I would have a career in food!
The meal concluded with coffee, mascarpone and 'S' biscuits. This is something we learnt from Casanova's writing. 'S' biscuits were and are still made on his native island of Burano. He used to eat them at Florians in St Mark's Square which is still there today. He dunked them, we believe, in coffee or sweet wine, then into the mascarpone. We invited the guests at the RAC to try – "absolutely delicious!" was the resounding conclusion.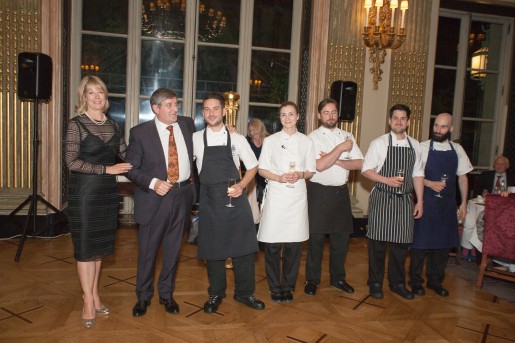 As is traditional on these occasions I was asked to put on my public speaking hat and give a talk on the writing of our book which is the 2nd in a series that we started with our book on the food of Amalfi and will continue to feature the food of Rome, which comes out in September. So perhaps our next trip to the RAC will include togas, laurel wreaths and suckling pig.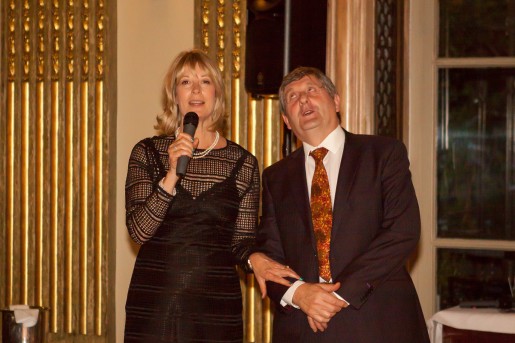 *All photos courtesy of LGM Photographic.