A quick chicken stew with a little Venetian spice…
We came across this recipe for a Venetian take on a chicken stew when researching our book 'Venice – Recipes Lost and Found'. It is a version of a medieval recipe written in the 1300's which harks back to the time when Venice was the centre of Europe's spice trade. It comes from a book called Libro per Cuoco (Book for Cook) written by hand in brown ink by a chef who cooked in one of the stunning palazzi on the Grand Canal. The book is still in existence and we went to see it in the Rome Library Biblioteca Casanatense. I like it because it uses surprisingly different flavours  than  those we are used to in Mediterranean cookery and the ginger gives it a warmth which is very satisfying especially on a rainy winter's day in February.  Giancarlo has cooked this a great many times since we wrote the book and describes it as 'Italian curry'  though it leans more towards a mild Korma than a hot Jalfrezzi!
Stufato breve e perfettissimo o pollo con zenzero, zafferano e datteri
'Very quick and perfect stew', or chicken with ginger, saffron and dates
Serves 6
salt and freshly ground black pepper
1 medium chicken, jointed, or 6 chicken thighs
4 tablespoons seed or coconut oil
100 g (31/2 oz) fresh ginger
3 garlic cloves
3 tablespoons extra-virgin olive oil
1 knob salted butter
1 large white onion, finely chopped
2 bay leaves
3 cm (11/4 in) stick cinnamon
4 cloves
650 ml (1 pint 6 fl oz) homemade almond milk or shop-bought unsweetened almond milk and 50 g (2 oz) ground almonds
10 medjool dates, stoned and quartered
1/2 teaspoon saffron strands
small bunch of parsley or coriander (cilantro) to serve
Season the chicken all over then brown all over in a large frying pan in sunflower oil over a medium heat. Peel the ginger and garlic then pulse together in a food processor until pureed. Alternatively finely grate the ginger and garlic into a bowl.
When the chicken is crispy and mid-golden all round, remove from the pan and set aside. Discard the oil.
In a large frying pan that has a lid, warm the olive oil and butter together over a medium heat. Fry the onion for around 5 minutes until just becoming soft. Add the ginger and garlic puree, bay leaves, cinnamon and cloves. Transfer the chicken pieces into the pan and stir through to coat the chicken in the spices. Pour over the almond milk (and ground almonds if using), add the dates and scatter over the strands of saffron. Once the milk has come to the boil, turn the heat down and cook for 50 minutes to 1 hour with the lid on, or until the meat is falling from the bone. Taste and adjust the seasoning as necessary.
Either serve straight away or allow the chicken to cool and pull the meat from the bones with your fingers. Discard the bones and put the meat back into the sauce and reheat when you are ready to serve. I must admit I prefer it this way as it is easier for people to eat. Decorate the plate with torn parsley or coriander and serve with rice.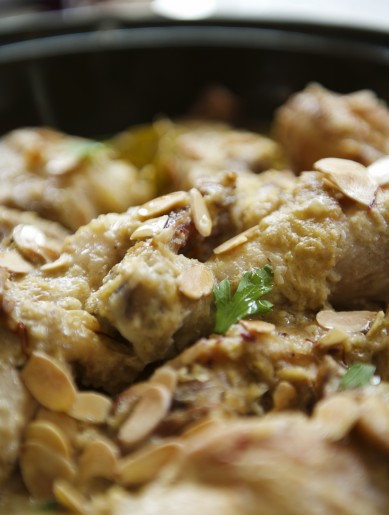 This recipe is from 'Venice – Recipes Lost and Found' which is one of our many books on Italian regional cookery all of which are available here.
*Photography by Helen Cathcart.