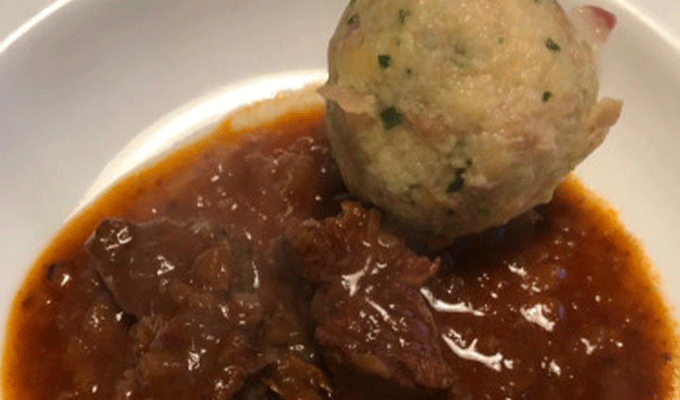 A Warming Recipe From The Italian Alps…
Goulasch – a rich, intense sticky beef stew from the mountains
While most people who go to a ski resort descend mountains at speed by strapping slippery long boards to their boots others prefer the slower, calmer activities that the mountains have to offer. While our boys went careering down black runs, fell over a lot and drank Bombardinos, Giancarlo and I decided to give the slopes a miss. This year we spent our time hiking through the stunning scenery and, since we can never keep out of the kitchen, cooking with the locals for research for our alpine menus at our restaurants.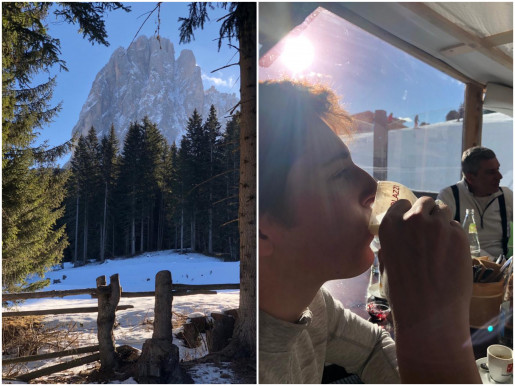 Our destination was Santa Cristina, part of the Val Gardena region where umpteen long pistes meet on top of the glorious mountains in the Dolomites. Our boys skied for 14 miles in one direction, so it is an excellent ski destination I am told; and, more importantly, the food's good too! The area produces some fine white wines, delicate cow's milk cheeses and plenty of thinly-sliced speck, the local smoked ham.
The alpine menu is flavourful and hearty all year round having evolved for the hard- working contadini – the mountain farmers. Influences from Austria and Italy combine with local produce to make specialities such as canerderli, round bread dumplings with spinach, beetroot or cheese, buckwheat cake, lingonberry jam, fried apples, spatzle pasta, goulasch and nutty, seeded rye breads spread with herb or poppyseed butter.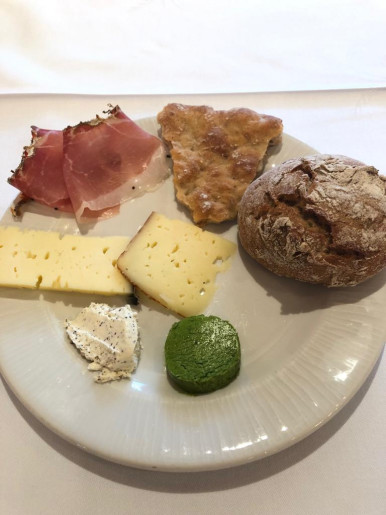 Our hiking guide told me of a group of local women who formed an association of contadini cooks to preserve their heritage recipes. They have published a book and teach cookery. After knocking at a few doors in the village we managed to get a lesson with one of them who was free on a Sunday afternoon. She was concerned we would never find her farm on a remote hillside above the town so came to pick us up. As we drove around the hairpin road to her house the view became more and more stunning.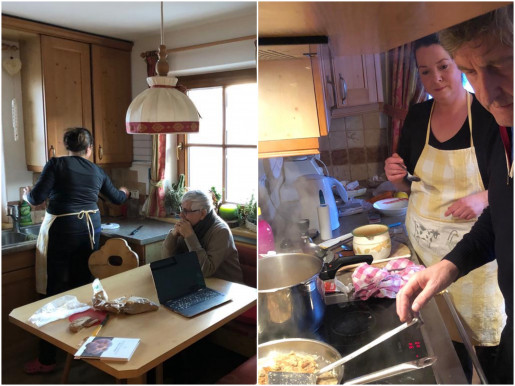 Isolde Grossrubatscher Ploner learnt her repertoire of local recipes from her mother. She was born in Ortesei, a neighbouring village, and married a farmer from Santa Cristina. Her mother was a furniture painter and her father a woodcarver; they were also musical. Apparently, the whole family sing together at gatherings. (It all sounded delightfully like the Sound of Music but there was no sign of her rustling up her children's dresses from the curtains). They have three children who she hopes will carry on the tradition of farming. Isolde showed us around the farm, the cows, rabbits and chickens as well as the pastures now covered in snow. The house was warm and welcoming. Although her kitchen was small, she had a view to die for. If it was my kitchen, I don't think I would get any work done, I would be endlessly staring at the view watching the changing light on the mountain tops.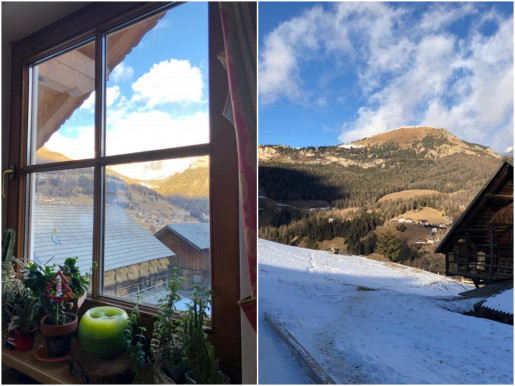 Isolde offered me some walnut bread that she had made to go with her homemade butter. It was remarkable, punchy with spicy herbs and textured with nuts and sunflower seeds. She showed me the herbs she had used – lightly crushed fennel and caraway seeds and a curry-flavoured herb called trigonella that grows locally. I believe it is a relative of fenugreek which seems extraordinary so far from Asia. I have seen that www.artisanbread-abo.comsell an alpine blend of herbs for breadmaking.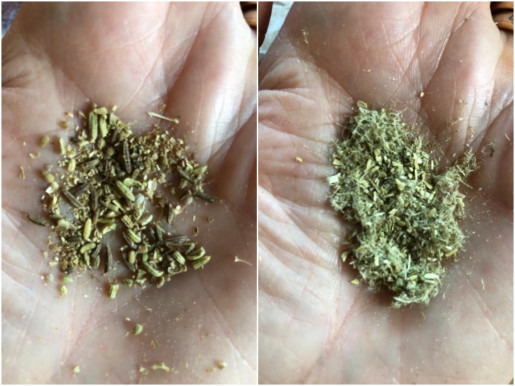 She makes her own butter when the cows have a calf as they have a lot of milk. She shapes and presses in it a wooden mould. It lasts just a few days in the fridge.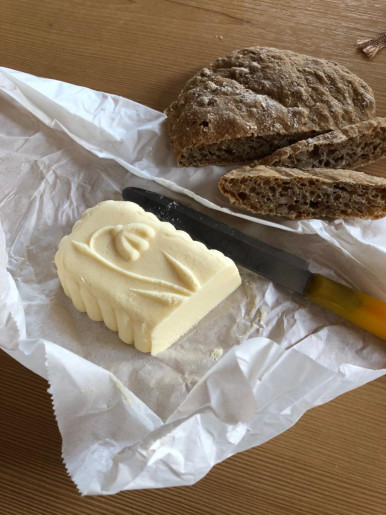 We learnt to make a gammon and barley soup, canerderli and a buckwheat pancake that was gluten-free for Giancarlo, traditionally eaten with homemade lingonberry jam and yoghurt. But most importantly we were there to learn to make goulasch, the rich, beef stew that I remembered my uncle Alfred making when I was a child. He had lived in Austria and had perfected the recipe over the years. The word gulasch is from "gulyas" meaning "shepherd" in Hungarian. Apparently the herdsmen would make a stew on the move from dried meats softened in hot water. We have eaten goulasch in many countries and always enjoyed it but I was determined to make the Italian version and what better way to do it than asking the locals.
We also spent a morning in the kitchen of our hotel, the Alpenhotel Plaza run by the family Schenk with Chef Arturo Schenk.  He showed us his way of making goulasch.
Isolde browned the meat in the pan for a long time to really get the water out and bring out the flavour. Arturo cooking for a crowd often browns the meat in the oven first. Both used the traditionally fat of butter with a little olive oil but you could you beef dripping if you have it. Isolde's goulasch was subtle in additional spices using a small amount of unsmoked paprika; Arturo added juniper, bay leaves, a little chilli and caraway which he ground in a pestle and mortar. Both used lemon zest and plenty of tomato puree. The Germans, he told us, add a little sour cream to the stew at the end which might not be authentic Italian is very good.
So here is our hybrid recipe from our Tyrolean teachers which we love. My sister Carly and I tried cooking the stew all in one go without pre-cooking the onions or beef but it wasn't a patch on the traditional method. I think we have done Uncle Alfred proud and as the dish is popular and easy to make it will now become one of our family traditions.
Italian goulasch
Choose a cut of beef that has plenty of connective tissue such as the shoulder or neck. It will break down into gelatine creating a rich stock as you cook offering flavour as well as thickening the sauce. The gelatine is also good for your gut.
Serves 6
50g salted butter
2 tablespoons extra-virgin olive oil
1 kilo (apx) of stewing beef
1 teaspoon salt
Plenty of freshly-ground black pepper
2 onions
2 cloves garlic, finely chopped
150ml red wine
3 tablespoons tomato puree
2 tablespoons unsmoked paprika
1 teaspoon lightly crushed juniper berries
Pinch of chilli flakes, optional
1 teaspoon caraway seeds, crushed
2 bay leaves
1 finger-sized strip of lemon zest
Few spoonfuls of soured cream, optional
Brown the meat with the salt and pepper in half of the butter and half of the oil in a large heavy bottomed pan over a medium heat. It will take between 15 to 20 minutes to do this thoroughly so chop the onions finely while you wait, stirring intermittently. In another frying pan, soften the onions in the remaining fats until translucent. Do this slowly over a low heat so that they don't brown. Add the garlic to the pan for the last few minutes.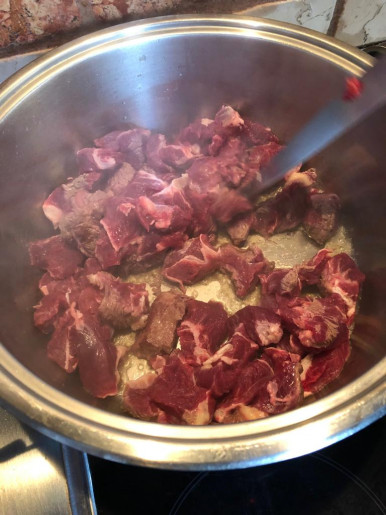 When the water has evaporated from the beef and when it is really browned and almost sticking to the bottom of the pan, add the wine. After a few minutes add the tomato puree. Stir through and then add the onions, spices and bay leaves to the pan.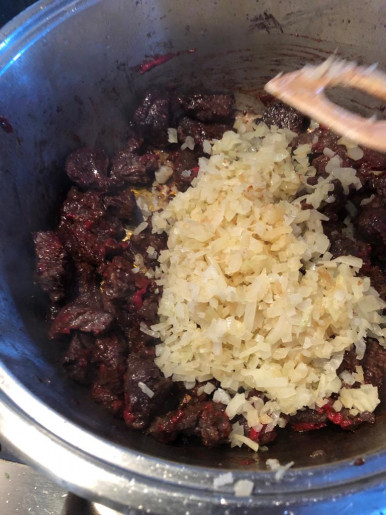 Combine with the meat and stir again. Add hot water from the kettle to cover the meat.  Add the lemon zest and leave to cook for 2.5 to 3 hours until the meat is soft and tender. Top the goulasch up with hot water if the meat appears dry. Taste and adjust the seasoning as necessary. stir in the soured cream, if using. Serve hot with something starchy to absorb the gravy such as canerderli, soft polenta, mashed or fried potatoes.