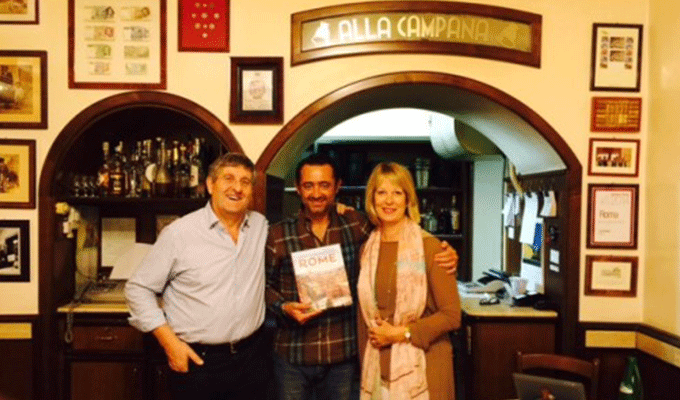 All Roads Back Lead to Rome…
We have just returned from a research trip for our next book on regional Italian food which is due out next year and covers the food of the island of Sicily. On our way to the Island we flew via Rome and spent a day doing something that both Giancarlo and I find the one of the most rewarding part of writing our books. We visited some of the wonderful people who helped in our research for 'Rome – Centuries in an Italian Kitchen' and delivered them signed copies 'hot off the press'.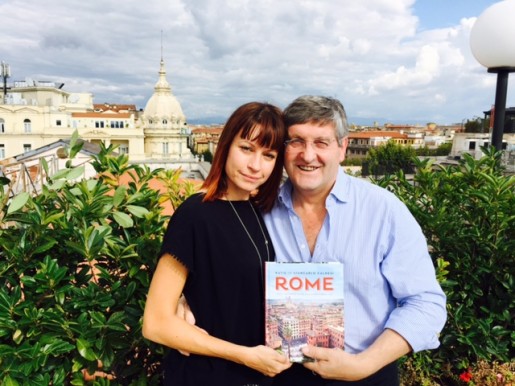 Stefania Menichetti is a busy mum and family friend who cooks dishes with three ingredients for speed after a working day. When we asked Stefania how she would describe Roman food, she told us, 'Roman cooking is a kitchen of rich flavours and poor ingredients. It is generous and light cuisine – because doesn't miss anything'.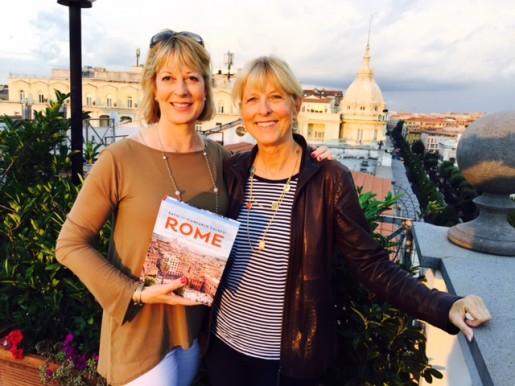 Wendy Holloway is originally from Pittsburgh but has lived in Rome for over 30 years and tuns the culinary experience company 'Flavours of Italy'. Wendy told us that it has always been easy to get fresh ingredients in Rome, both in terms of what is grown locally but what also what is imported – it's easy to eat seasonally in the city.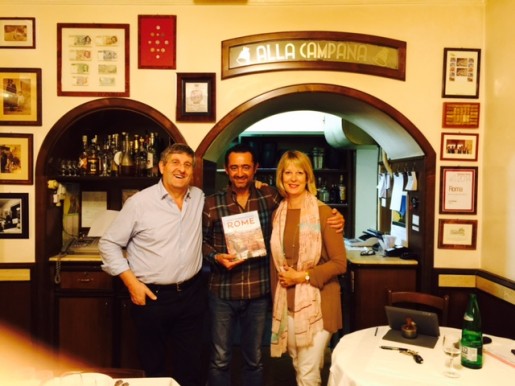 Paolo Trancassini is the owner of La Campana, who, when we vitiated the restaurant gave us a book about the origin of the restaurant, which is one of the oldest in Rome and has been standing here since 1518 – it even gave its name to the street it's on, Vitolo della Campana.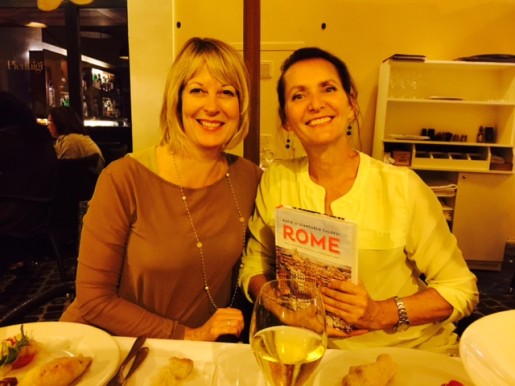 Anna Davies is a home cook who has lived in Rome for over 30 years. Once a member of the Royal Ballet she met and married an Italian and also fell in love with the Roman food culture. Her favourite ingredient is Rosemary which she uses for everything from roast potatoes, white pizza, beans and chickpeas.
It was so lovely to meet with our friends and thank them for their help in giving us hints, recipes and pointing us in direction while we delved into the depths of what makes Roman cuisine what it is today.
For signed copies you can click here or if you'd like to join us on one of our special cookery courses cooking recipes from the book then click here.