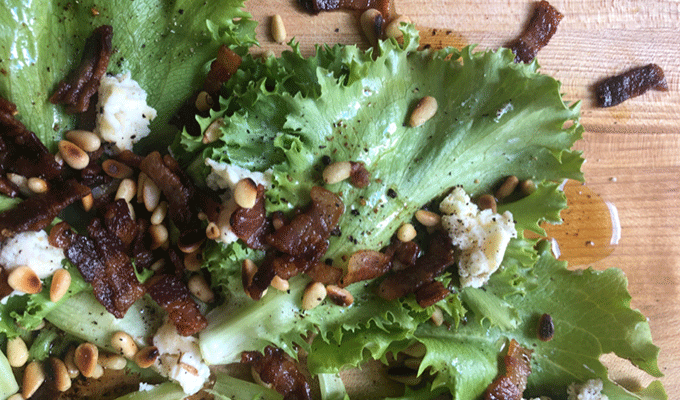 A Perfect Winter Salad..
Insalata di indivia con miele, pinoli e gorgonzola 
Endive salad with gorgonzola, pine nuts and honey
Serves 4
Endives are part of the chicory family and have a gentle bitterness to them which, in this recipe, is balanced by the honey. Endive leaves are the perfect shape to carry salads and we often eat this salad with our fingers using the leaves as large spoons.
I'm a bit of a black pepper nut so I like this with a twist of pepper to finish but I have found on my travels through Italy recently that many people prefer to omit pepper from delicate salads like this. I leave it up to you to make the choice. Either the harder, bluer Gorgonzola piccante or the softer Gorgonzola dolce will work here.
2 endives
100g Gorgonzola (dolce)
2 tablespoons good-quality runny honey
1 ½ tablespoons olive oil
30g pine nuts
Black pepper (optional)
Cut the root end off both endives and gently break off all the leaves, one by one, arranging them on a serving dish so that they resemble little boats to carry the ingredients.
Crumble over the cheese ensuring that each leaf gets an equal helping. Measure out your honey and, raising the spoon high over the salad, drizzle it in concentric circles over the salad to create a lovely cobweb effect over the salad. Drizzle over the olive oil in similar circular fashion.
Finally, toast the pine nuts lightly in a dry frying pan (be careful because they burn easily). Scatter them over the salad and serve with an optional twist of black pepper.
You'll find this recipe and a great, great many more in my book 'The Italian Cookery Course' published by Kyle Book and available to buy in soft back here.