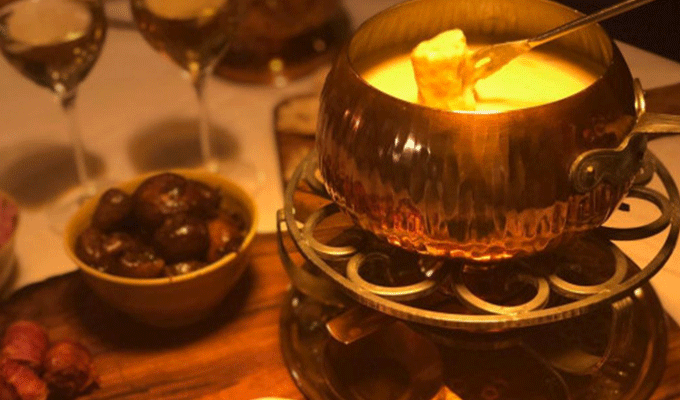 Fabulous Fonduta…
For several years each January we have held a succession of very merry "Apres-Ski Evenings" at Caldesi in Campagna, when staff and customers donned bobble hats and salopettes and ate fondue, gnocchi and downed grappa as if they had just come off the slopes. As the dishes and ambience was so enjoyed by the customers we decided that in 2019 we would extend this to a whole Alpine Menu for January and February to kick off the new year.  We will be bringing the food and wine of the alpine slopes of Italy to our restaurants in Bray and London. The chefs and I have been busy polishing the fondue pots and perfecting our recipes from Piedmont, Valle d'Aosta and Trentino alto Adige. Our family have now become so enthusiastic about cheese fondue and the endless list of ingredients you can dip into it that I thought I would share our recipe with you.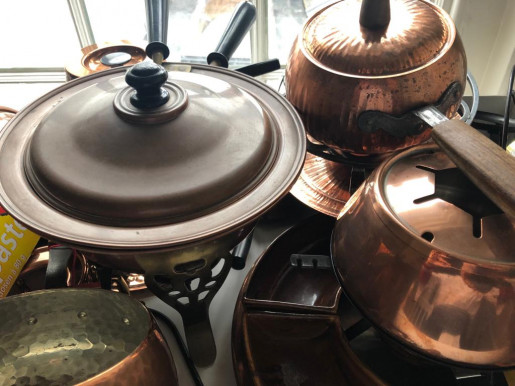 I should also mention the difference between the Italian and Swiss fondues. Although the Swiss brought it to the rest of the world in the 1930's and set a trend that continued into the 1970's, the Italian version called "fonduta" has continued to be made in mountainous regions of Piedmont and Valle d'Aosta to this day. My first taste was of fonduta was served in a copper pot with shavings of white truffle and hunks of fresh bread to tear off and dip in. It was heaven in a bowl and I asked for the recipe. Normally fonduta contains no wine and it is thickened and enriched with butter and egg yolks rather like a savoury custard, while the Swiss use plenty of wine, kirsch and sometimes add cornflour to the mix.
After much experimentation with our head chef from Caldesi in Marylebone Antonio Cannavacciulo and head chef of Caldesi in Marylebone Gregorio Piazza we have decided on our version which contains a little reduced wine as we like the flavour and a combination of Fontina and Taleggio cheeses. If you can't find these it is fine to use Asiago, Emmenthal, Gruyere instead of firm, nutty Fontina and Robiola or even a ripe camembert instead of the creamy, gutsy tallegio. Each cheese imparts its own personality to the finished dish so I would encourage experimentation.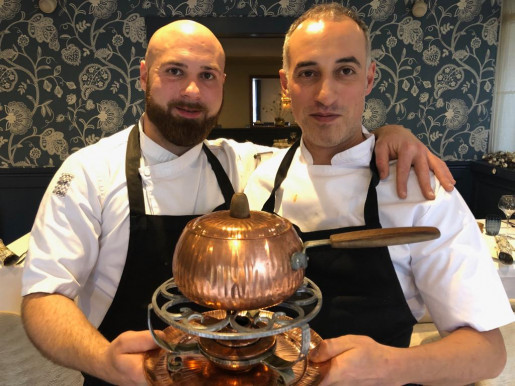 Fonduta is usually served with crisp dry white wines to cut through the fat such as Tocai or Roero Arneis but we also like full-bodied reds such as Dolcetto d'Alba or Refosco so we will be serving a selection by the glass for you to try.
The heat is important when making a fonduta – think slow and low. Ideally it should be prepared in a bain-marie, a double boiler, or simply one pan sitting on top of another containing gently boiling water. Don't let the top pan touch the water below however, it should simply be heated by the steam underneath. The finished fonduta is quite stable so you can allow it to cool and reheat it gently in the bain-marie or even in a microwave.
Fonduta di Formaggio
Italian Cheese Fondue
Serves 4
100ml dry white wine, chardonnay is ideal
1 garlic clove, finely chopped
200g fontina or 200g tallegio
150ml whole milk
50g salted butter, cubed
4 egg yolks, preferably with a good orange colour
Ingredients for dipping, served in bite size pieces
Sausages
Sauteed mushrooms
Steamed broccoli spears
Radishes
Endive leaves
Bread
Roast or boiled potatoes
Remove the outer rind from the cheeses as this doesn't break down. (If you hate waste like me you can add the rinds and blitz the fondue later if they don't break down). Cut the cheeses into sugar lump sized pieces and put them into a container with the milk.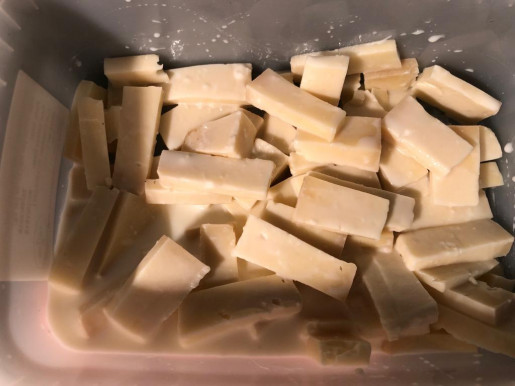 Push them into the liquid with the back of a spoon and cover. Soak the cheese in the milk in the fridge for at least two hours or up to overnight. It will swell and become whiter.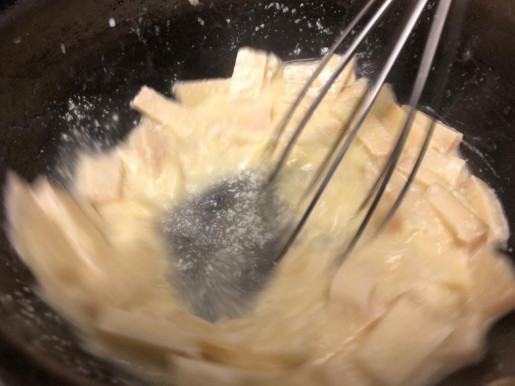 Prepare your bain-marie by boiling the water in the base pan. Get your fondue and dipping ingredients ready. Your fondue dish shouldn't be freezing cold so keep it somewhere warm.
Heat the wine with the garlic in another small pan until reduced by half.  Pour it through a sieve into your top pan pushing the garlic through with a wooden spoon.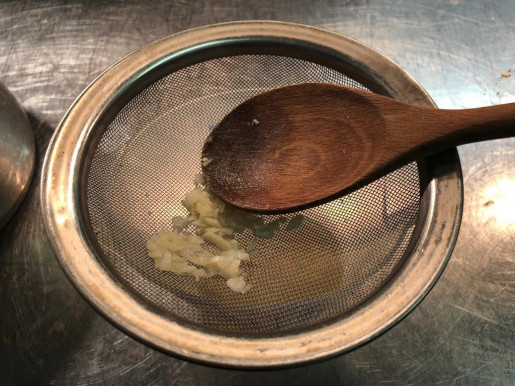 Set the top pan above the boiling water but not touching it and add the butter. Stir as the butter melts with a wooden spoon.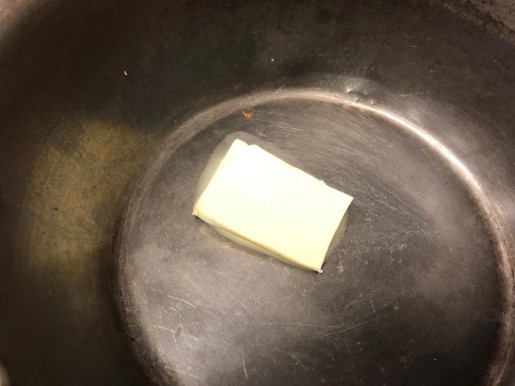 Add the milk and cheeses to the pan and stir through as they melt and combine together.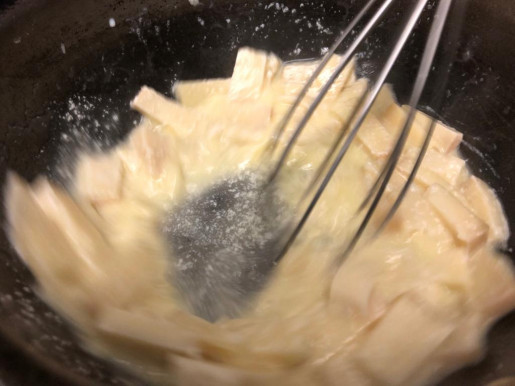 When they are creamy and smooth change the spoon for a whisk and add the egg yolks one at a time whisking them in as soon as they hit the pan.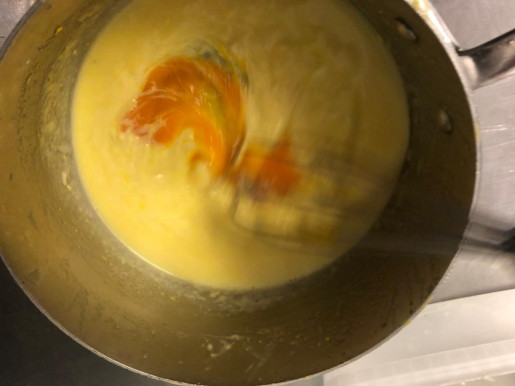 The mixture will become deep yellow and thicker.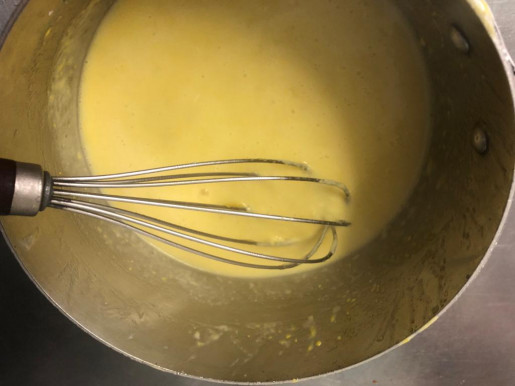 At this point decant it into your warm fondue dish and served over the flame below. With forks a-ready, start spearing and dipping to your heart's delight.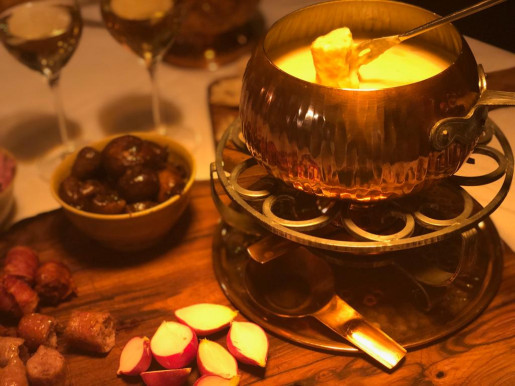 You can also enjoy Fonduta at our restaurants Caldesi in Marylebone and Caldesi in Campagna in Bray on Thames throughout January and February see the restaurant websites for details.