Giancarlo's BBC Breakfast with extra salt
We we're up pretty early in the Caldesi household last Saturday when my husband Giancarlo was asked to go into the BBC TV Centre at Shepherds Bush to discuss the use of salt in our diets. Joined in the Saturday breakfast studios by Lucy Jones, Dietician from the British Dietetic Association the pair were asked to comment on the decision of Greater Manchester Council to ask fish and chip shops to remove salt shakers from view in the restaurants. Is this a case of the nanny state going too far?
The average British adult eats between 8 and 10 grams of salt a day but the GDA (Guided Daily Amount) of salt for an adult is just 6 grams a day so there's obviously a problem, especially as too much salt in your diet is linked to high blood pressure and major illnesses such as strokes and heart disease.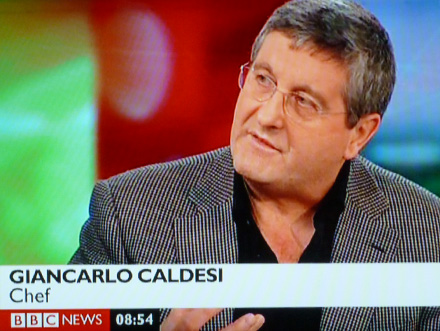 Giancarlo's point of view was that restaurants are an unlikely cause of the high levels of salt in our diets as very few people eat out in restaurants everyday. He demonstrated that the amount of salt used in cooking dishes at his restaurants might seem a lot but when portioned out most dishes easily have less than a gram of salt in their makeup. Lucy agreed that the high levels of salt in processed foods are the main culprits for our high intake and advised viewers to carefully read the salt levels in dishes like ready meals and pre-prepared snacks.
In closing Giancarlo pointed out that in his restaurants there are no salt cellars on the tables and people very rarely ask for extra salt for their meals – like most chefs Giancarlo believes that seasoning should happen in the kitchen and not at the table.
There's no doubting that salt is an important part of our diet without we our bodies cannot function but like most things it's important to use in moderation and take control of how much salt is in your diet by reading labels or ideally cook from fresh and be the one in control of how much salt you add to your dishes.
In Roman times salt was used to pay soldiers wages and this is the derivation of the word 'salary'… so if you want to enjoy the pay off of a healthier diet then ensure you spend your salary on fresh ingredients and give shop bought ready meals and snacks a miss.