Herb of the moment
Wild fennel and what to do with it

I hadn't realised until we stayed with friends recently how much I relied on the herbs outside my backdoor. Mamma mia, no herb garden! In every Italian household, even the tiniest city apartment you usually find a pot of basil, chilli or rosemary growing on a windowsill ready to be picked at the last moment. Ok, maybe I am spoilt (my mother used to tell me I was), we have a bay tree, rosemary bushes, parsley, mint and thyme all within easy reach of my kitchen and I use them every day. Roast potatoes are not the same without rosemary, new potatoes taste better dressed in parsley and mint butter and gravy, soups and stocks will lack their warm spicy notes without bay leaves.
Not wishing to be an herb-obsessed diva for a moment, but I became so frustrated at the thought of no herbs I went out with a torch in the dark to see what I could find nearby their house. Spidery fronds of wild bronze and green fennel tickled my face as I walked, I knew their aniseed flavour well and instantly picked them. Next I found rosemary creeping over someone's wall and I am afraid a piece simply broke off in my hand! Then nettles, my gloved hand grabbed the tips and I made off with my booty.
Back at the said friend's house I popped the rosemary sprigs under the potatoes roasting in the oven, added the nettle tips to the peas and tucked the fronds of fennel into parchment paper parcels with the salmon. Happiness. The flavour is back in the house.
Wild fennel, not Florence fennel which produces the white bulb, grows easily in the UK, you can see it on grass verges and in gardens where it seems people look at it rather than cook with it. Its liquorice sweetness makes a perfect match to any fish or shellfish. Or try it with other sweet flavours such as grated beetroot in a salad or to finely chop it over its cousin the fennel bulb. Here are some recipe ideas to make with wild fennel to inspire you.

Salmon parcel with fennel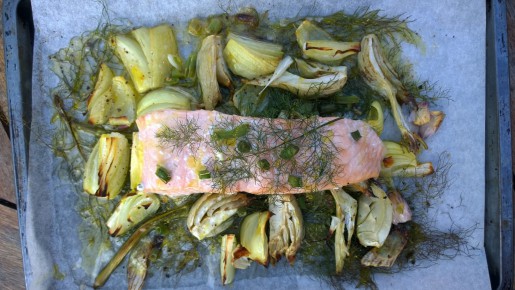 Tuck a short frond of wild fennel underneath a piece of salmon, lay another over the top. It's so pretty like this you will want to photograph it. Add a splash of wine (or leave out if you wish but I can't think why) add a twist of black pepper and wrap in parchment paper. Cook in the oven at 180oC until done. Roughly 12-15 minutes for a salmon fillet or 8-10 for a seabass fillet, to give you a guide. Remove from the paper when done, pour over the sauce from the parcel and enjoy with new potatoes, dressed with parsley and butter and some fresh peas.

Wild fennel, Florence fennel and cucumber salad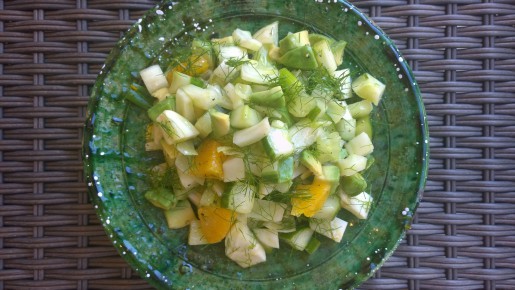 Roughly chop a bulb of Florence fennel, a peeled orange, half a cucumber, an avocado, 2 spring onions, a handful of wild fennel and parsley and toss together. Add a good splash of good extra-virgin olive oil and the grated zest of half an orange. Grind a generous twist of black pepper and a give it a good pinch of salt. Toss together, taste and adjust the seasoning or add more herbs as necessary. Serve with grilled fish or meat or as part of a selection of salads.

Shredded beetroot and wild fennel salad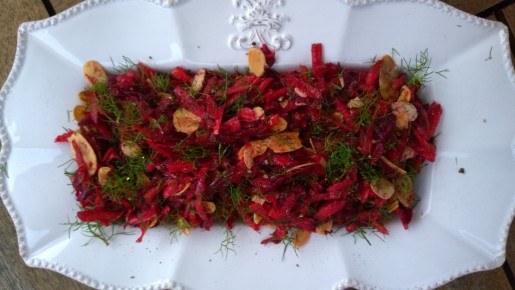 Coarsely grate a couple of medium size beetroot and 1 large carrot and put into a salad bowl with a large handful of roughly chopped wild fennel fronds. Add a dressing of good olive oil, a good squeeze of lemon juice, a splash of red wine vinegar, a teaspoon of caster sugar, salt and pepper. Scatter over toasted almonds and black onion seeds and toss the whole lot together. Add a few more fennel fronds to look good and serve.

Penne with sardines, wild fennel and saffron
I love this colourful summer dish – the sardines are full of healthy Omega 3 oils and they make a wonderful combo with the aniseed flavour of fennel. The saffron in the cooking water makes the pasta yellow and gives a subtle spicy note to the dish. Cornish sardines are in season in Summer so look out for them and support our UK fishermen.
Serves 4 as a main course or 6 as a starter
4 sardines, filleted
3 packets of saffron powder (less if using strands)
4 tablespoons of extra-virgin olive oil
1 shallot, finely chopped
1 clove of garlic, peeled and crushed
1 teaspoon of chopped red chilli
Salt and pepper
1 large stalk wild fennel – separated into frilly ends and tender stalk, chopped finely
1 teaspoon of fennel seeds, roughly crushed
25g sultanas, soaked in hot water
25g pinenuts
100g white wine

Boil enough water in a large pan to cook the pasta.  Season it with plenty of salt and the packets of saffron.  Meanwhile fry the shallot, garlic, chilli, salt, pepper, wild fennel stalks and seeds together until the shallots are soft. Put the pasta into the water to cook. Drain the sultanas from the water and add these and the pinenuts to the pan and stir through. Add the sardines to the pan and gently fry until just cooked. Add the fennel ends and wine and cook to evaporate the alcohol for a few minutes gently stirring to break up the sardines. When the pasta is cooked al dente, drain and add to the pan with the sauce. Gently stir through and serve in warm bowls.