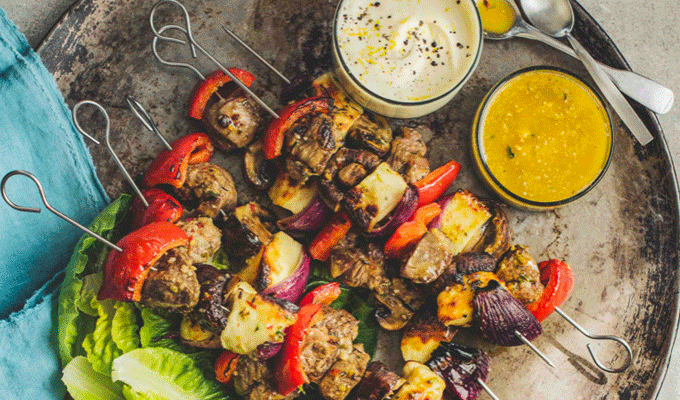 Lamb and Halloumi Kebabs
Lamb and Halloumi Kebabs
This is the ultimate fast food as the kebabs take just 3 minutes to cook on each side. The lemony marinade shown to us by friends Sandie and Peter Draper stops the meat from drying out. These can be done under a hot grill if you don't have glowing coals outside. Serve the kebabs with lettuce wraps and a bowl of the Lemon Yogurt Sauce.
Serves 8
For the marinade: 
150ml extra virgin olive oil
4 garlic cloves
Half to 1 medium hot red chilli, (according to taste)
1 20cm sprig rosemary
½ teaspoon chilli flakes
6 sprigs of thyme (leaves picked)
2 bay leaves
juice and finely grated zest of 1 lemon
1 teaspoon salt
Freshly ground black pepper
For the kebabs
600g lean lamb (leg meat is good), diced into 3cm cubes
2 red peppers, cut into 3cm squares
250g small chestnut mushrooms, brushed clean
1 red onion, cut into quarters and layers separated
2 x 250g halloumi, cut into bite-sized cubes
3 baby gem lettuces, leaves separated to serve
A small handful parsley, leaves coarsely chopped and stems finely chopped, to serve
1 quantity Lemon Yogurt Sauce (see below) to serve
To make the marinade, put all the ingredients into a small food-processor with a good few twists of pepper and blend until emulsified. Alternatively, you can chop the dry ingredients together finely by hand and mix with the oil.
Pour a third of the marinade into a shallow dish with the lamb, peppers, mushrooms and onion, and toss to combine. Cover and leave to infuse for at least 30 minutes and up to a day in the fridge. Put the remainder of the marinade into a jug and refrigerate.
To make the lemon yogurt sauce, mix the ingredients together in a bowl and season to taste. This will keep in the fridge, covered, for up to 3 days.
When you are ready to cook the kebabs, preheat the grill to high and heat a rack ready for the kebabs. Thread the lamb, peppers, mushrooms, onions and halloumi alternately onto metal kebab skewers. Discard any leftover marinade in the dish.
Lay the skewers onto a hot grill rack (if this is in an oven, put an oven tray underneath to catch the juices) and cook close to the heat souche for 3-4 minutes before turning and cooking again for 3 minutes, or until the cheese is browned and the meat is just cooked. These are also delicious barbecued.
Put the lettuce leaves and a bowl of the lemon yogurt sauce on a large serving dish. Add the hot skewers dressed with a little of the remaining marinade and sprinkled with parsley. Serve the remaining marinade in a jug.
Lemon yogurt sauce
Serves 8
8 tablespoons Greek yogurt
8 tablespoons mayonnaise
Finely grated zest of 1 lemon
Salt and freshly-ground black pepper
Mix the ingredients together in a bowl and season to taste. This will keep in the fridge, covered, for 3 days.
Per serving 8g Carbs, 33g protein, 65g fat, 2.1g fibre, 755kcal
This recipe is from 'The Diabetes Weight-loss Cookbook' published by Kyle Books with photography by Susan Bell.