Our fight for the fish in our seas – our journey into sustainability
The world's ocean larder is under threat and campaigns like Hugh Fearnley-Whitingstall's 'Fish Fight' and now Project Ocean at Selfridges have bought issues such as overfishing and discard once more to the public eye. It seems we can all

do more to protect the ocean environment and prevent whole species from extinction by sourcing our fish in a different, more sustainable way. I decided to go on my own fishy adventure to find out more.
It's all about searching out fish that has been responsibly caught, seeking out species that are not over fished and eating them in the correct season.
Is size important
There is always a lot of talk about the weight and size of the fish. The reason for this is that this ensures maturity of fish, for example a cod should be fully grown before it is caught to allow it to have spawned. Being sure of provenance is key and that's why I started my journey by visiting the people on the front line…
The fishermen
Back in February Giancarlo and I, with our two boys, went down to Hastings and Eastbourne where we met local fisherman and saw dabs, whiting and flounder being landed. These species are sustainable but overlooked when it comes to the big hitters of cod, seabass and haddock. I returned two weeks with the Sustainable Restaurant Association to Hastings with Mario, one of our chefs, to see around the market, talk to more fishermen and fish cognoscenti. This time, only a month later the fish had changed, dabs were still abundant but now cuttlefish and mackerel were prevalent. Because of high winds and their small boats the fishermen hadn't been out the night before so the market was almost empty bar the dabs and cuttlefish. It's so obvious but it's not something I had considered before that you just cannot get fish when you want, sustainable or not. The fishermen we spoke to were disheartened generally, reduced quotas, the ridiculous discard law and little help had rendered fishing a pretty awful job in Hastings and young people were simply not joining the workforce of local fishermen. I would dearly love to help but as France pays more for the fish than we do they don't send the fish to Billingsgate or anywhere in London, instead it goes to the fish market in Boulogne. It would be easier for us to get fish from Cornwall as they have better established links to London but as a Sussex girl I would love to support my home county.
Giancarlo took a trip to Mercea island in April also with the Sustainable Restaurant Association where he saw hand harvested oysters from the beds around. Oysters and their opulent meatiness have been enjoyed for centuries in Britain and after his trip Giancarlo often puts them on the menu at Bray.
A few weeks later we were in Suffolk where we saw line caught cod being landed and spoke to fishermen about the best way to buy our fish. They felt there were plenty of cod out there but if they were fished using unsustainable methods ie nets they would be further endangered, put other species at risk and damage the marine environment. So the message is if we really want to eat cod we should insist on them being line-caught.
Buy local
Obviously if you live near the coast then to buy direct from local small boat fishermen is the ideal but if not then look for a fish merchant who can give you the full provenance of the fish you're buying… some even down to the name of the boat that landed it and its Captain!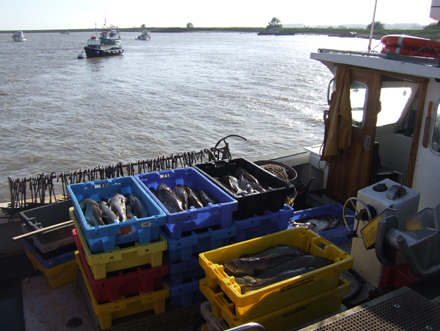 Eat fish in season and be prepared for an empty net.
We then took a rather frenetic trip to Cromer on the North Norfolk coast to enjoy some juicy local crab only to find that the crab season hadn't started yet which brings up the point of seasonality. It's a no brainer really why not wait until sweet juicy crab from Cromer or Brixham is available on the market than open a tin of crab from Thailand? The answer is in the taste as well as the fact you can eat our indigenous crab with a clear conscience too!
Most recently we took a lovely trip down to Lyme Regis in Dorset where we fished for first of the season mackerel and came back with empty keep nets empty… but then again we're good a cooking fish just not catching it.
Back at our restaurants I met with our fishmonger Craig where he basically told us that to benefit the most from sustainable British fish we should introduce "Catch of the Day" where the best of what has just been landed that day can feature on our menus and we can react to what is available. So watch out for our catch of the day blackboards at the Caffe and Giancarlo and Gregorio's changing fish dishes at Caldesi in Campagna in Bray.
I've included some simple recipes with sustainable fish in our current Caldesi newspaper. I'll keep updating this as the season's fish change, this weekend we are off to Puglia so I hope to come back with some great new recipes to share. I remember raw fish dishes being popular on my last visit there so we will see…..