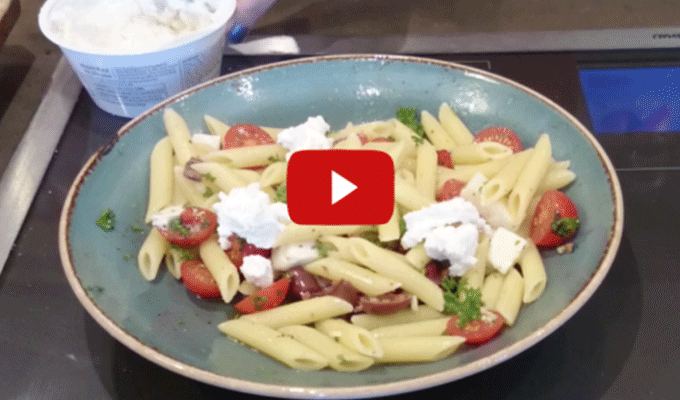 Pasta with Roman Raw Sauce
This rainbow in a bowl is Rome's celebration of summer. Bright red cherry tomatoes are tossed with capers, olives, basil, mozzarella, chilli and garlic, and finished with ricotta. I like the raw sauce served with hot spaghetti but it is often served cold stirred into cooled penne for a gorgeous salad.
Serves 4 as a main and 6 as a starter
320 g (11&1/2 oz) spaghetti
200 g (7 oz) cherry tomatoes, quartered
1 garlic clove, peeled and finely chopped
20 g (3/4 oz) capers, rinsed well
100 g (3.5 oz) whole olives, stones removed and quartered
1 red chilli, finely chopped
5 tablespoons extra-virgin olive oil
125 g (4 oz) mozzarella, cut into approx. 2 cm (3/4 in) cubes
salt and freshly ground black pepper
3 tablespoons finely chopped flat-leaf parsley
2 tablespoons finely chopped basil
100 g (3&1/2 oz) ricotta
Cook the spaghetti in a large saucepan of well-salted, boiling water according to the packet instructions until al dente. While the pasta cooks, mix the tomatoes, garlic, capers, olives, chilli and oil together in a bowl. Warm a large mixing bowl ready to toss the pasta in. Drain the pasta and toss it the warm with tomato mixture, season well and then mix in the herbs. Serve with spoonfuls of ricotta on top.
The sauce can be used on a number of pasta shapes in the video below I used penne:-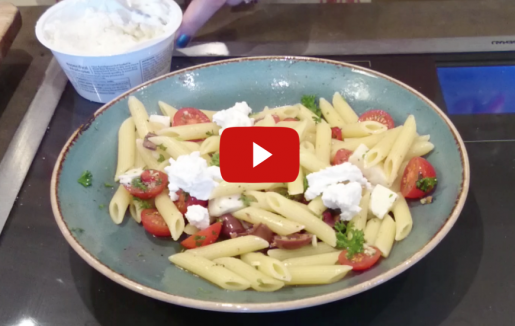 This recipe is from our latest book 'The Long and Short of Pasta' which is available to buy HERE.