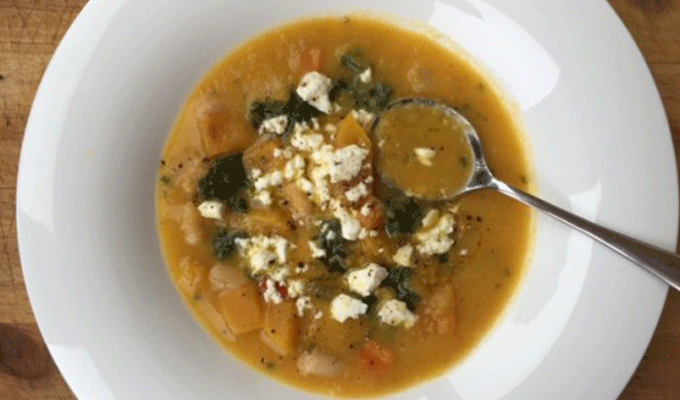 Not just for Halloween..
Pumpkins are in season, so in the spirit of making hay while the sun shines… or is that making soup while the fog surrounds? Here's our family favourite recipe for warming pumpkin soup that features in our book 'Venice – Recipes Lost and Found' :-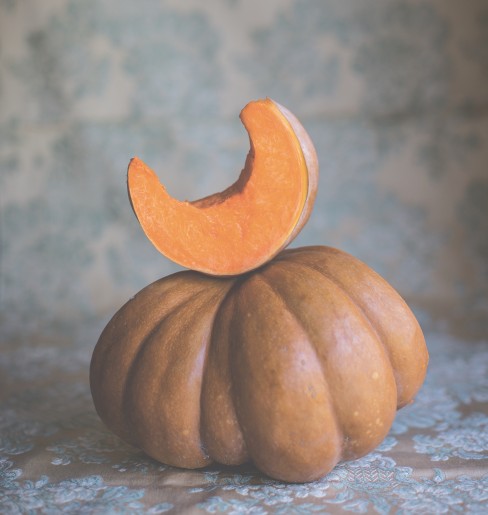 Zuppa di Zucca
Pumpkin Soup
This soup was served to us at the restaurant of the same name, La Zucca, in tiny backstreet in Venice where they serve mainly vegetarian food and primarily those dishes are made with pumpkin. There are paintings of pumpkins on the walls and pumpkin-coloured paper placemats too. The food is different to the typical Venetian food and it has a really good following so if you plan to go make sure you book in advance. This soup is loosely based on their recipe and I think it does help to find the best quality pumpkin (not the Halloween type, they are too watery and have no flavour) you can. In Venice, they mainly use the mantovana pumpkin variety, which is squat, large and pale green.  Remember to save your peelings to add to other vegetable off cuts if you are making a stock.
Serves 6–8
6 tablespoons best quality extra-virgin olive oil, plus more to serve
2 garlic cloves, peeled and lightly crushed
500 g (1 lb 2 oz) pumpkin (around 1/2 butternut squash), cut into 3 cm (11/4 in) cubes
1 carrot, cut into 2 cm (3/4 in) cubes
1 stick celery, cut into 2 cm cubes
2 white onions, cut into 2 cm cubes1/2 red chilli (chile), finely chopped
1.2 litres (2 pints 9 fl oz) vegetable or chicken stock (bouillon)
400 g (14 oz) tin cannellini beans, drained, or 350 g (12 oz) cooked beans from dried
handful of kale, chard or spinach
salt and freshly ground black pepper
100g feta cheese, optional
Heat the oil in a large saucepan over a medium heat and add the garlic, pumpkin, carrot, celery and onion. Reduce the heat, cover with the lid and sweat for 20 minutes, shaking the pan frequently. Add the chilli (you can add more or less according to your taste) and fry for 2 minutes.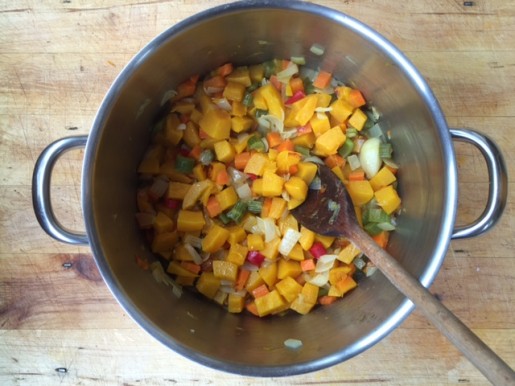 Pour in the stock, increase the heat and bring to the boil. Reduce the heat and simmer for 30 minutes until the vegetables are tender. Italians tend to purée roughly a third of their soups to thicken them. This used to be done with a passetutto but you can use a stick blender instead, I did. Stir in the beans and kale. Cook for 2–3 minutes until the kale is soft. Season to taste and serve with a swirl of your best olive oil, a little black pepper and (though not strictly Italian) a crumble of feta cheese.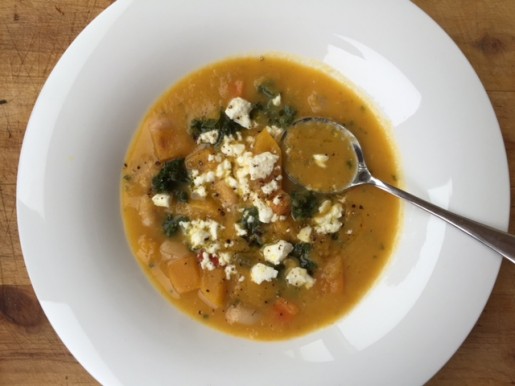 You can buy 'Venice – Recipes Lost and Found', which includes a whole range of Venetian recipes both historic and modern day, online here.