Seasonal Cookery – Artichokes Roman Style
Artichokes are in season and one of my Instagram followers was asking recently what to do with his crop when harvest time arrives. You'll all be familiar with the jars of artichoke hearts preserved in oil available in the Italian aisle at supermarkets and they're pretty easy to make at home. If you're interested in having a go see our book 'The Gentle Art of Preserving' (available here) for more details.
However, if you want a quick and easy recipe that's tasty too then try 'Carciofi alla Romana'
I first ate these in Ristorante Alfredo in Rome. In Italy, the season for artichokes begins in December or January when artichokes arrive from the sunnier regions such as Sicily, Sardinia, Lazio and Liguria. In markets, you often see the hearts of these tender young artichokes already peeled, bobbing around in buckets of water and lemon.
Traditionally, this dish is made with mentuccia or wild mint which grows only in central Italy. Its small light green leaves have a strong aroma and taste. If you don't live in Italy or grow your own mentuccia, normal mint makes a good substitute.
Carciofi alla Romana
Roman Artichokes
Serves 6
12 small or baby artichokes
1 small garlic clove, finely chopped
3 sprigs (5g) flat-leaf parsley, finely chopped
10 mint leaves, finely chopped
3 tablespoons olive oil
100ml water
Salt and black pepper
Remove a large number of the outer leaves from the artichokes. The centre is the most tender part and for this recipe you need the artichokes to be as tender as possible; you don't want to be eating chewy leaves. Trim the ends of the stalks and scrape away the dark parts with a sharp knife. Cut off at least 1.5cm of the tips of the leaves.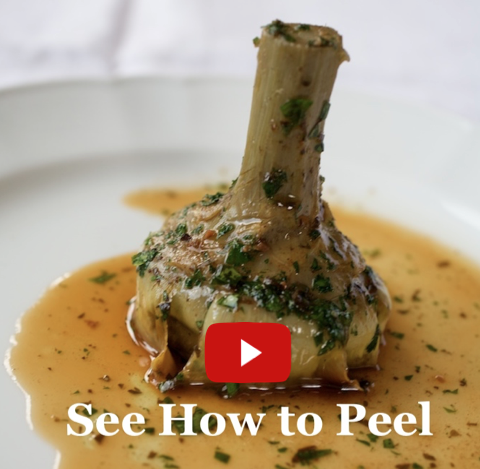 Mix together the finely chopped garlic and herbs and stuff the mixture into the artichoke centres.
Choose a saucepan that will accommodate all the artichokes tightly together and pour in the olive oil. Carefully pack the artichokes in the pan, heads down and stalks up. Add the water and, if you have any of the herb mixture left over add this too.
Place the pan over a medium heat, cover, bring to the boil then simmer for 45 minutes. Shake the pan frequently to make sure they don't stick. Add a little hot water if they become dry. Serve warm or at room temperature.
We run a full range of Italian cookery courses using seasonal produce at La Cucina Caldesi see here for our full course list.