The Greatest of Grains…
Here's my final recipe to celebrate National Vegetarian Week. It's a great, healthy salad that is  filling and is good on its own or as a side.
Heritage Grain Salad with Seeds, Nuts and Roasted Red Onions
'Have you got indi grains?' said the American man named Neil sat next to me on the plane home. He realised I was writing about salads due to my open laptop and told me about how much he liked kasha (buckwheat), farro and freekeh. I hadn't heard them called indi grains before, ancient yes but he said indi or heirloom grains were big in the States. He liked the texture, the fact they were 'toothsome' as he put it. I liked that, toothsome, what a great expression. So here, Neil, is your grain salad.
I wanted this to work as a side dish, to offer texture and satisfying carbs but not to stifle meat, fish or other vegetable main courses. However if this is the main event then bump it up with feta, pomegranate seeds, fresh figs, eggs or whole cooked chickpeas. You could also serve it with Harissa dressing, Hummus  or Tahini Dressing. Grains used in this way can be a base for other directions, I have tried this with chopped dates, finely chopped preserved lemons or sun-dried tomatoes, both adding further layers of flavour.

Serves 4–6

200g ancient grains, such as freekeh, quinoa, farro, buckwheat or red or brown rice
1 large aubergine, cut into 1cm dice
2 large red onions, one cut into 1cm dice, one very thinly sliced
2 fat garlic cloves, skin on and lightly crushed
4 tablespoons rapeseed or extra virgin olive oil
75g mixture of almonds, pistachios, pine nuts, pumpkin or sunflower seeds
750ml groundnut oil
a large handful of flat-leaf parsley, roughly chopped
3 tablespoons dried fruit, such as blueberries, barberries, cherries, cranberries, currants or diced dried apricots
salt and freshly ground black pepper
For the dressing
juice of 1 medium lemon
5 tablespoons rapeseed or extra virgin olive oil

Preheat the oven to 200°C.

Cook the grains according to the packet instructions, until tender. Drain and cool in a sieve.

Put the aubergine, diced onion and garlic in a bowl, season and coat with the rapeseed or olive oil. Spread the veg out on a baking tray and roast for 15–20 minutes until lightly browned and soft. Remove from the oven and set aside.

Meanwhile, toast the seeds and nuts on a separate tray in the oven until just browned, they will take 5–7 minutes. Set aside to cool.

Heat the groundnut oil in a small saucepan until a small piece of bread sizzles in it. Deep-fry the sliced onion in the until crisp, it will take about 3-4 minutes, then set aside to drain on kitchen paper and season with a little salt.

Combine the dressing ingredients and season to taste. Assemble all the salad ingredients in a serving bowl, apart from the fried onion. Toss with the dressing and transfer to a serving dish. Top with the fried onion and serve straight away or refrigerate until you are ready. If the salad is chilled, allow it to come back to room temperature before serving.
This recipe and many, many more can be found in my latest book 'Around the World in Salads' from Kyle Books.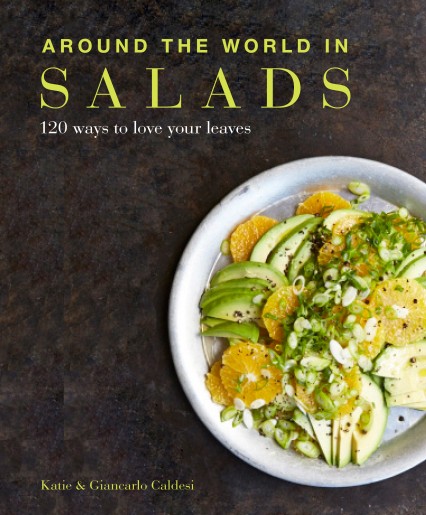 All photography by Helen Cathcart.