The places and people we love in Amalfi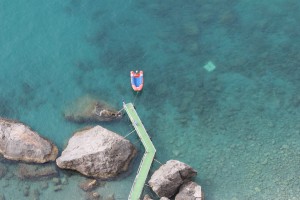 Earlier in the year we returned to Amalfi to take copies of our new book  as gifts to the many wonderful local people who helped us while we researched the unique food of the region.
With the holidays coming up I thought it would be useful to share with you some of the places we would recommend should you visit the Amalfi coast this summer… Places where we enjoyed memorable meals and met equally memorable people.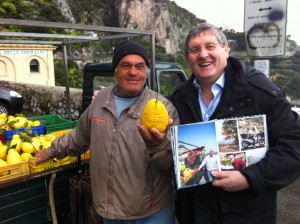 Ristorante Il Pirata is my favourite restaurant it perched on the waters' edge, with fresh fish, chilled local wine and with stunning views of the Mediterranean – what more could you want?  Rino the patron will give you a great welcome… tell him that we sent you.
Ristorante Il Pirata
Praiano
www.ristoranteilpirata.net

Giovanni is the host at Il Giardiniello and serves up wonderful pizzas in a vine covered garden.
Il Giardiniello
Minori
www.ristorantegiardiniello.com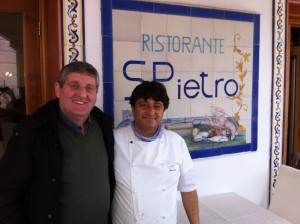 Chef Patron Francesco serves the best local fish and anchovies try them deep fried.
Ristorante San Pietro
Cetara
www.sanpietroristorante.it

Andrea Pansa Pasticceria in Amalfi and Sal de Riso Pasticceria in Minori are must tries for the famous local patisserie.
Andrea Pansa Pasticceria
Amalfi
www.pasticceriapansa.it

Sal de Riso Pasticceria
Minori
www.salderiso.it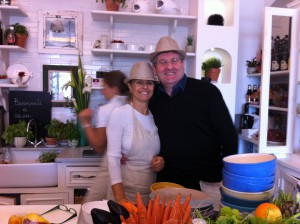 Run by a mother and daughter team, Chef Tanina cooks with a wonderful lightness of touch. Her food seems to melt in your mouth, try the smoked cheese gnocchi.
Next 2 Ristorante
Via Pasitea 242
84017Positano  (SA) Italia
www.next2.it

Netta runs her family restaurant Cumpa' Cosimo in a tiny back street away from the main square in Ravello. Make sure you book in advance her cooking is renowned and she champions Slow Food.
Cumpa' Cosimo
Ravello

Try to book a table on the terrace at Trattoria da Gemma and enjoy the Amalfi lemon and prawn risotto amongst other treats.
Trattoria da Gemma
Amalfi (SA)
www.trattoriadagemma.com

Watch the sunset from the terrace at the 5 star San Pietro Hotel just outside Positano.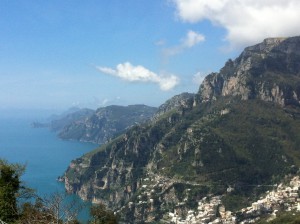 'The Amalfi Coast – A Collection of Italian Recipes'  published by Hardie Grant is available here