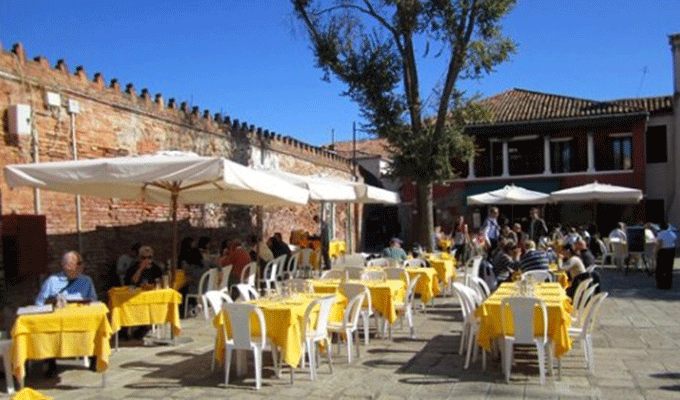 Venice – Off the beaten canal
Photo by Helen Cathcart
Giancarlo and I spent a lot of time enjoying the bars, restaurants and foodie hang-outs of Venice while researching our book 'Venice – Recipes Lost and Found' and I thought it would be nice to share some of our favourite places with you. This list is in no particular order but I have separated by the various areas of the city:-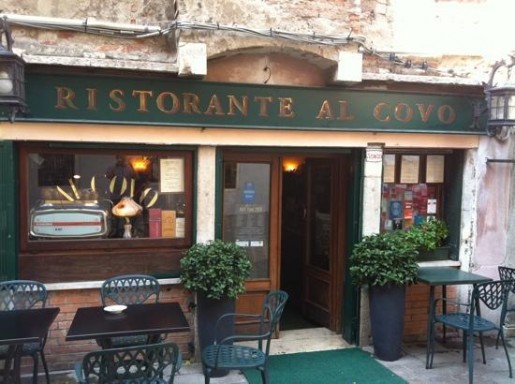 Al Covo
Campiello della Pescaria
Castello 3968 Tel: 041 522 3812 www.ristorantealcovo.com
Very good food. Owner Cesare is passionate about his choice of ingredients. Do book. They have a tiny, more modern sister restaurant called Covino down the road.
Bistrot de Venise
San Marco, 4685 Calle dei Fabbri Venezia, Tel: (+39) 041 523 6651 www.bistrotdevenise.com
Really great traditional food but also amazing historical food recreated from the work of Renaissance cooks. Do book and have the historical menu if you can, you won't taste anything as lovely and unusual as this elsewhere. The owner Sergio Fragiacomo is a passionate foodie, send him our regards.
 
La Cantina
Strada Nuova, Cannaregio 3689
Tel: 041 522 8258
Don't expect to rush Francesco Zorzetto as he meticulously prepares the food for you but it is amazing and worth the wait. Go for cicchetti or lunch or dinner. Watch his knife skills for the sheer joy of seeing an expert at work. And do try his selection of wonderful cheeses and artisan beers.
Corte Sconta
Castello 3886, Calle del Pestrin dietro rival degli Schiavoni, 30122
Tel: 041 522 7024
Elegant restaurant, you have to book. Service and food excellent.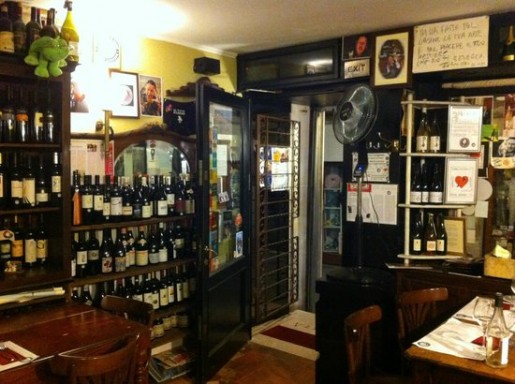 Enoteca Mascareta
Castello, 5183
Calle Lunga Santa Maria Formosa
Tel: 041 523 0744
A buzzing place open late, go for a huge variety of wines, cheeses, quality antipasti plates as well as cooked food. Lovely atmosphere.
 
Harry's Bar
Calle Vallaresso, 1323, tel: 041 520 8822 www.harrysbarvenezia.com
Treat yourself to a Bellini or two and plate of Carpaccio in their place of origin. It will always have a buzz about this place, there is nowhere else like it in the world. 80 yr old Arrigo still regularly frequents the bar keeping an eye on the food and service.
 
Osteria alle Testiere
Calle del Mondo Novo, Castello
Tel: 041 522 7220
Tiny but busy place with great food so you need to book well in advance.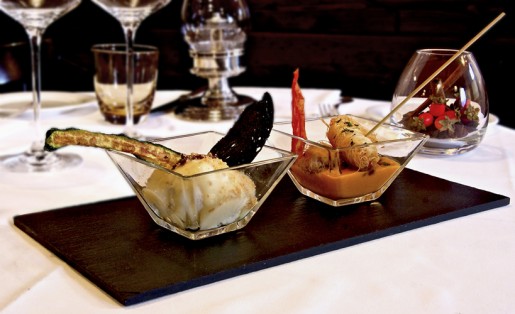 L'osteria di Santa Marina run by Danilo and his partner Agostino. It is elegant, food and service is outstanding. Agostino's food is traditional with a twist. It is best to book especially in the evenings Tel: 041 52 85 239.
 
Trattoria Antiche Carampane
San Polo 1911, Tel: 041 524 0165 www.antichecarampane.com
Tucked away next to the Ponte delle Tette in a less busy area behind the Rialto bridge. Really traditional but 'cool' feel and warm hospitality. Food is delicious, try a Gianduja semifreddo and a Sgroppino after dinner.
Taverna La Fenice
San Marco 1939
Tel: 041 52 23 856
Just near the Fenice opera house.
What a romantic, warm and elegant place to eat. The wood paneling and warm lighting draws you in. We loved it. You have to try the potato spuma on secoe on a traditional Venetian stew served in a martini glass.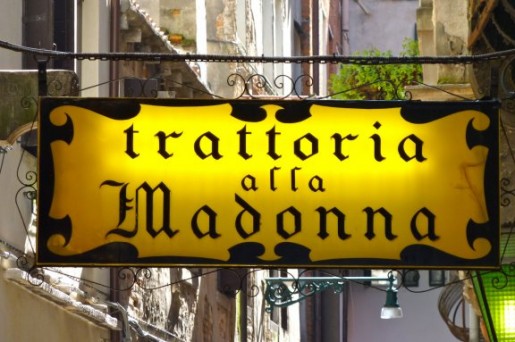 Trattoria La Madonna
Calle della Madonna, San Polo 594 Tel: 041 522 3824 www.ristoranteallamadonna.com
Near Rialto bridge and all the locals know it. Big and bustling, the waiters wear white tuxedos and work a long day including cleaning the spider crabs and all the other shellfish freshly every morning. Have the seafood risotto and black cuttlefish. Don't wear white.
Vini da Gigio
Cannaregio, 3628/A Tel: 041 528 5140 www.vinidagigio.com
Venetian wine bar and restaurant run by a brother and sister. Traditional food but updated by this young couple. He can't eat wheat so there are lots of alternatives for those like him. Try the borlotti bean and pasta soup – it makes you sigh with comfort. Wash it down with Prosecco in the style of the Contadino (peasant farmer), cloudy and light but full of flavour and dry. They also have gluten-free food.
On the pretty island of Burano – Go for lunch and have a walk around this colourful toy-town like island; the two best places are:-
Il Gatto Nero
Fondamenta della Guidecca, 88 Tel: 041 730 120, www.gattonero.com
Run by father and son team. Massimo is the son and charms the visitors speaking English with a Scottish accent while Dad works furiously in the kitchen making just delicious food. Sit outside and watch the world go by.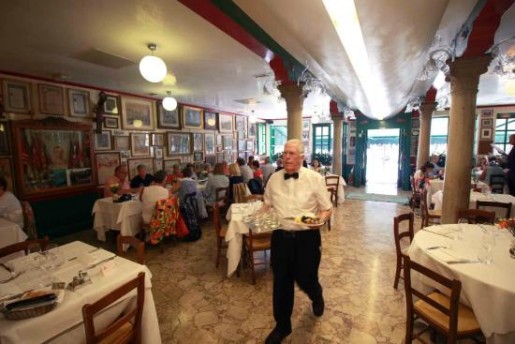 Trattoria Da Romano
Via Galuppi, 221
30012 Burano
Tel: 041 73 00 30, www.daromano.it
The oldest restaurant on the island, full of charm and run by the original family. Grandma and mum cook in the kitchen while Dad serves the customers. They are busy and bustling and serve simple, traditional food. The fritto misto and risotto are their specialties, ask to watch Mirko throw toss the risotto in the pan.
 
On the glass making island of Murano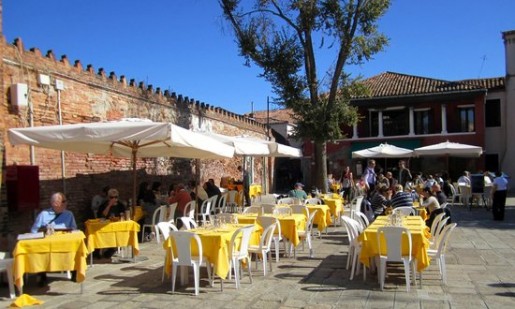 Busa alla la Torre da Lele
Tel: 041 739 662 – you don't need an address just ask when you get off the boat.
Flame haired Viking-like Lele shops, cooks and breathes Venetian food. Very traditional and good cooking from a passionate man.
 
Bacari – bars that sell cichetti and drinks
These are great often stand up bars where the locals go for a snack like little fried meatballs or tiny filled panini. You can sit down in some but they are often small. Drink Proseco or order an Aperol or Campari Spritz. No need to book unless you want to sit down. There are so many bars but these are our favourites.
Al Merca
213 San Polo – as its name suggests it is near the old market at Rialto and sells really good cichetti. You have to stand outside as the bar is miniscule. Go at 6pm and mix with the locals drinking Spritz and eating meatballs.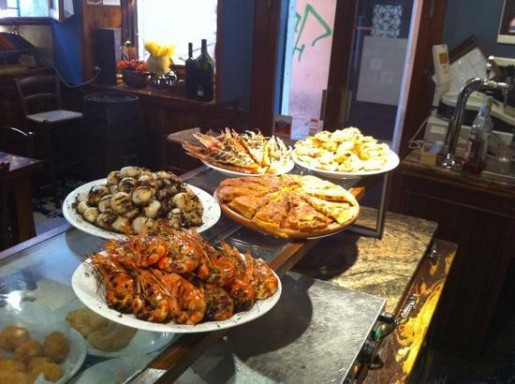 Cantina Do Spade
859 San Polo
Tel: 041 521 0583 – serves risotto to the locals at 12 noon, cichetti and simple plates, good for lunch or light supper. Its snug, warm and busy so good on a cold day.
Il Cantinone già Schiavi
Fondamenta Nani, 30123 in the Dorsodoro area. A really lovely wine shop, bar and caffe all in one serving cichetti made by the owner Allesandra de Respinis. She has written a book about her recipes which you can buy. Lovely atmosphere and choice.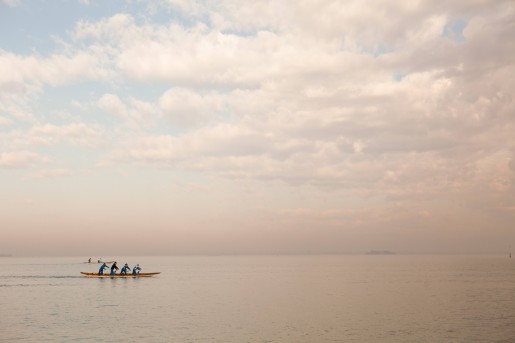 Photo by Helen Cathcart
 
Things to do
Take a rowing lesson with Row Venice or better still a Cichetti Row when you are shown how to row a gondola and you stop off at bars along the way! Our guide was Nan and she is really knowledgeable about wines as well as rowing. http://rowvenice.org
Take an authentic and informative cooking lesson with two fun local ladies; Monica and Arianna or let Monica take you for a tour of her favourite cicchetti bars, see www.cookinvenice.com
See all our recipes and recommendations for Venice in our book 'Venice -Recipes Lost and Found' which you can be purchased here.