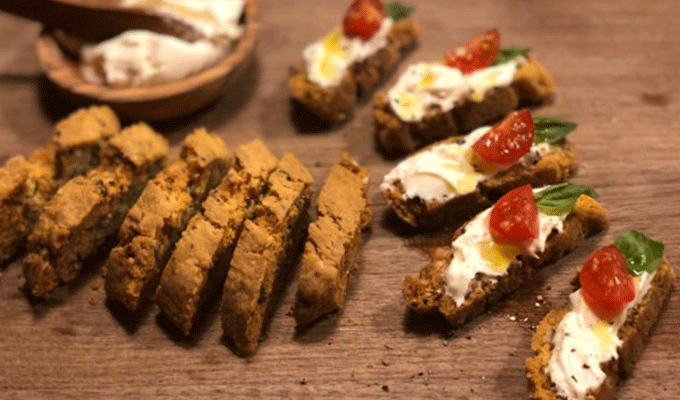 Recipes from our demo at the BBC Good Food Show
Last week we had the pleasure of demonstrating two great recipes at the BBC Good Food Show at the NEC in Birmingham. Giancarlo cooked up Cacio e pepe, a simple but delicious pasta dish with a sauce made with just black pepper and pecorino cheese (click here for the recipe). Meanwhile I cooked up some savoury cantuccini which are ideal for Christmas party nibbles. You'll find the recipe below.
After we'd performed our cookery to a packed house I decided to walk round the show and stock up on some foodie gifts and kitchen essentials while Giancarlo stayed back stage and chatted to some of the other chefs who were performing on the day including Tom Kerridge and the lovely Rosie Birkett.

Cantuccini Salati
Cheese and seed cantuccini
These rustic and incredibly moreish biscuits are wonderful on their own as a snack, spread with ricotta or cream cheese and topped with halved cherry tomatoes and basil leaves to go with drinks, or served warm with a bowl of hot soup. They keep for a week or so in an airtight container so have them on standby during the festive season.
At the BBC Good Food Show Winter show we used ground long black pepper which gave the biscuits a wonderful citrussy flavour as well as heat and spice so do experiment with altering the herbs and spice.
Makes approximately 35 cantucci
a little olive oil, for greasing
125 g (4 oz/1 cup) '00', plain or gluten-free flour, plus 1 tablespoon to coat the loaves
50 g (2 oz) finely grated Parmesan
75 g (2½ oz) Gorgonzola Dolce, including the rind
100 g (3½ oz) salted butter
75 g (2½ oz/scant ¾ cup) ground almonds
1 teaspoon baking powder
1 egg and 1 egg yolk
pinch of salt
pinch of freshly ground black pepper or long pepper
1 tablespoon finely chopped fresh or dried herbs such as thyme, rosemary and sage
35 g (1¼ oz) mixed seeds such as pumpkin, sunflower, sesame
15 g ( ½ oz) black onion seeds
25 g (1 oz) walnuts
1 tablespoon pink peppercorns
To serve
cream cheese
basil leaves
cherry tomatoes, halved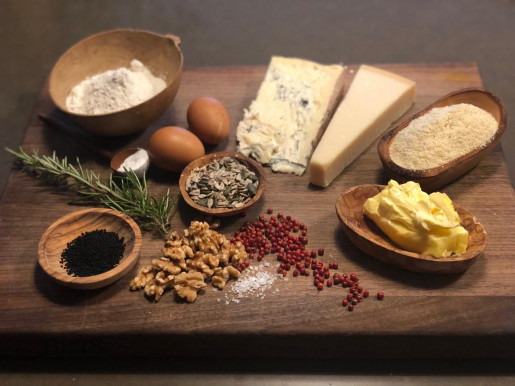 Preheat the oven to 170°C (325°F/Gas 3) and lightly grease a baking tray with olive oil.
Put the flour, cheeses, butter, ground almonds, baking powder, whole egg, egg yolk and seasoning in a food processor and blitz until well combined.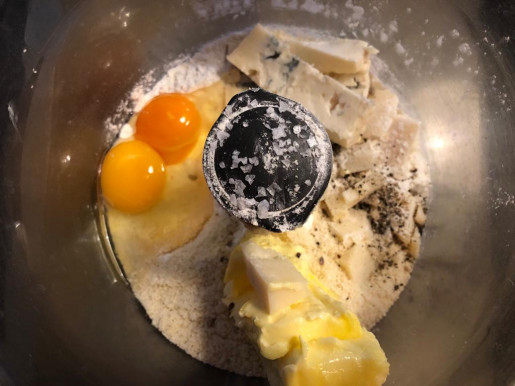 Add the seeds, walnuts and peppercorns and give the mixture a quick blitz to combine and roughly chop them.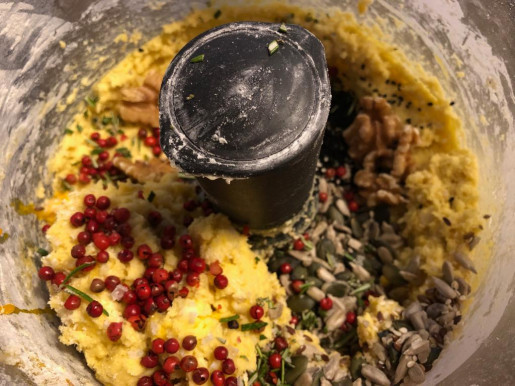 The mixture doesn't need to be completely smooth – it is good to have a little texture from the nuts.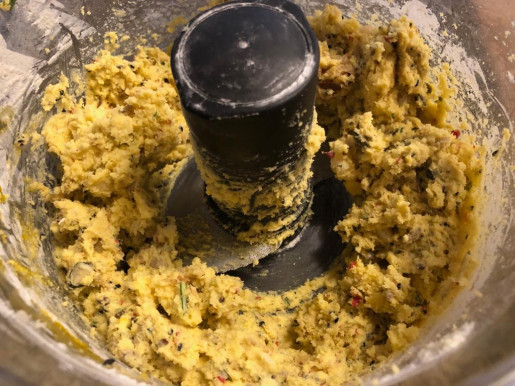 Divide the dough in half and roll each piece into a long sausage around 25 x 5 cm (10 x 2 in), put them on the greased baking tray and lightly flatten them so that they look like a slightly squashed salami.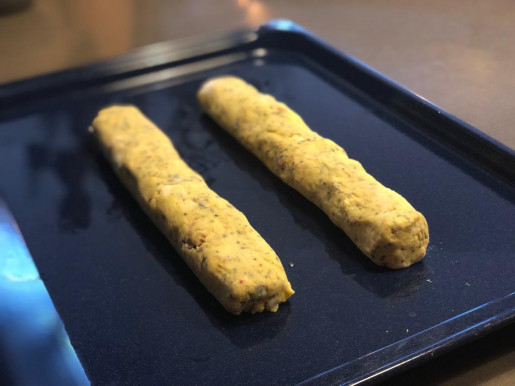 Bake for 20–25 minutes or until just golden. Remove from the oven and set aside to rest for 5 minutes.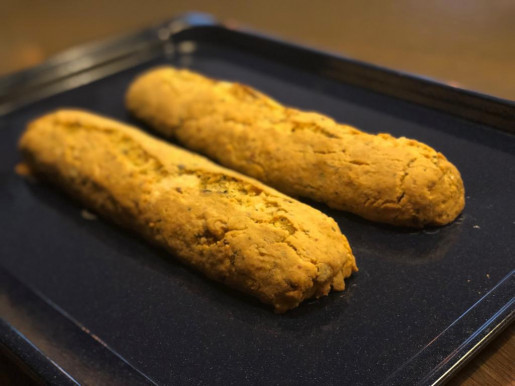 Use a cake slice to move the rolls to a chopping board and cut them at a diagonal angle into 1 cm- (½ in-) thick slices.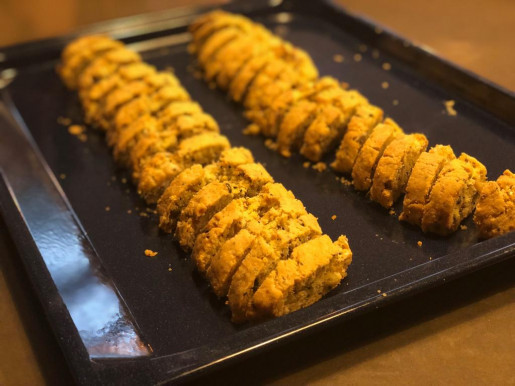 Move these back onto the tray – they can be standing upright and spaced apart or lying down on the tray – and bake again for 15–20 minutes or until they are firm to the touch and lightly browned.
Remove from the oven and allow to cool. They will keep in an airtight container for up to 1 week.
To serve spread with a little cream cheese and top with the basil, tomato, a swirl of olive oil and a twist of black pepper.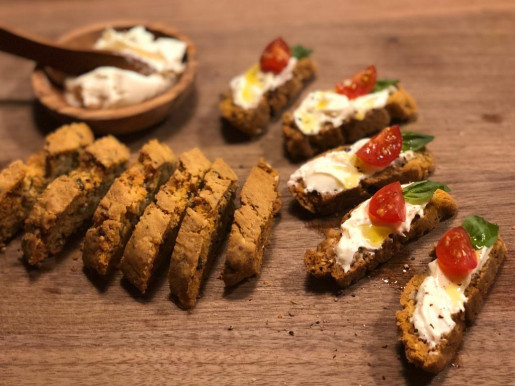 For more recipes from regional Italy take a look at our complete range of regional Italian cookbooks, signed copies of which are available to buy here.