Step into the Beet….

Beetroot Polpettine with an Avocado Dip
There are SO many reasons to eat these deep pink patties and feel good! Beetroot is full of vitamins and minerals and packed with powerful anti-oxidants. The leaves are good to eat to and even better for you. Cook them as you would spinach. Turmeric has medicinal properties as it contains compounds called curcuminoids which are strong antioxidants. It is more easily absorbed with fat and black pepper. It is good for soothing inflammation. Beetroot is full of iron and anti-oxidants. It can help to reduce blood pressure, increase stamina and may help to fight heart disease. Sesame seeds are an important source of such as omega 6 fatty acids, flavonoid anti-oxidants and vitamins. The beetroot patties also look like burgers so you can happily serve them to veggies instead of beef burgers in a bun at barbecue time.
Makes 10 8cm x 2cm polpettine
150g raw beetroot, medium coarsely grated
1 medium apple, peeled and medium coarsely grated
100g feta cheese, coarsely grated
2 spring onions, very finely chopped
50g gluten-free oats, whizzed in a food-processor to a sandy texture
1 large egg
2 teaspoons ground cumin
1 heaped teaspoon turmeric
Salt and pepper
50 to 75g sesame seeds for coating

Preheat the oven to 200oC. In a large bowl, mix all the ingredients, except the sesame seeds, together with a large spatula until well-blended. Form the mixture into 12 round patty shapes around 6cm wide by squeezing and pressing it together between your palms. They will feel wet but don't worry it helps to keep them moist during baking.
Pour the sesame seeds into a bowl and coat the patties. It is helpful if you do this with someone else so that one does the patties and puts them into the bowl with the seeds and the other picks them up from the seeds and coats them. Lay them onto an oven tray lined with baking parchment. Bake for around 20 minutes until firm the touch and lightly golden.
  
Avocado Dip
Avocado have really found superfood status in recent years. They are packed with vitamins, very high in potassium which is linked to lowering blood pressure.  They are thought to help lower cholesterol and their high-fibre and fat content helps to reduce blood sugar spikes. If you eat them with other foods that contain the fat soluble Vitamins A, D, E and K, the avocados will help them be absorbed in the gut.
Serves 4 – 6
1 fat large ripe avocado
8 tablespoons pro-biotic live Greek yoghurt, goat's or cow's milk
1 small garlic clove
Juice of half a lemon
Salt and black pepper
Whizz the ingredients together in a blender until smooth and glossy. Serve chilled with lagana crackers or the beetroot patties.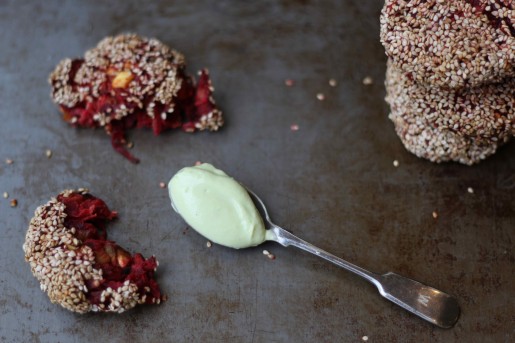 This recipe features on my 'New You, New Food' cookery course. See here for upcoming dates.