Summer on a plate…
Courgette and Courgette Flower Carpaccio with Ricotta
This is light and lovely with a delicious floral sweetness from the melon. To make the salad even prettier, tear a few bright yellow courgette flowers into the salad if you have them. We have a small melon baller to make the pearls but if you don't have one simply cut the melon into small cubes instead.
Serves 4–6
For the dressing
½–1 red or green chilli, according to taste, finely chopped
1 small garlic clove, finely grated
finely grated zest of ½ lemon plus extra to garnish
2 tablespoons extra virgin olive oil
salt and freshly ground black pepper

For the salad
3 medium courgettes, thinly sliced
4 round tomatoes, diced or 8 cherry tomatoes, halved
1 red pepper, deseeded and finely sliced
a handful of basil leaves, tough stems discarded
½ honeydew or cantaloupe melon (about 150g flesh), cut into pearls
100g ricotta, drained.
Per serving if serves 4: Total carbs 16.2g, fibre 4g, fat 10g, protein 6.2g, 170kcal
Make the dressing by mixing the ingredients together in a bowl. Season to taste and set aside.
Arrange a layer of courgette slices, tomatoes and red pepper strips onto one large serving plate or individual ones. Pour over a little dressing. Add the remaining sliced vegetables on top followed by the remaining dressing. (At this point the salad will keep for a few hours in the fridge if you wanted to serve it later).
Just before serving, scatter over the basil leaves and melon pearls and top with teaspoon-sized quenelles of ricotta.
To do this squeeze a heaped dessertspoonful of ricotta between 2 dessert spoons into a quenelle, an egg shape with pointed ends.
Use one spoon to scoop the shape out from the other and lay onto the salad. Grate a little extra lemon zest on top and finish with a good twist of black pepper.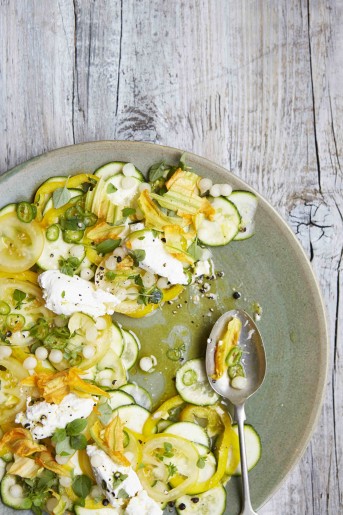 This recipe is from my latest book 'Around the World in Salads' published by Kyle Books.
All photography by the wonderfully talented Helen Cathcart.